Before you buy your next swimsuit, make sure you read my Beachsissi reviews. As a creature of habit, I've always bought my swimsuits from the same stores. There are always new bikini brands I see popping up on my Instagram feed, but none of them have caught my eye. It feels like all the big and trendy swimwear brands are overhyped, so I was never interested.
That was until I came across Beachsissi, a newcomer in the swimwear space. It's relatively new and didn't feel overly hyped like other swim brands, so I was immediately drawn to it. And then I saw all the cute and trendy swim pieces, and I was definitely intrigued.
I wanted to see for myself if the upcoming brand could live up to its potential. I was worried, of course. Is it just a fake brand? Would I even get the swimsuits I paid for?
I bit the bullet to see if Beachsissi can change my mind about swim brands being too overrated. Here's what I found out through firsthand experience.
About Beachsissi
The brand hasn't been around for too long. Beachsissi was established in 2017, making it a mere three years old. That's quite young compared to swimwear giants that are huge on social media.
However, it's already been a huge success. Since its inception, the brand has delivered over 2 million orders.
It has even garnered around 370k followers on Instagram. It's a far cry from the millions that overhyped fashion brands boast. But there's no denying that 370k is impressive for a three-year-old brand.
Related: PatPat Clothing Reviews: Is this cheap baby store legit?
What is Beachsissi?
Beachsissi is an international swim and beachwear brand based in China. They offer a wide range of swimsuits, cover-ups, dresses, and other beachy clothing. They also carry jewelry that would go well with your beach outfits.
The beachwear they offer comes in unique and feminine designs you might not find anywhere else. If you want styles that are eye-catching but not over the top, this is the swim brand for you.
What's great about this brand is that they're moderately priced. The average Beachsissi swim set costs about $30. It's not too expensive, but not so cheap that you'll start to question its quality.
What is it like to order from Beachsissi?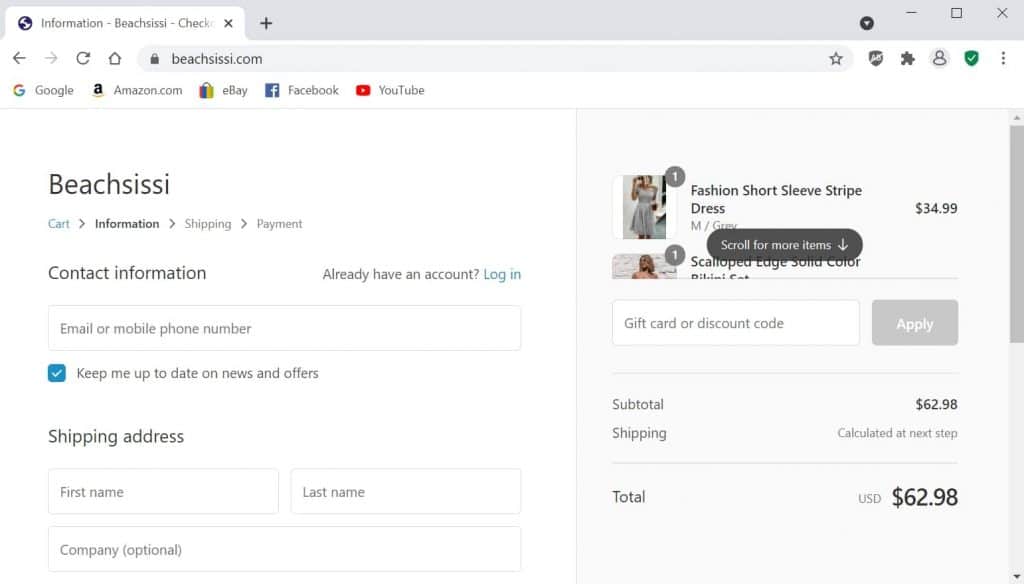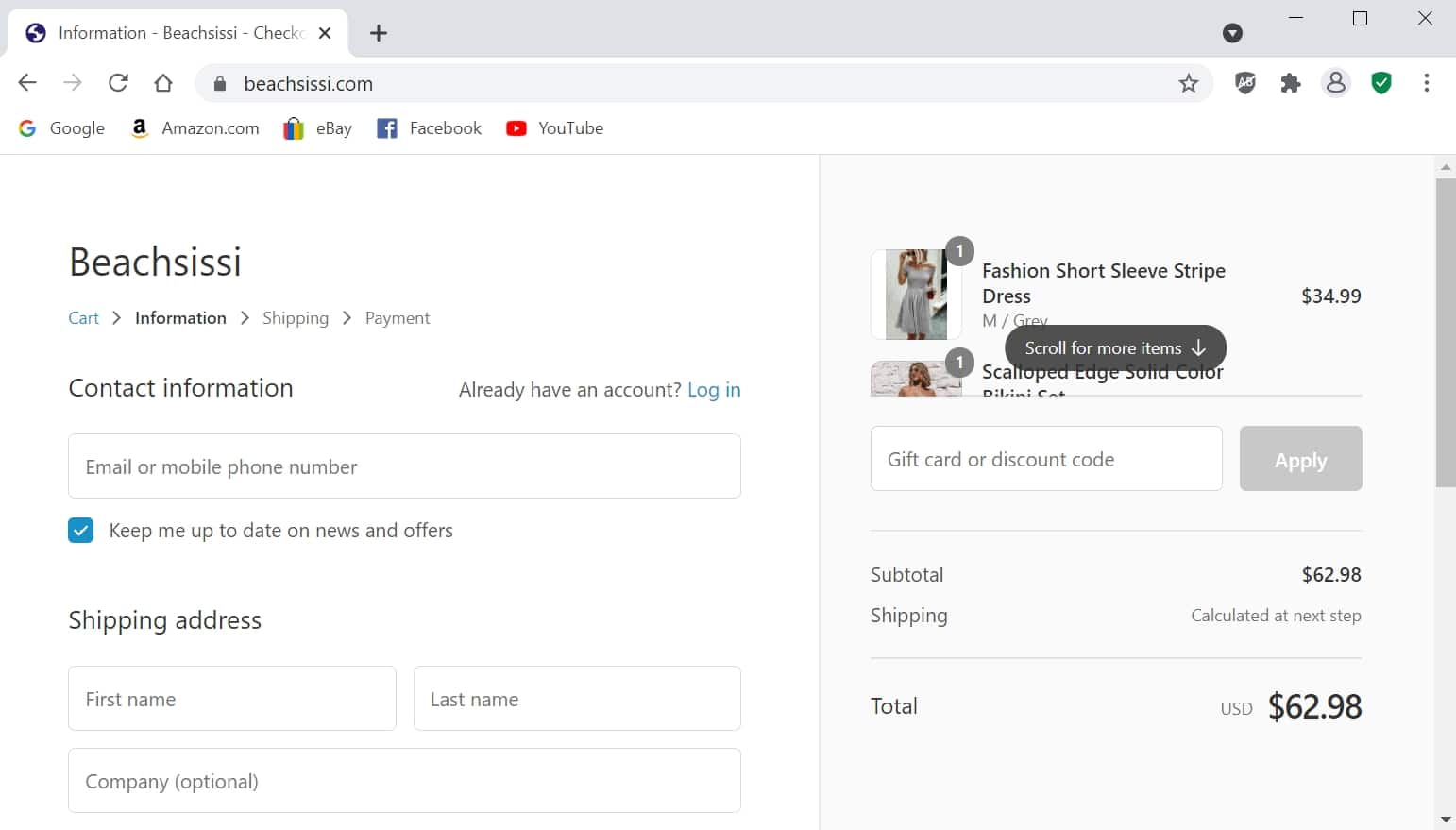 It was important to me when writing these Beachsissi reviews that I detail what it was like, buying from the brand. There are many types of apparel to shop for on Beachsissi. Luckily, they break their products down into categories to make sure shopping isn't too overwhelming.
While Beachsissi focuses mostly on swimwear, they also have different beach-related shopping categories.
They offer tons of swimwear options, from bikinis, one-pieces, tankinis, and surf-friendly gear. There are also yoga pants and tops for your mornings by the beach.
There are also some casual options, like breezy dresses you can wear out to dinner by the waves. You'll also find jumpsuits, rompers, and cute tops in this section.
Top off your beachy outfit, you can shop for jewelry, too. These are mostly necklaces that are dainty and have small pendants. They all pair well with light and breezy beachwear.
For those on a budget, you can explore the sale section. This is where I found the best deals. The best part is that this section is permanent on their website.
If you're looking to do a haul not just for bikinis, but also your entire vacation wardrobe, Beachsissi is awesome for you.
Shipping at Beachsissi is free for orders over $59.
It takes anywhere between 12-18 days for standard shipping.
Remember—they're based in China. While that could be a long wait time, it's perfectly acceptable since I didn't have to pay extra for delivery.
How do Beachsissi swimsuits fit?
I was worried that the swimsuits I ordered wouldn't fit as nicely on me like the models on their site. But with a quick sweep of Beachsissi's tagged photos on Instagram, I found real women wearing their clothes. It fit on them exactly the same as the models on the website, if not better!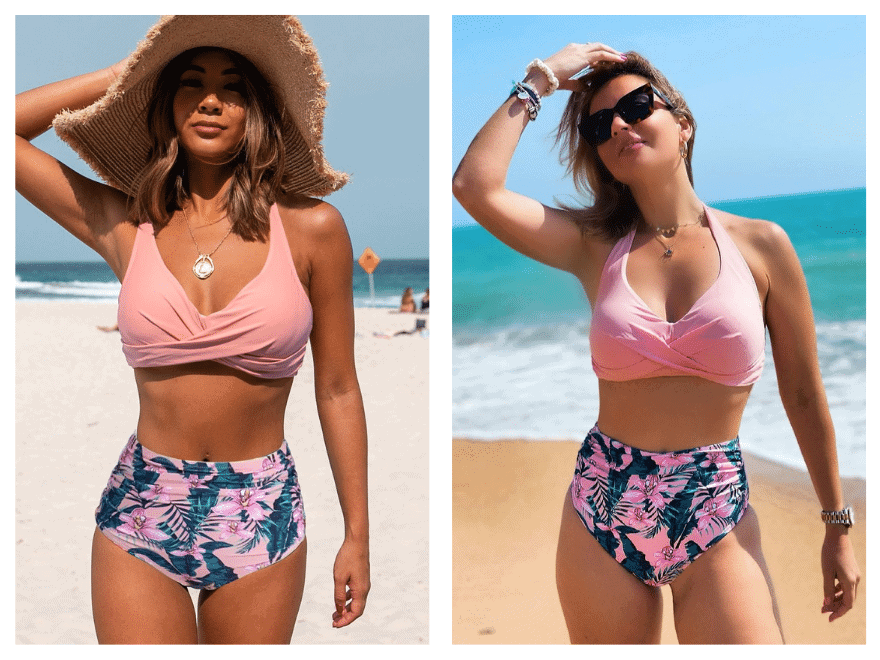 Each product on the Beachsissi site has a size chart you can check out. Here, you can find what size you should go for if you want it to fit perfectly.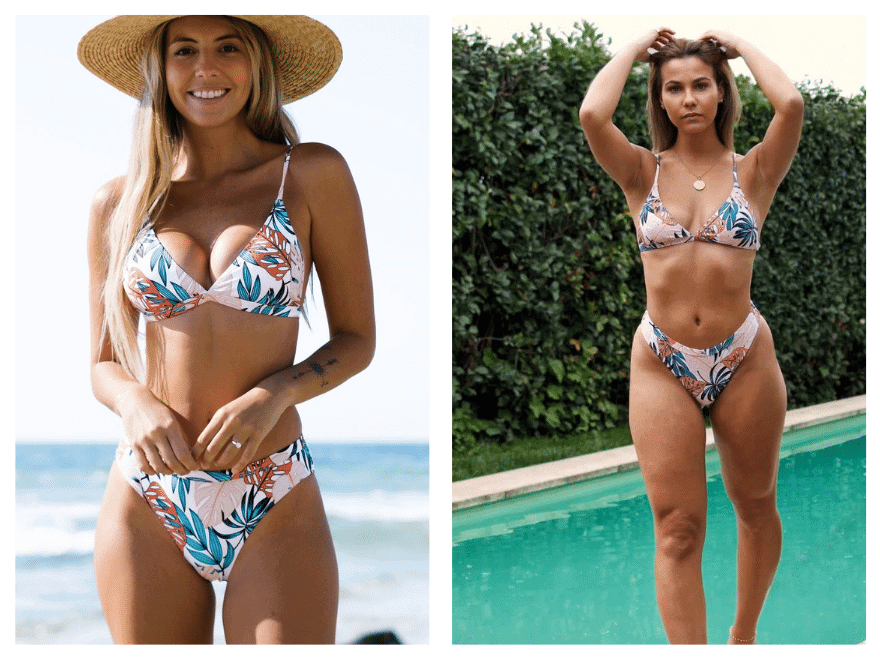 The website also has a "calculate my size" feature for your convenience. All you have to do is enter your measurements for the bust, waist, and hip areas. Then, the website will find the perfect bikini size for you, depending on each design.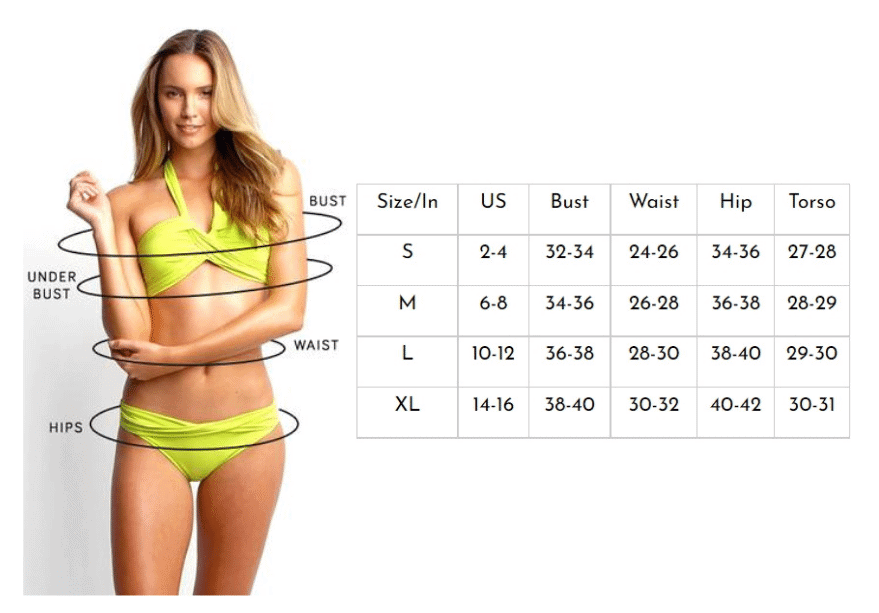 Beachsissi Reviews – Pros and Cons
While Beachsissi is an amazing swimwear brand to get deals and cute swimsuits, it's not perfect. Here are the things I love about the brands and a few that I wish were a bit different:
Beachsissi Pros:
They offer affordable prices for amazing quality
Has a wide range of swimsuits, dresses, and cover-ups
There's a permanent SALE section on their website for cheap pieces
Carries fitness wear related to the beach, like yoga clothes and surfing gear
Offers a money-back guarantee
Has tons of cute and feminine necklaces in the Accessories section
You get free shipping in the USA for orders over $59
Gives retailers wholesale prices for bulk orders
Beachsissi Cons:
They don't have live chat support for urgent concerns
You only get 15 days to decide if you want to return your item
The website has no filters, so you can't pick out a range according to color or pattern
Beachsissi is a fast-fashion brand from China
Beachsissi Reviews
Beachsissi has a score of 3.9 on the renowned review site, Trustpilot. It has garnered over 600 reviews from satisfied customers since 2019.
More than half of the reviews gave it a rating of 5, saying they had an excellent experience. Happy shoppers complimented the designs and quality of their Beachsissi swimsuits. They said that the fit is flattering and met their expectations.
Those who gave it a bad review were unhappy with how long it took to get their refund processed. I think this is quite forgivable since the business is based in a faraway country.
We saw a few people say they had issues with the website crashing and links not working. But as of writing this Beachsissi review, their website is working perfectly fine.
On Instagram, there are hundreds of posts where Beachsissi is tagged. Women all over the world show off their gorgeous looks wearing Beachsissi bikinis and outfits.
These posts come from women of all ages, shapes, and sizes. There's nothing like real women posting how happy they are with their clothes to serve as excellent reviews for a swim brand.
Beachsissi Reviews Videos
Let's look at some Beachsissi reviews from creator videos.
Even if Beachsissi is quite new to the swim space, many content creators are talking about it already. There are even a handful of YouTubers who have documented their experience shopping at Beachsissi. These fashion and beauty gurus posted their hauls and try-ons for their followers to see.
Fashion and fitness guru Emily Jane is just one of these shoppers. She bought several items from the Beachsissi website. This includes a dress, a cover-up, and many cute bikinis. She unboxed most of them and did try-ons for the dress and cover-up.
Emily appreciated the unique designs that the brand offers, complimenting the little details she found cute.
"It does have these really cool, like, slits on the side. Which I think are really flattering. And they are really, like, cute and unique," she gushes about one piece.
She also loved all the fun and summery colors the swimsuits came in. "I really like it to be honest," she says about her overall experience. "I'm just loving these vibrant colors!"
Brooklyn Benson, another content creator, also did a video review on her Beachsissi bikinis. She was amazed at how affordable the pieces were, and how they still provided great quality.
"This swimsuit is only $28, which is crazy! It feels like such nice quality," she said about one bikini.
She continues on holding up a cute, girly, yellow two-piece and praises how it fits her. "It is seriously so cute," she says. "It is so flattering and so full-coverage that makes it feel so enjoyable to wear! I love this top!"
Beachsissi vs Cupshe vs Summersalt vs Shein
Beachsissi competes with plenty of well-known and much-loved swim brands. These include giant fashion brands like Cupshe, Summersalt, and Shein. They're all popular in their own right, so how is Beachsissi better than these powerhouse swim brands?
First up, we have Cupshe. They have a slightly bigger range of beach clothes compared to Beachsissi. This is because of their offerings for tunics, kimonos, and plus-size options.
However, Cupshe focuses on apparel only. That means they don't offer accessories like beach jewelry, which is a strong suit of Beachsissi. If you want a complete head-to-toe beach outfit with finishing touches like jewelry, Beachsissi is a lot better.
Now, let's take a look at Summersalt. This brand is small and quite young, just like Beachsissi, making it a direct competition. They have cute, trendy pieces in many styles.
But the problem with it is that the pieces are too expensive. The average price for their swim sets is $50, while Beachsissi's sets are about $30. Summersalt doesn't have free shipping either, which is a bummer.
Lastly, we have Shein—a holy grail fashion brand on social media. This brand isn't exactly focused on swimwear, since it has a wide range of fashion categories too. They're more popular online for their dresses and casual clothes.
The main issue with Shein is that they're known to abuse photoshop in their website photos. So, you never know if you're going to get swimsuits and bikinis exactly as advertised.
With Shein, you could end up with pieces that don't fit as well as on the models on the site. This is a far cry from how Beachsissi's pieces fit, which many women compliment.
Swimsuits: Bikinis, One piece, High waste, Low rise, Tankinis


Beachwear: Сover ups, Kimono cover ups, Tunic cover ups,

Swimsuits: Bikinis, One piece, Tankini,  Surf

Swimsuits: Bikinis, One piece

All covers up and The Sidestroke

Swimsuits: Bikinis, One piece, Tankini, Tops, Buttoms,

Dresses, Tops, Rompers, Accessories

Wide range of other clothes: loungewear, intimates, tops, sweaters, sleepwear, active wear, essentials

Wide range of other clothes for women, men and kids. + beauty section and Plus Size models

Average price for bikini set

Free shipping from 49$ for USA

Free shipping from 59$ for USA

You could try to find some promo codes for free shipping

Free standart shipping for all the orders

10% OFF - On your first order over $65

15% OFF - On your first order over $100
10% OFF over shipping at your cost $79

You could try to find some promo codes for dicounts

20% OFF
For Order Over US$99.00
10% OFF for orders over $29

30 days, shipping at your cost

15 days, shipping at your cost

Free for 30 days from the order

Great design and trandy models


App for both iOS and Android devices

Free delivery over 49$ for 5-7 days

Great range of swimming suits and beach clothes including plus size options

Great design ans wide range of beach clothes


Boho design for beach wear

Wide range of different clothes you could also buy

Most of their factories have WRAP certification

Wide range of different clothes you could also buy


There is no shoes, clothes or additional beach accessories


A lot of models available just in one color

There is no shoes, clothes or additional beach accessories


Pricey comparing to others


Some photo with really bad photoshop so we are not sure if you will get the same product as on a picture
Beachsissi Promotions and Discounts
You already know about their free shipping offer, but that's not the only terrific Beachsissi promo. They also offer discounts if you hit a certain total amount for your shopping spree.
They'll give you 5% off your first order as long as you go above $59 in the total amount.
You can also get a whopping 10% off for first purchases over $79. That's awesome, especially when in conjunction with the free standard shipping deal.
Is Beachsissi Legit?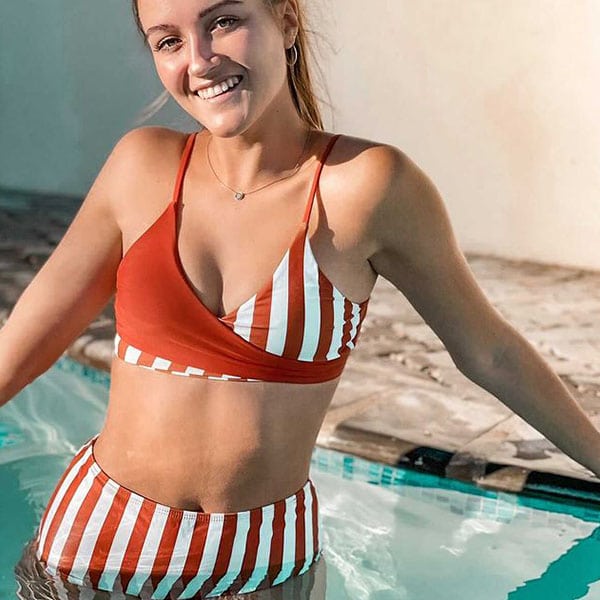 Yes, Beachsissi is definitely a 100% legitimate company. It's renowned and gaining popularity in the Instagram space where women post about the brand almost every day.
Like most brands, they have happy and unhappy customers. But most shoppers are pretty satisfied with their experience. Even if they can't please everyone, they're definitely not a scam.
Beachsissi Returns
If you're not completely satisfied with your purchase, you can return the item up to 15 days after the delivery. You can even request to exchange the items with other swimwear and clothes you like on the website.
But note that if the complaint or damage is caused by the customer, you must cover the shipping fee for the return. Beachsissi will only cover the shipping fee for damaged goods or the wrong order.
Beachsissi Phone Number
While most clothing brands can only be contacted through live chat or email, you can call Beachsissi up via phone.
All customers can reach out to the brand at +(86) 15991803877. Note that their service is in English only, which is perfect if you live in the Americas.
If you don't have the time to make a phone call, you can also opt for email. Contact Beachsissi at [email protected] regarding your concern, and they'll reach out to you pretty quickly.
Beachsissi Reviews Conclusion: Is Beachsissi Worth It?
Beachsissi is definitely worth it if you want to try out swimsuits and dresses that are captivating and on-trend. They come at a relatively affordable price, and you still get amazing quality. The fit is amazing and met my expectations, so I can vouch for it immensely.
Plus, you get free shipping for $59. That means you never have to worry about paying extra to get your clothes shipped from another country.
You can also buy Beachsissi swimwear right on Amazon, which is very convenient,
Their attractive designs range from bold to feminine. This alone is enough for me to highly recommend Beachsissi. But if you need more convincing, all you need to remember is their discounts, permanent Sale section, and 15-day returns.
We hope you found these Beachsissi reviews helpful.
Read This Next: