In this comprehensive Lepulse review, we will take a look at their smart scales and weight loss app. Losing weight isn't easy. It requires a high level of commitment and focuses on attaining your body goals. Plus, the ever-present temptation of getting an extra slice of pizza doesn't help either!
But aside from counting calories and exercising, one more thing to consider when trying to lose weight. And that's having a better understanding of your body.
If you don't know what's happening inside your body, it's easy to get stuck in your weight loss journey.
Smart scales are an excellent and easy way to stay on top of your weight loss goals. They're also accommodating in maintaining weight once you drop to a weight you like.
In addition, these scales are integral to a smooth fitness journey. This is because they give you extensive information on your body's overall condition.
Are you thinking of buying a smart scale?
Read on to learn more about Lepulse—a user-centric innovative tech brand that helps you achieve your weight loss goals.
About Lepulse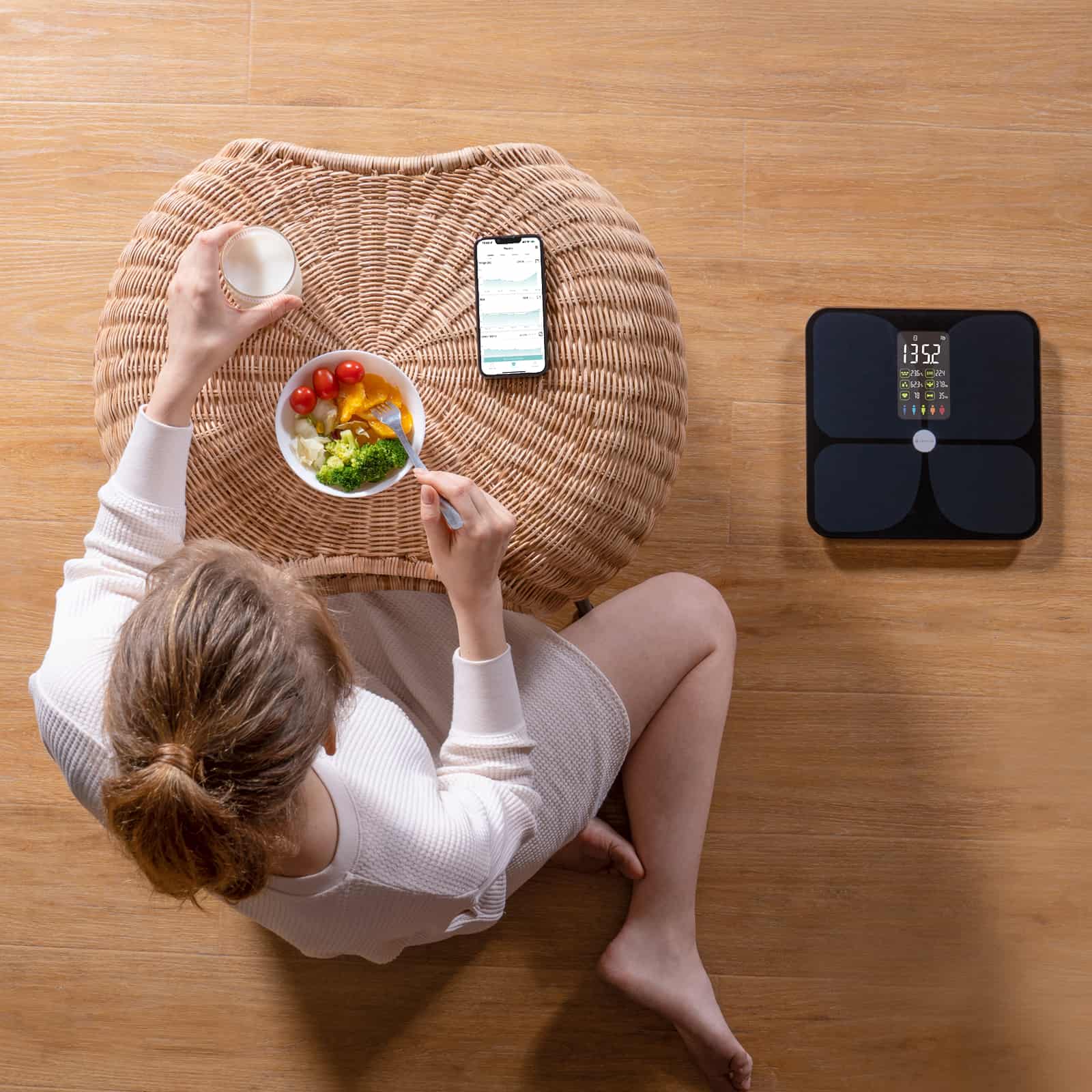 Lepulse is a health and tech company that specializes in smart scales. It's a subsidiary of Viacom, a tech company focused on home medical devices and telehealth.
The brand was launched in 2013. It helps refined fitness enthusiasts track their weight loss journey better. To do that, Lepulse offers a range of products to help you check your weight goals and know your body better.
At the very core of the brand are intelligence and innovation. Their smart scales and other weight loss tools are designed with cutting-edge technology.
They build solutions to help you pursue health, happiness, and the best version of yourself.
They put a lot of effort into their product design and engineering. That way, you get top-quality smart scales that give you the information you need in a way that's easy to understand. Just step onto a scale and read all about your body composition in a snap.
Lepulse aims to empower their consumer so they can manage their health better. They believe that fitness need not be complicated.
That's why all their scales and devices are user-centric and never challenging to navigate. They are always accessible and easy to use.
To date, Lepulse has helped over 9,000 satisfied customers. In addition, their range of 20+ products has garnered at least 15 awards, thanks to their passion for health, technology, and innovation.
How It's Like Ordering from Lepulse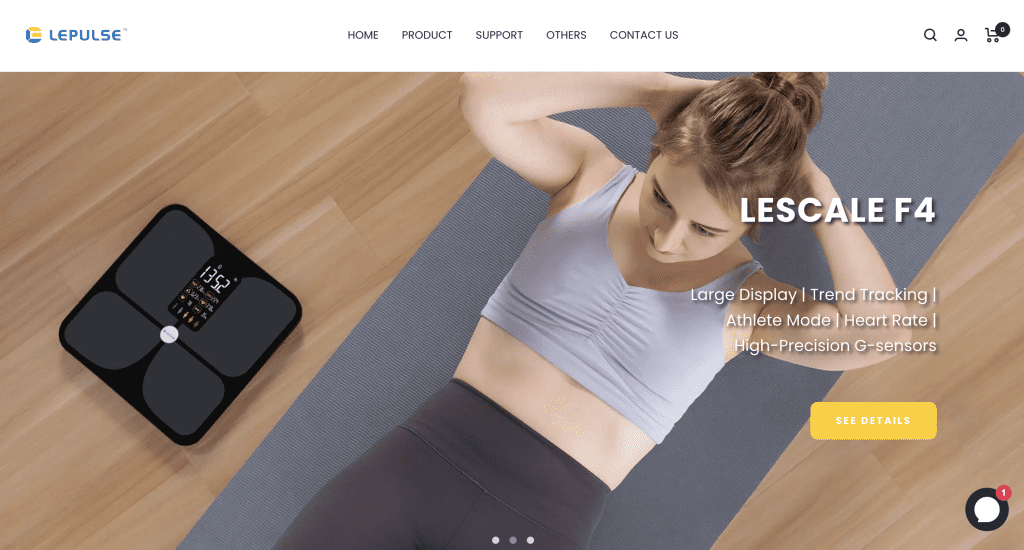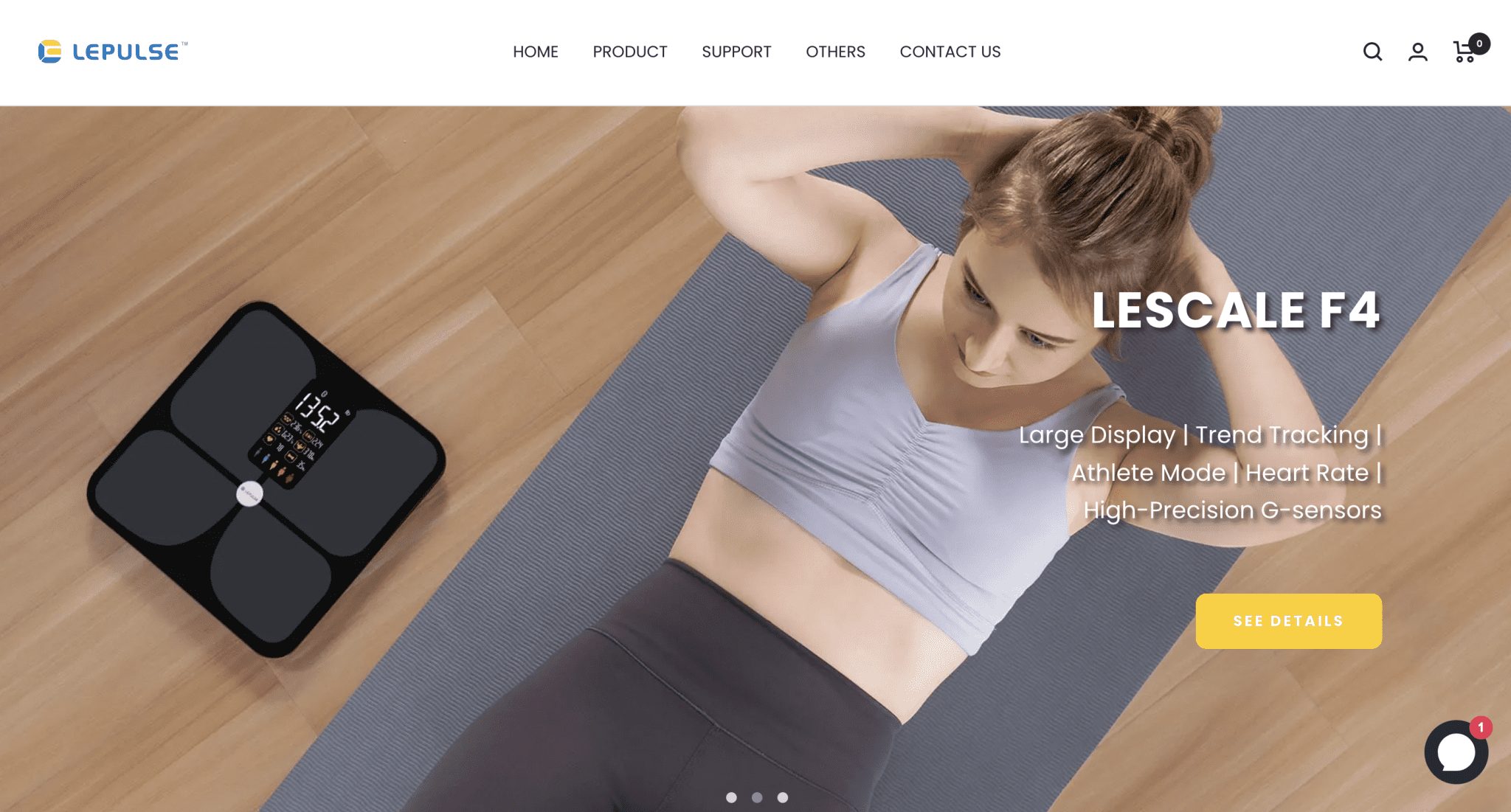 There are plenty of weight loss tools available on the Lepulse website.
They have different scales, a wireless massager, and even a grip-strength ball. All the products have a sleek, modern style, making them easy on the eyes.
The scales are made for both personal and professional use. They all have a large display where you can read all the information fast. These scales detect anything from weight to heart rate to fat percentage.
You get free shipping within the US. This is because most products are shipped from their Maryland warehouse. So you can expect your package at your doorstep after 2-6 days.
If you're from abroad, you can get free shipping if your order is over $100.
Each order gets a 30-day return policy. Products also have a one-year warranty to ensure a smooth experience with them.
You May Also Like: Our Earth Breeze Review After 2 Weeks use: Are The Laundry Sheets Worth It?
Lepulse Pros and Cons
Lepulse Pros:
It shows you extensive data on your body composition
Scales have a user-centric design
Large display screen
It comes with an app to track results and data
The ability to work independently without a mobile or tablet after connecting to the app at first use.
Affordable prices (scales start at $61)
Free shipping in the US
Free international shipping for orders over $100
Products have a one-year warranty
30-day return policy
Lepulse Cons:
Some models can't be used on a carpet 
Some models are not USB rechargeable.
Lepulse Bestsellers Review
Lescale F4 Household Smart Body Fat Scale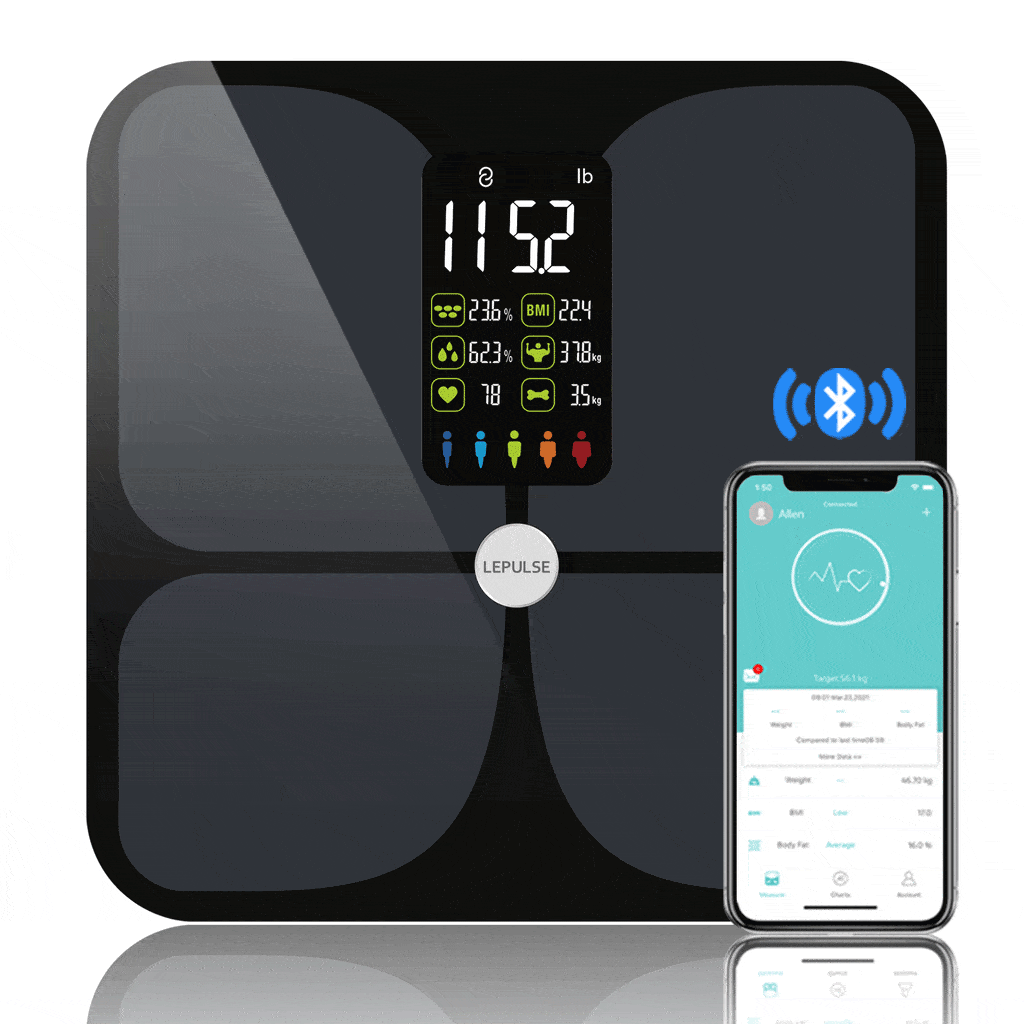 This body fat scale is excellent for personal use at home. The large display screen shows you eight key body measurements as you step onto the scale. In addition, the LCD is high-resolution, giving you a sensory experience and an easier time digesting the information.
High-accuracy G-sensors measure your weight and other measurements as soon as you step on the scale. These numbers then give you a precise full-body analysis at a glance.
You can use the scale independent of your phone. But if you connect it to your Fitday app, it will show you 15 compositions. These include your BMI, body fat percentage, heart rate, visceral fat, and more.
The app also offers you trend tracking so you can watch your progress.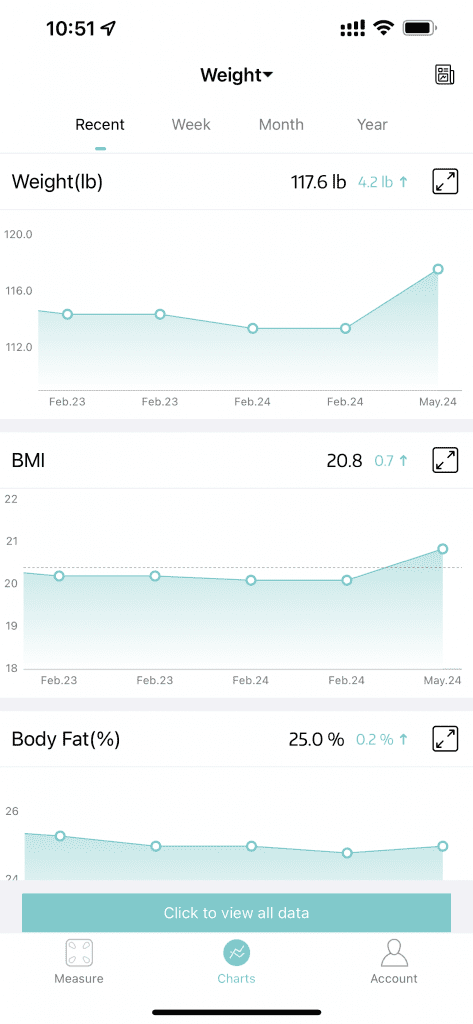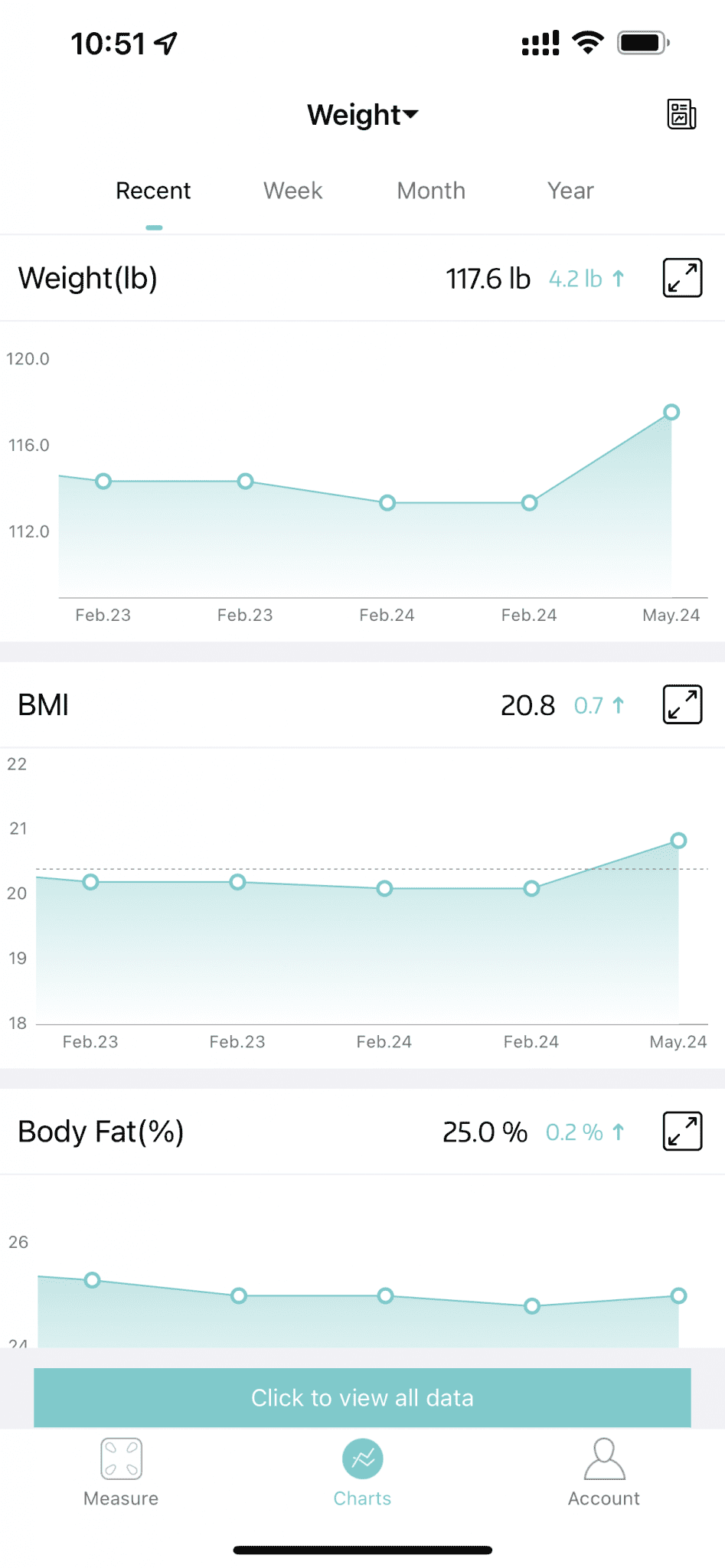 It's a fast and easy way to see a comprehensive report on how your overall health is doing. The data also helps you create new goals related to weight or health in general. It even suggests the appropriate exercise intensity for you based on the data.
What customers like about it:
Setup is easy
Data on the scale helps you set new goals for yourself
Accurate information on body composition
Easy to integrate with the Fitdays app
Lescale P1 Professional 8 Electrodes Body Fat Scale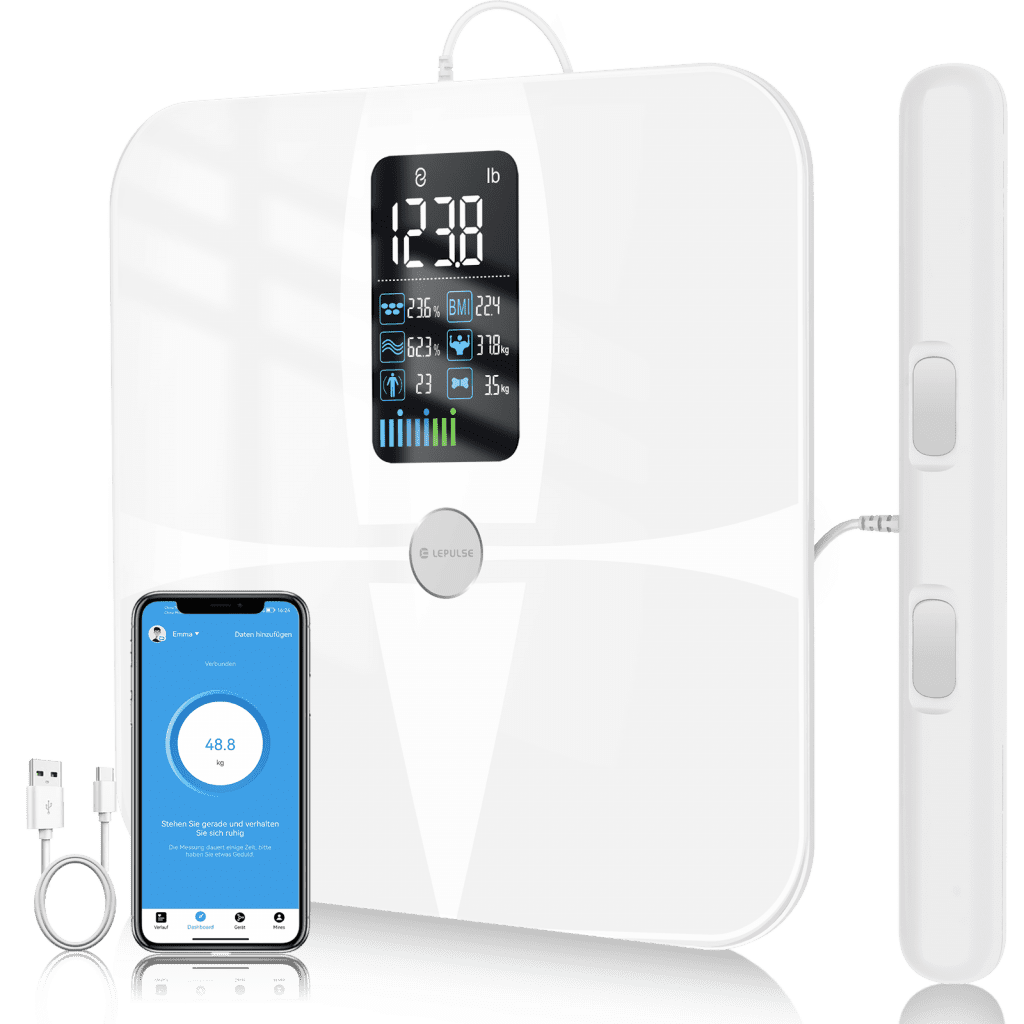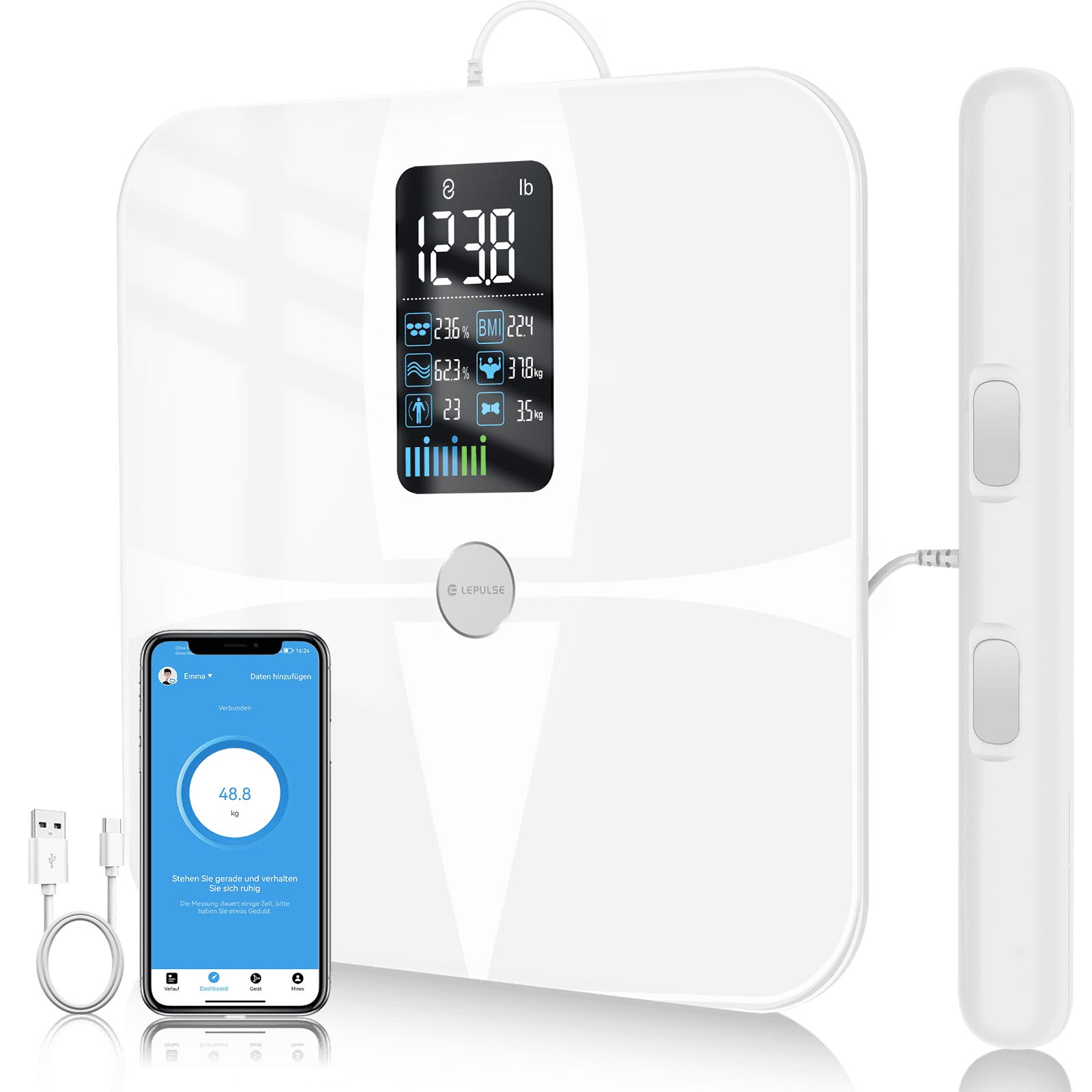 If you're a personal trainer or medical professional, you might want to invest in one of these. It's Lepulse's most accurate scale, thanks to its advanced 8-electrode immersion.
These electrodes accurately measure your limbs and torso as you stand on the scale. From here, the scale creates a full-depth analysis of your body. Aside from weight and body fat, it measures bone mass, water weight, and muscle mass.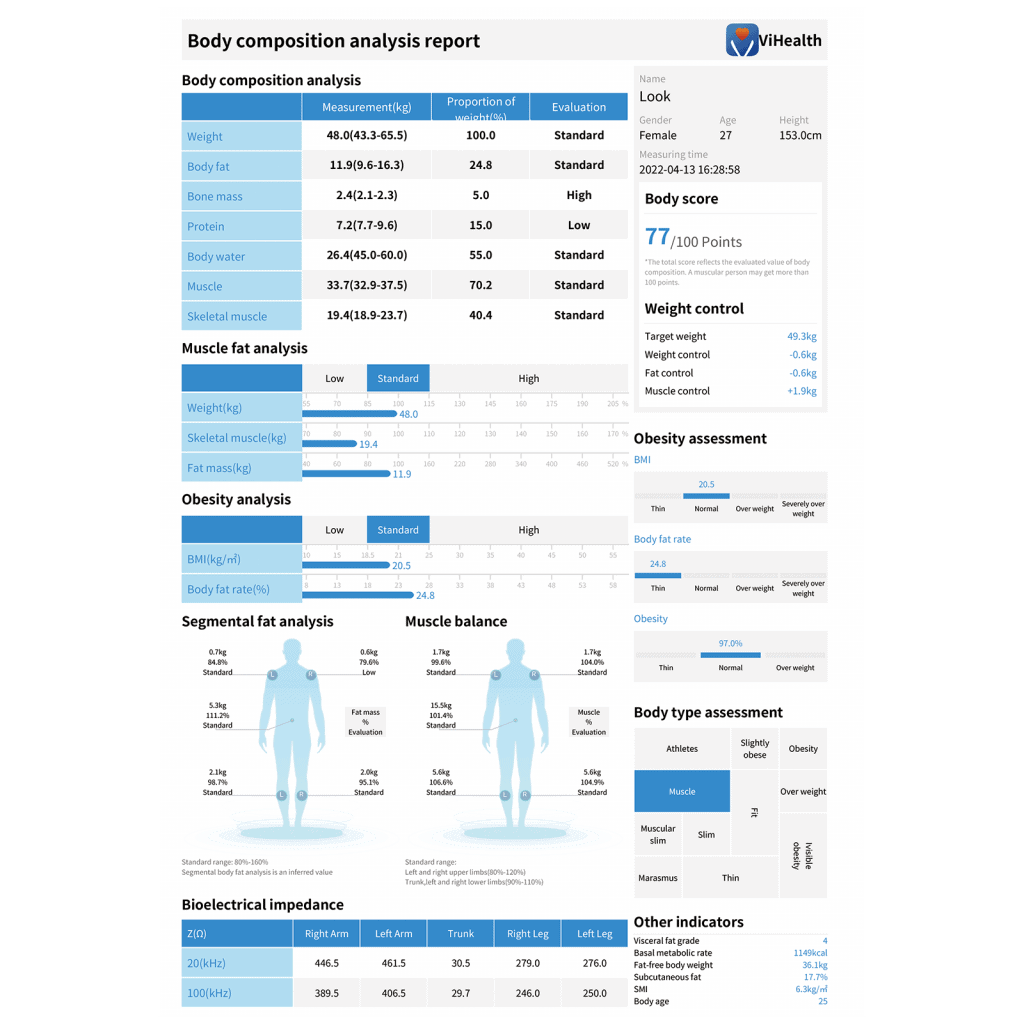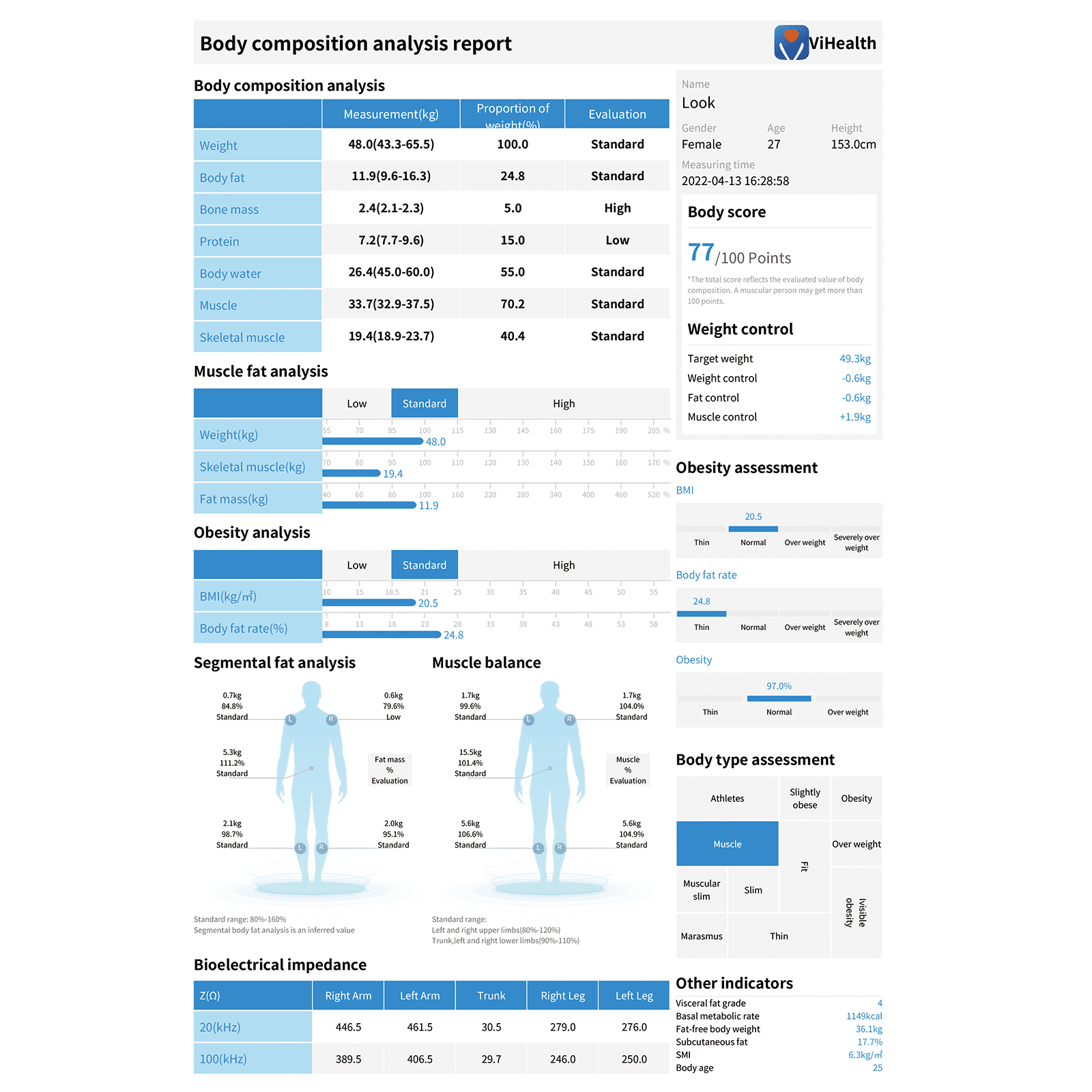 This is an excellent scale if you want to help clients plan the perfect fitness program. Equipped with the data from the scale, you can make the best fitness programs for anyone. In addition, you can accommodate up to 24 users on the app and scale.
Like the previous scale, this one can be used independently of the app but works better connected to it.
What customers like about it:
It gives you a comprehensive analysis of body composition
It pairs easily with the app
The app tells you how you fare against the typical range per data point
Sleek, sophisticated style
M2 MINI Wireless Massager with Free APP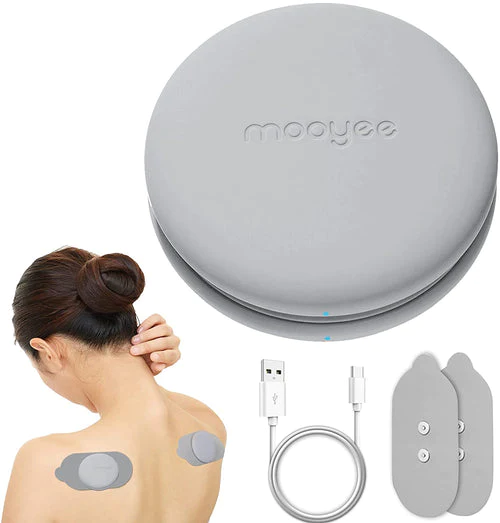 Try this wireless massager if you often struggle with chronic body pains or tight muscles. This non-invasive device helps relieve pain and discomfort almost instantly. And it does so by relaxing your body and mind through a massage.
This tool suits back pain, inflamed joints, shoulder tension, and muscular pain. You can use it anywhere on your body, from your back to your calves.
Depending on your body's needs, you can choose between 18 massage modes. You can also adjust the intensity level from 1-15. It's great if you want to go from a light massage to a deep tissue one in seconds.
All you have to do is attach the wireless massager to the self-adhesive pads provided. Then, place those conductive pads on your problem areas. Then, switch the massager on with the APP, kick back, and relax as your body gets massaged.
When you're done, removing the gel pads is very easy. They're reusable and can be used up to 50 times if you carefully remove them from your skin.
What customers like about it:
It can be conveniently operated via the APP
Automatic on and off feature
It's small and compact so that you can take it anywhere
Lepulse Reviews
There are tons of positive reviews on the official Lepulse website. Many customers are happy with their purchases. In addition, they rave about how they have helped in their fitness journey.
Lepulse has also garnered plenty of great reviews on Amazon, which is very promising. In addition, the brand has a pretty high rating overall on the online marketplace.
Unfortunately, we couldn't find any reviews for Lepulse on YouTube or Trustpilot.
However, we'll continue to follow the brand to update you when we see more content on their products.
Lepulse vs Qardio vs FitTrack
Even if Lepulse is very innovative, it's not the only smart scale on the market.
So, how does it fare compared to competitors like Qardio and FitTrack?
---
| | | | |
| --- | --- | --- | --- |
|   | | | |
| | | | |
| | | | |
| | | | |
| | | | |
| | | | |
| | Tracking Free App to track the results | Goal tracking and reminders  | |
| | | | |
| | | | |
| | | | |
---
Overall, Lepulse has a more affordable price tag for its smart scales.
Lepulse household scales start at $61, whereas Qardio's can be double that amount. FitTrack scales are also more expensive at around $90.
You also get more space for data with a Lepulse scale. With its competitors, you can only hold onto the health information of eight users. Meanwhile, Lepulse allows up to 24 users on its record.
Lepulse Review Conclusion – Is Lepulse worth it?
Yes, Lepulse is worth a buy if you want an affordable user-centric smart scale. Whether you're a newbie or a professional who wants to help clients understand their bodies, it's perfect.
Aside from the scales' fitness benefits, Lepulse also has promos that make your purchase worthwhile.
For example, they offer free shipping and a one-year warranty for their rankings and massagers. So, you get bang for your buck and extra protection for your tools.
Order your first Lepulse scale today and get it in just a week! Your fitness journey will be much smoother thanks to these stress-free, easy-to-understand scales.
Read This Next: