As we explore this DoFasting review, we will see if this fasting app is right for you. The topic of intermittent fasting became extremely popular when several studies were published on the effects of fasting.
Not only can intermittent fasting help you lose weight, but it also has many other health benefits, including living a longer and healthier life overall.
Intermittent fasting is done best with a fasting and results tracker, recipes, and workouts, so you know exactly what you need to do and when.
Enter, DoFasting. This app is the easiest way to track your fasting journey and keep all your information, including your results, in one location.
However, is DoFasting worth it?
Today we are going to review DoFasting as a whole and learn how DoFasting works and if it benefits your intermittent fasting journey.
About DoFasting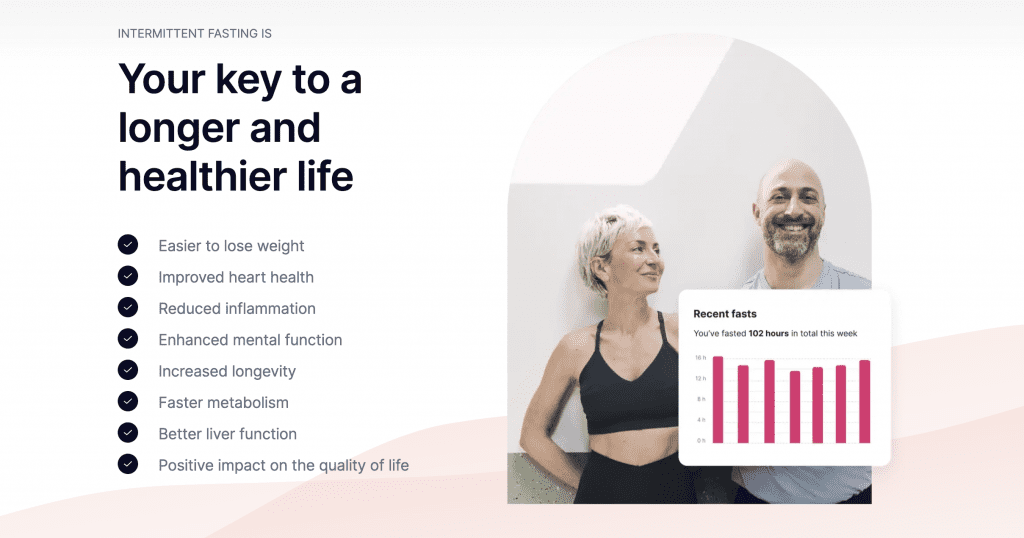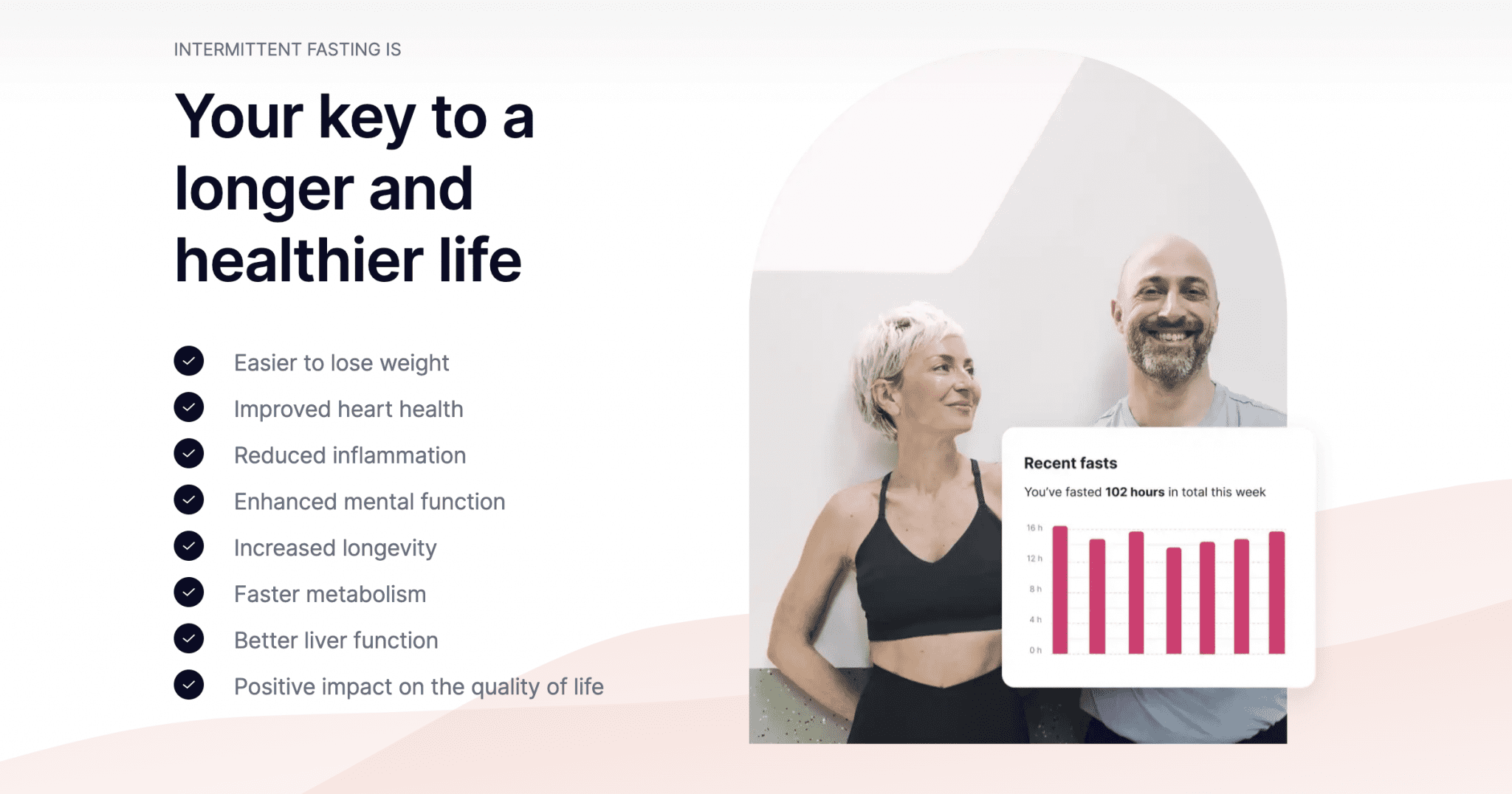 DoFasting is one of the leading intermittent fasting apps that helps you track your weight loss quickly.
It was founded in 2019 by a group of friends, including Kristina Zalnieraite, a certified nutritionist with a lot of knowledge about weight loss and nutrition.
The team at DoFasting still includes industry experts, nutritionists, MDs, and several other health professionals.
With a mission to improve quality of life and ensure its longevity, DoFasting has quickly picked up momentum.
That group of friends began the program as a passion project that quickly became a leading health and wellness app used by people of all ages, genders, body types, races, and ethnicities.
DoFasting has been mentioned in prominent media outlets, including Forbes Health, Business Insiders, and many more.
In addition, it was the #1 app in the health-fitness category in 2020 and the #3 app in the top free app chart.
Having already served over 2 million customers, proving they can change the lives of millions and that intermittent fasting is a great tool to ensure a longer and healthier life.
How To Start With DoFasting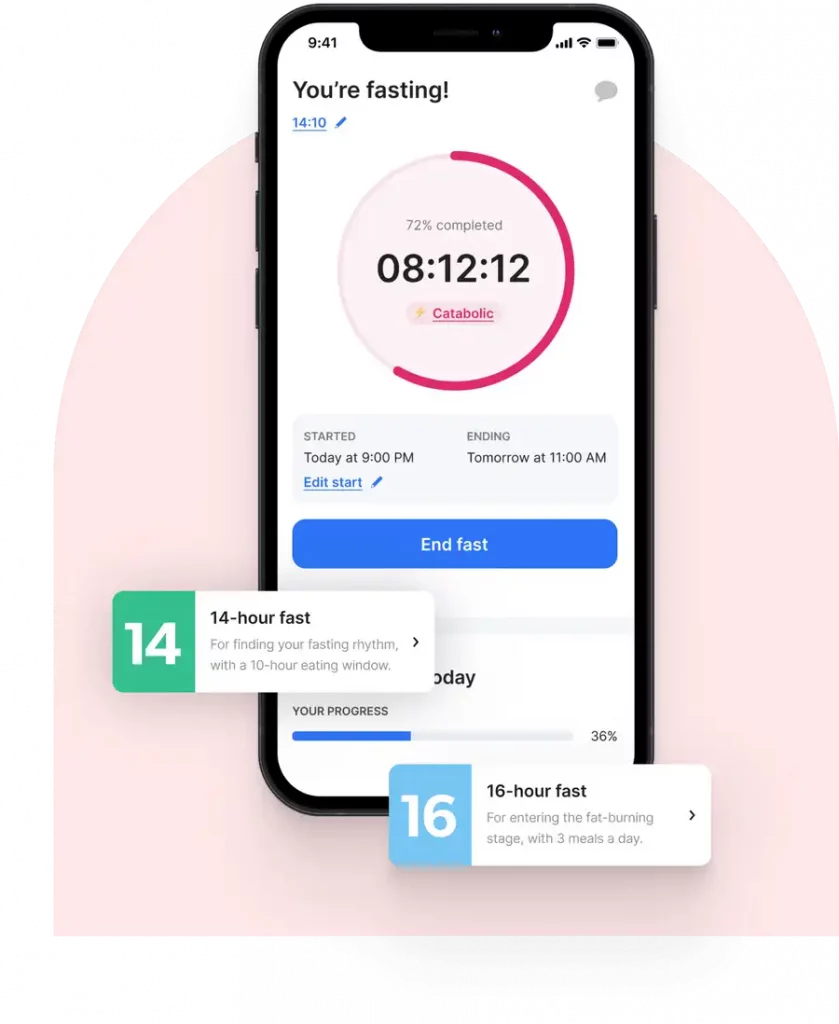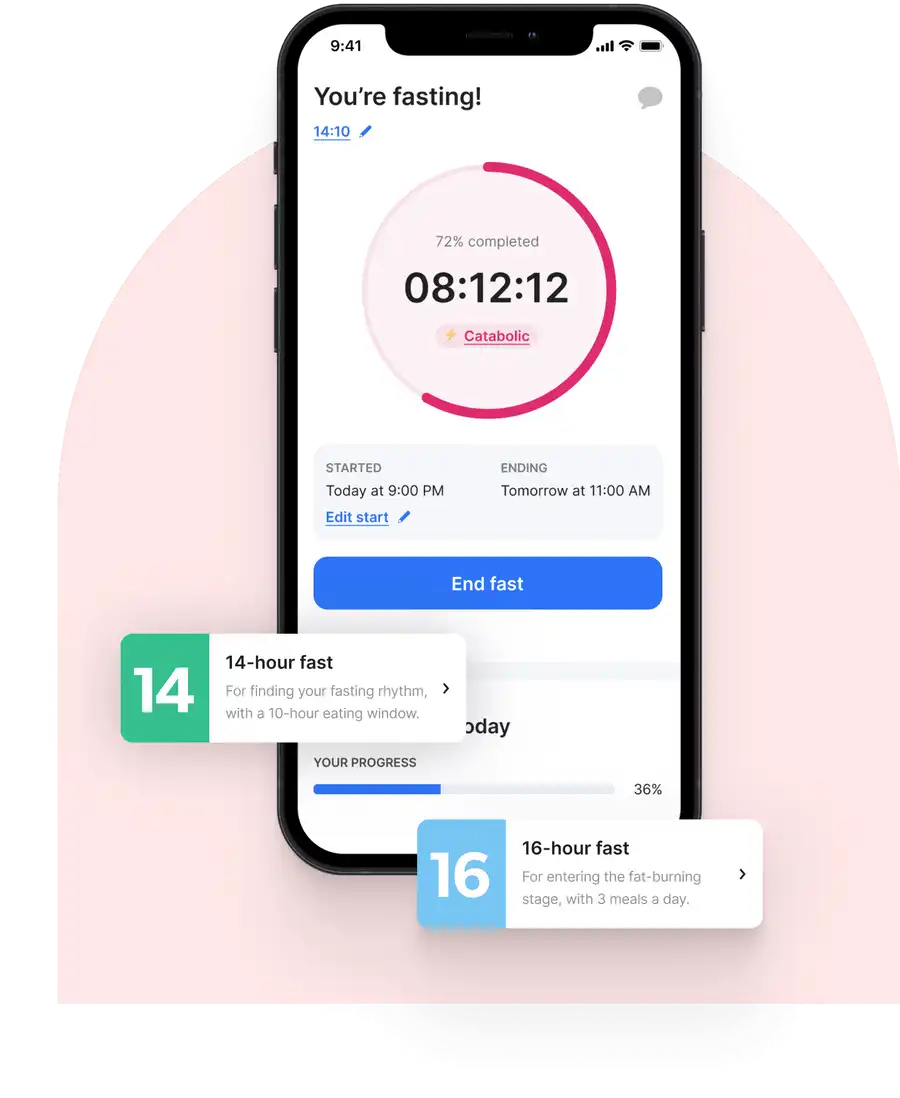 DoFasting is considered a 3-in-1 solution for those looking to improve their overall health, lose weight, and improve their nutrition habits.
It has a blog that is great for those who may be new to intermittent fasting as it provides plenty of information, including a beginner guide and explaining all diet types, including the Warrior diet and Bubrow diet.
You can also take their 60-second quiz to find out what will work best for you, and you get a fasting assistant to help you in your journey.
The app is available for both IOS and Android devices and provides the most customized fasting experience for any user.
This includes giving different types of fasting, information on which periods you can fast during, and guidance to reach your health goals.
The app is suitable for anyone from complete beginners to those that have been fasting for years.
Our DoFasting Review
DoFasting is not only just a revolutionary app in the world of intermittent fasting, but they offer a wide range of other products for its users.
DoFasting App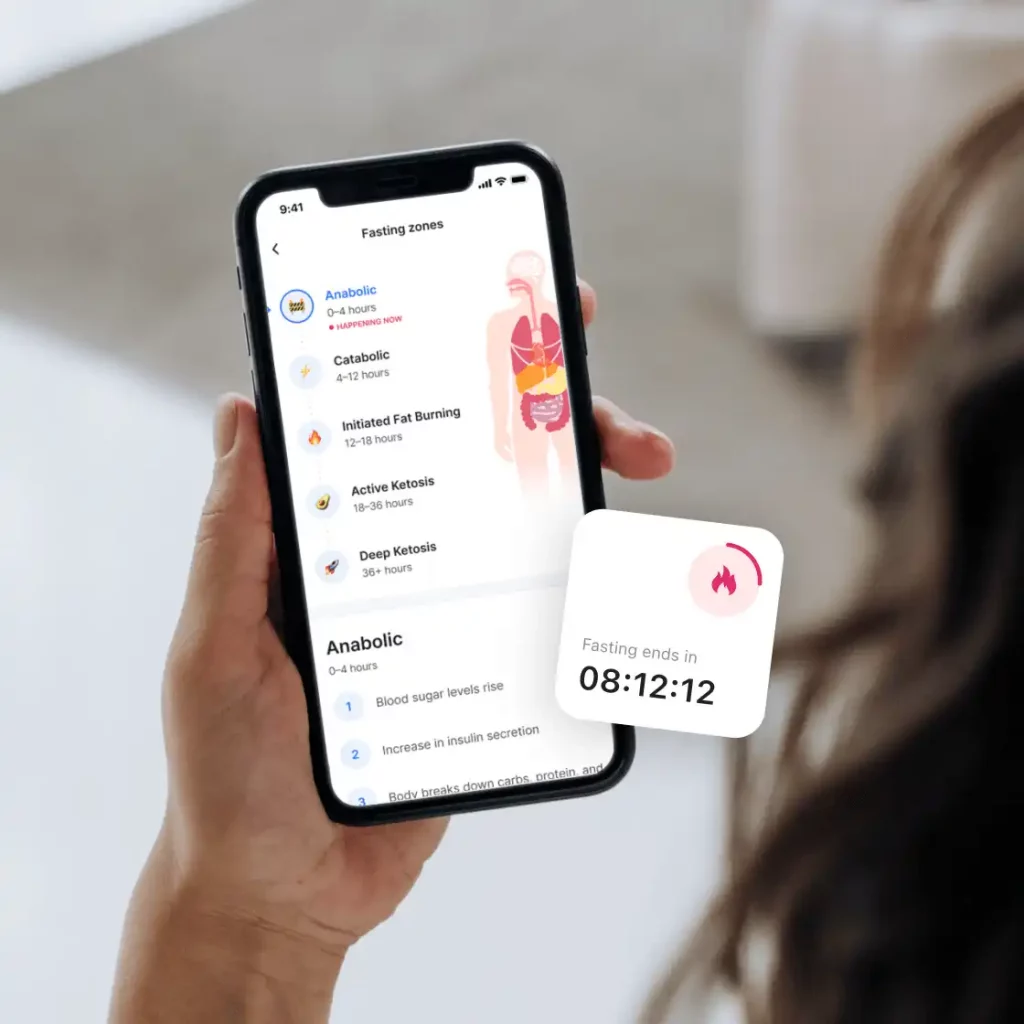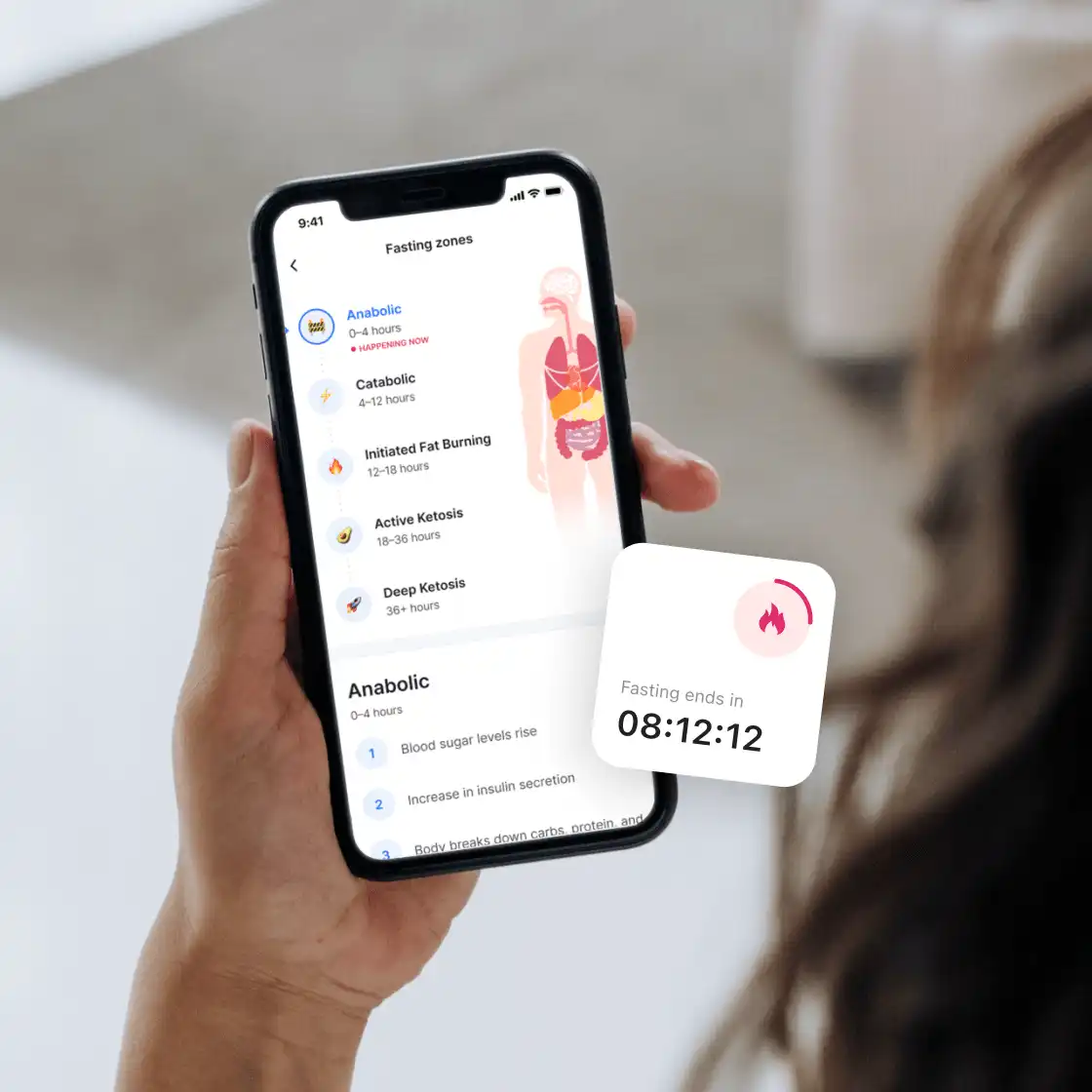 The easy-to-use fasting tracker offers multiple fasting types for users to customize the fasting experience. In addition, it provides the seven most popular types of intermittent fasting schedules so you can find the one that suits your lifestyle the best.
Daily articles and app notifications provide users with the most helpful intermittent fasting information and information about nutrition and exercise. You will also receive encouraging and motivational reminders to help motivate you to stay on track.
Recipes for Weight Loss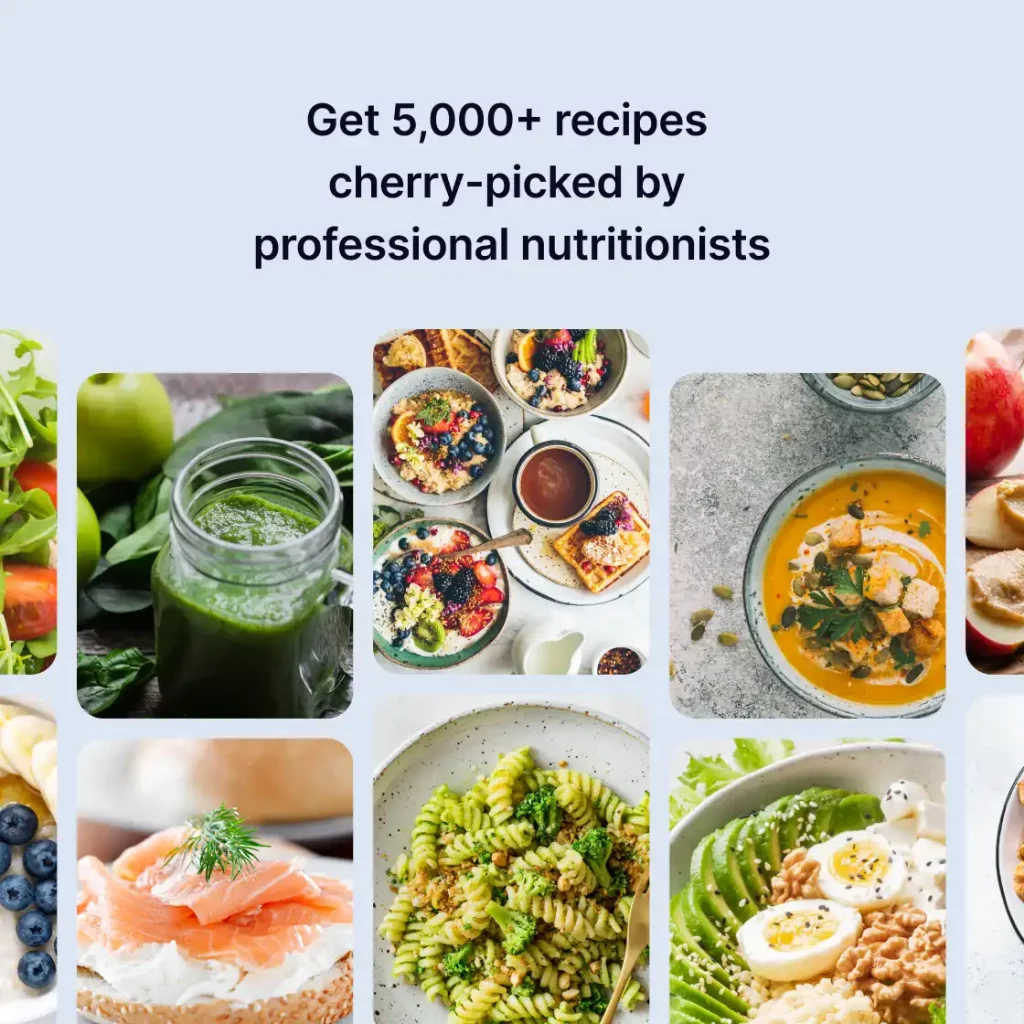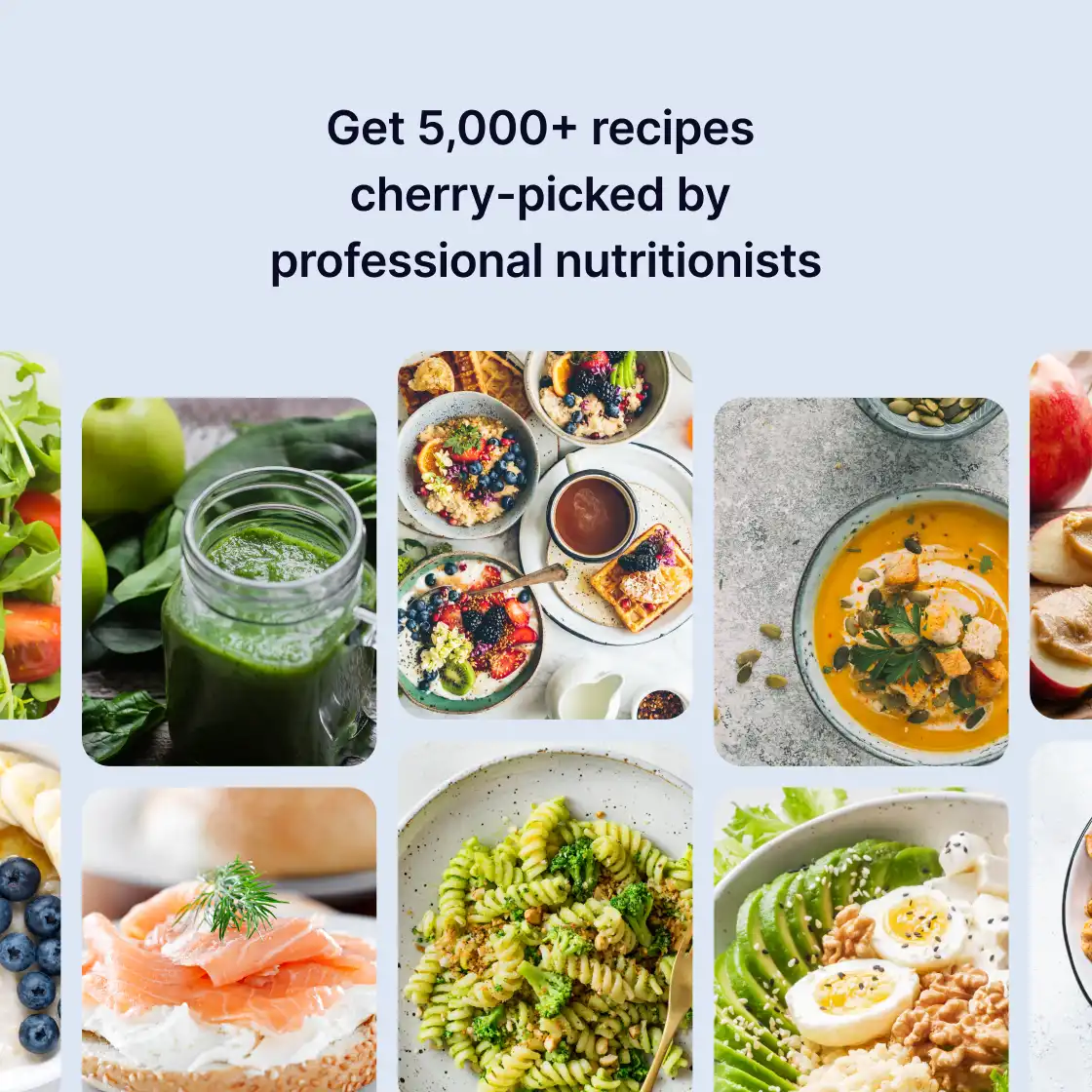 Everyone has different food preferences and things they enjoy or do not enjoy eating when trying to be healthier.
The recipes that DoFasting provides are an excellent way to have endless options of foods that you can eat during your fasting window.
Professional nutritionists have created over 5,000 healthy, easy-to-make, and satisfying recipes.
You can easily save your favorites by planning your meals ahead of time so you can save time and be prepared when you go to the grocery store.
Track All Of Your Progress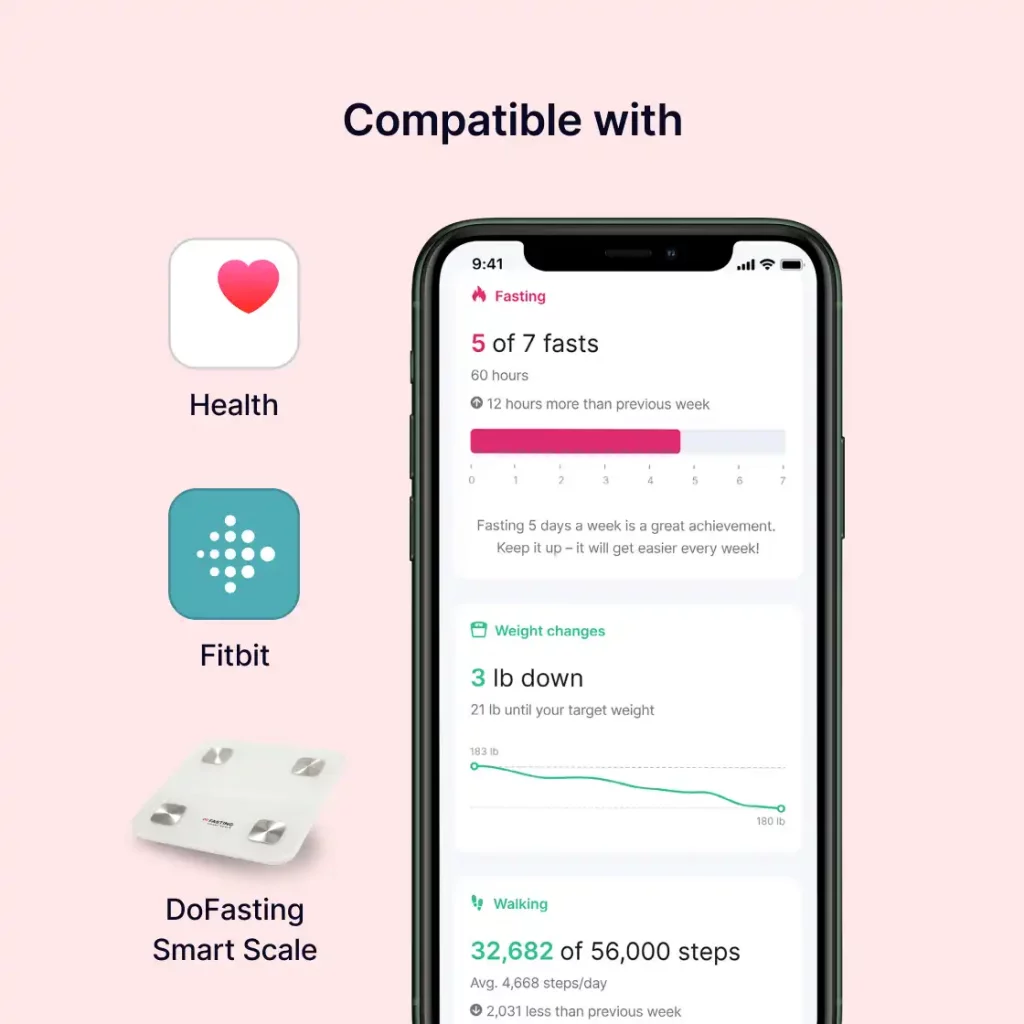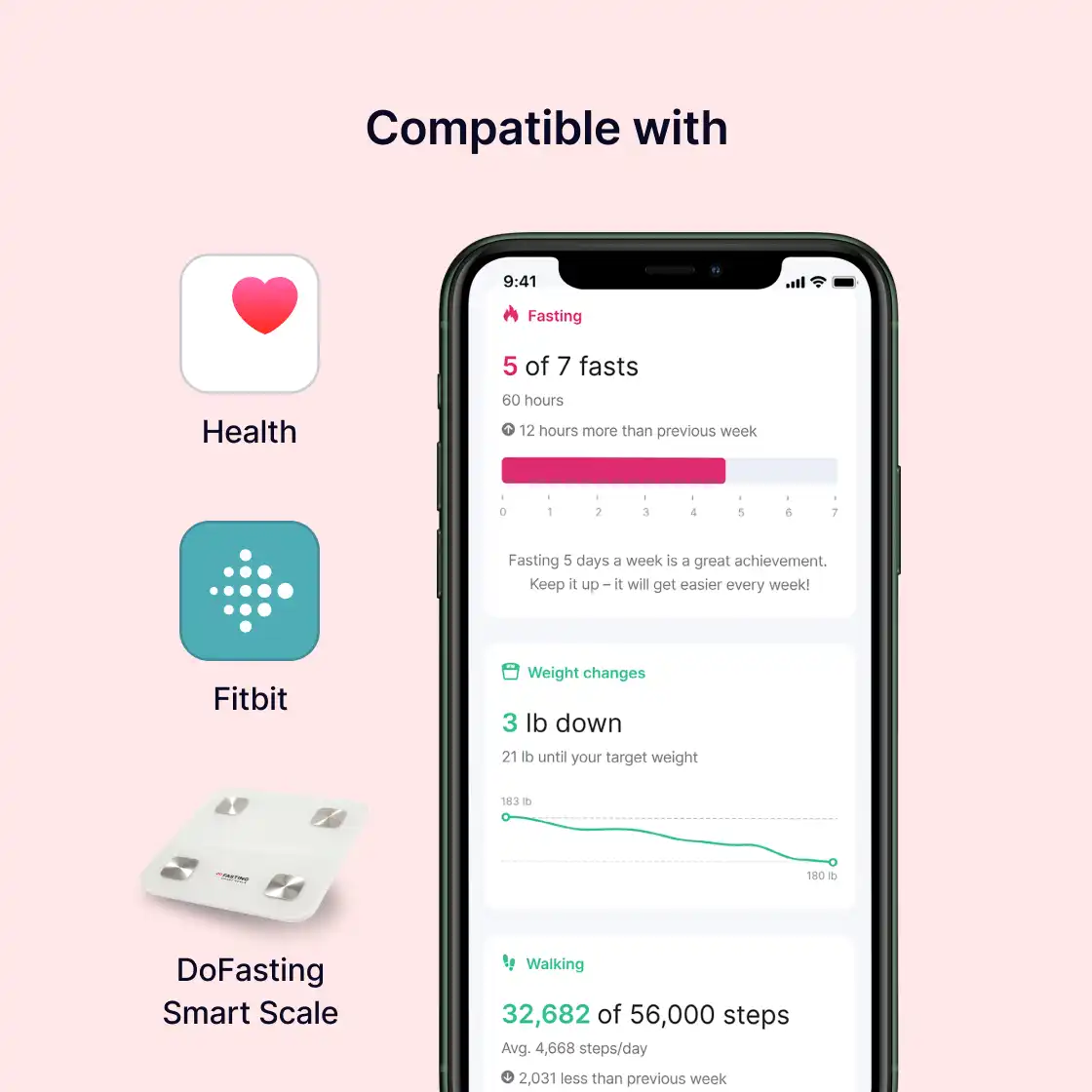 One of the most motivating parts of a weight loss journey is tracking your progress to know what is working and what is not.
The DoFasting app provides a calorie tracker to log your calorie intake and ensure you know exactly how much fat, carbohydrates, and protein you get from every meal and snack you consume.
You will also get a weight tracker to keep track of your weight loss. This is a great motivational tool to see how your hard work is paying off. It will allow you to look back over the prior weeks, months, or even years.
A water tracker will help you stay hydrated and ensure that you drink the proper amount of water each day, as well as a step tracker to track your steps and help you reach your weight loss goals.
The step tracker will sync with the Health app on your IOS phone or even a Fitbit.
Have Fun With Exercise
The DoFasting app provides workout routines created by in-house personal trainers. Some workouts are suited for all ages and fitness levels and can be completed at home as they require no equipment.
The workouts range from 6 to 45 minutes, include HIIT workout routines, reduce body fat and build lean muscle, and the workout plans start as low as $11.50 per month.
DoFasting Smart Scale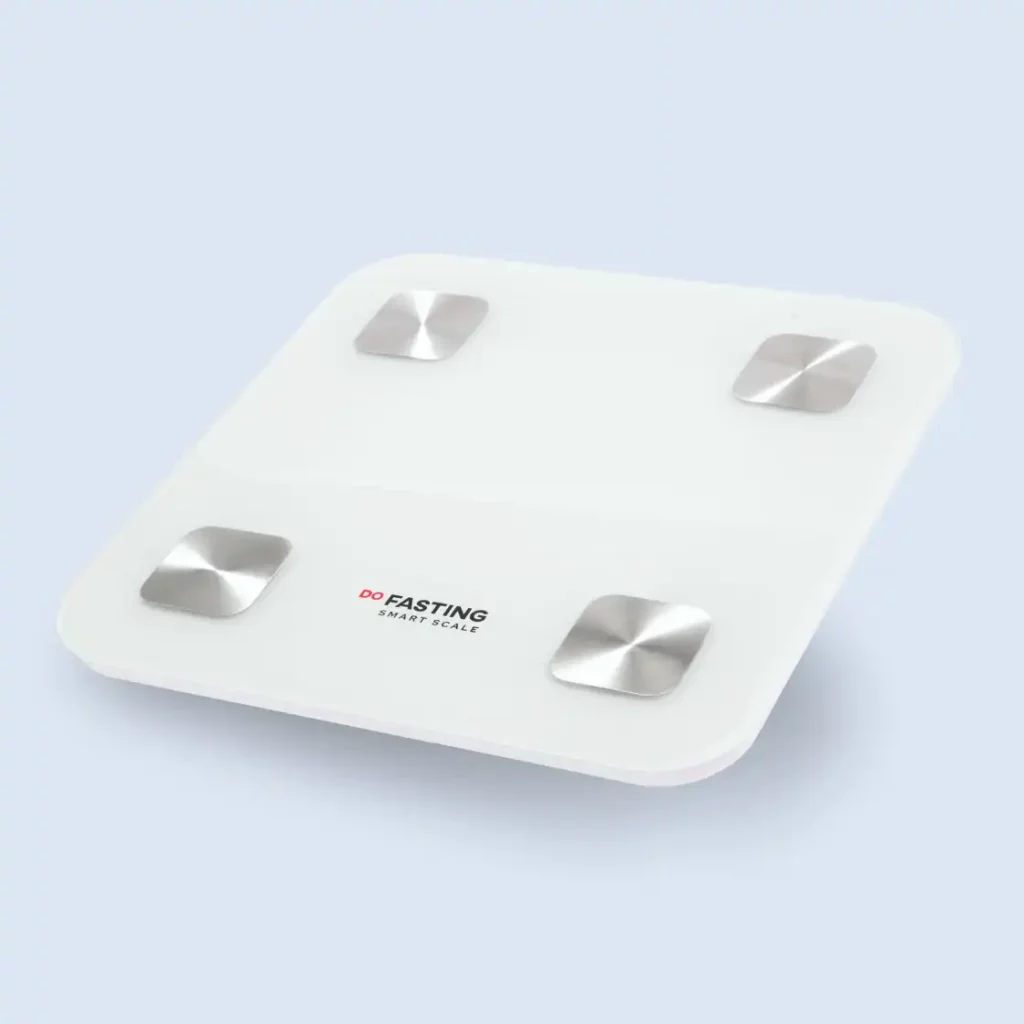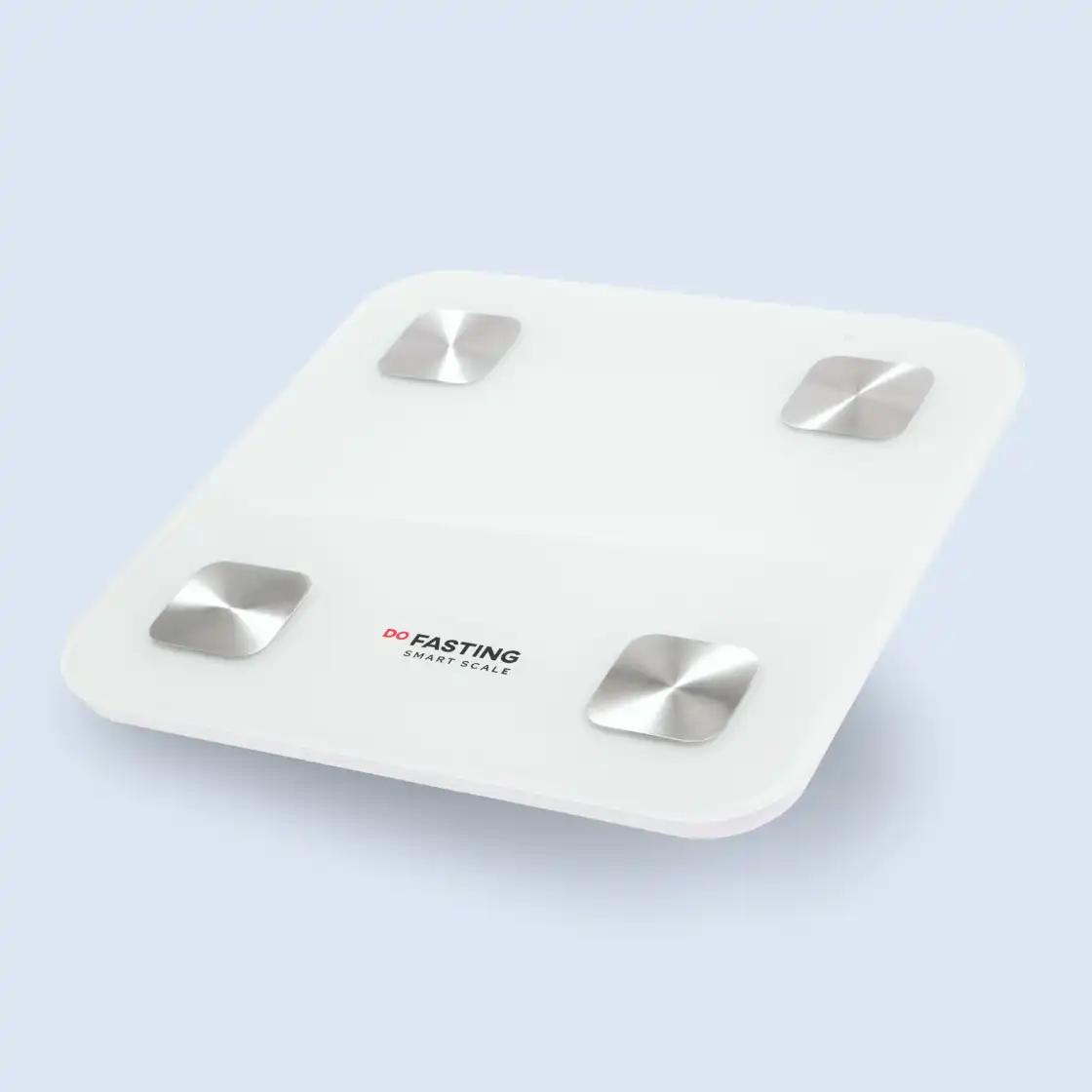 The DoFasting Smart Scale is a vital part of your weight loss journey. If you are serious about losing weight and want to track your progress accurately, then the smart scale is a great product.
The DoFasting Smart Scale is a bathroom scale that can help you monitor many-body metrics each time you step on it.
This scale works with the DoFasting app and will analyze your results to give you the best recommendations for reaching your health and fitness goals.
The intelligent scale will measure:
Body weight
Ideal weight
Body mass index
Basal metabolic rate
Skeletal muscle mass
Body type
Metabolic age
Water
There is free shipping on the smart scale and a one-year warranty. In addition, it is equipped with four high-precision sensors and will quickly sync all data to any smartphone. 
Related: We Tried The LePulse Smart Scale
DoFasting Appetite Suppressant Box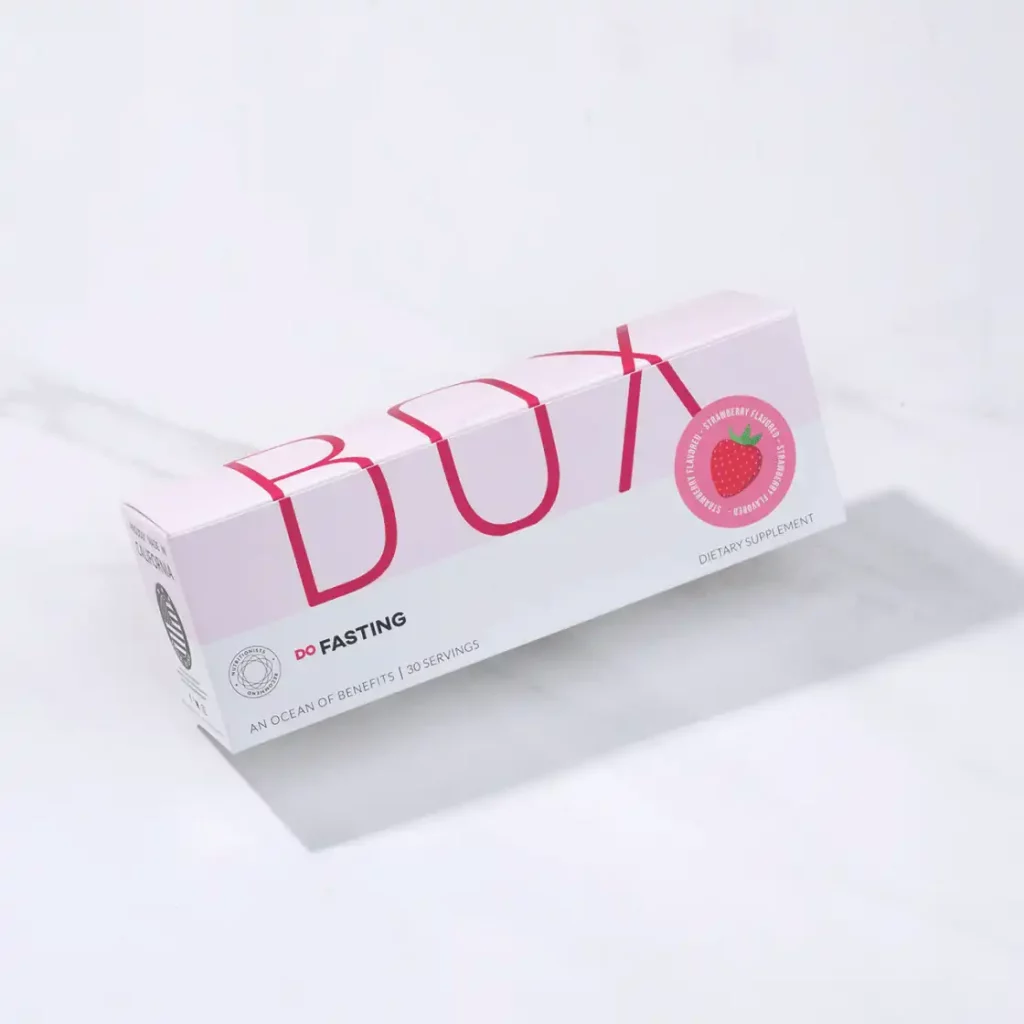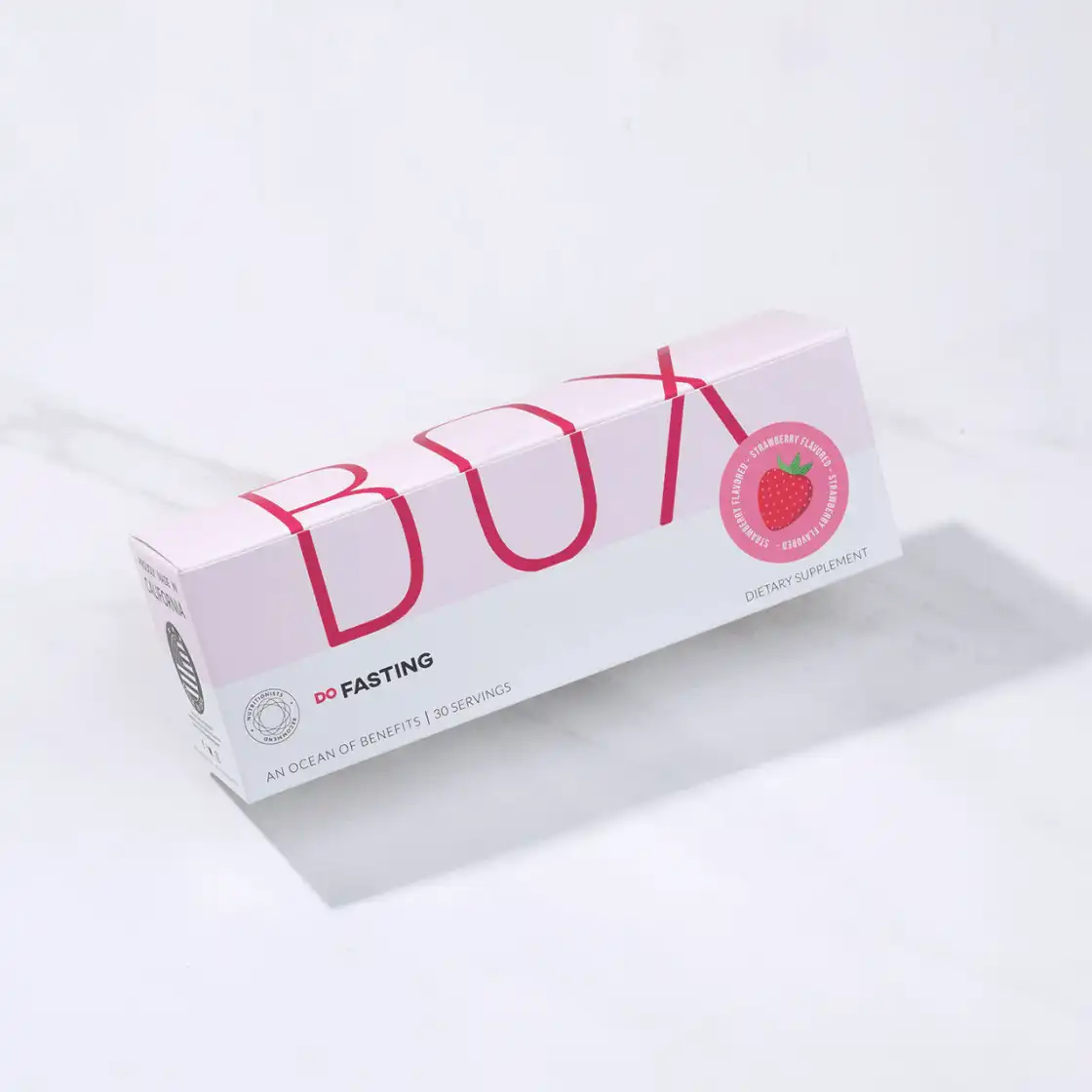 A packet of the DoFasting appetite suppressant has a scientifically proven fiber complex. It includes glucomannan and cellulose to help keep your cravings away for the rest of your fasting window.
This box is intended to fill you up and not interrupt your fast so you can stay on track toward your weight-loss goals.
The benefits of the DoFasting Appetite Suppressant Box include:
Completing your fast without hunger pangs
Improvement to your health overall
Healthy gut bacteria, reduction of bloating, and lower cholesterol
100% natural and science-based
Made out of two natural fibers
Extend your fasts and speed up your weight loss progress
Cleanses the colon, which can help to reduce your risk of colon cancer.
Improves skin health to give a great natural glow
DoFasting Pros and Cons
Pros
Easy-to-use fasting tracker
Helps to aid in weight loss and create a healthier lifestyle
DoFasting has other products outside of just tracking fasting
100% science-based
All apps in one, including nutrition, workouts, and motivation
Actual results from real customers
Over 5,000 recipes approved by nutritionists
Track all progress
10% off for CakeStyle readers with CAKE10 promo code.
Cons
It is more expensive if you just try the subscription for one month.
DoFasting Customer Reviews
On TrustPilot, DoFasting has excellent reviews with a 4.3 out of 5 with over 1900 reviews.
Sitejabber has over 170 excellent reviews on DoFasting, which gives them a 4.14 out of 5.
DoFasting vs Zero Fasting App
DoFasting is not the only intermittent fasting app available to those looking to fast and improve their lifestyle.
But, how does DoFasting compare to Zero Fasting App?
Easy-to-use fasting tracker

Over 5000 recipes under 10 minutes

Custom plans in the Plus version

Yes, includes some basic features

You can get apply for a refund within 14 days of purchase

You can get apply for a refund within 30 days of purchase

Easy-to-use fasting tracker

Helps to lose weight and create a healthier lifestyle

DoFasting has other products to help you to reach faster results

All apps in one - nutrition, workouts and motivation

Actual Results from real customers

Available for both iOS and Android

Has custom plans in the Zero Plus

Premium content in the Plus version

Premium statistics in the Plus version

It is more expensive if you choose to just try the subscription for one month

It has far less features compared to DoFasting
DoFasting provides a wide range of products and services to its customers.
They give any tools necessary to those looking to not only take part in fasting but have access to workouts and recipes to complete the process.
DoFasting states that they want it to not be a fad but a new lifestyle choice.
Is DoFasting Worth It?
DoFasting is worth the price if you are looking to start on the journey to a healthier lifestyle. It is a great all-in-one app that will help you through fasting.
In addition, they have thousands of excellent reviews to back up their product.
So if you are interested, you can download the app today to begin the process!
Read This Next: