Fleur and Bee have high standards when it comes to creating clean beauty products. We recently tested the Eyes Eyes Baby cream. Here are our thoughts on this clean, anti-aging eye cream.
I first learned of Fleur and Bee a few years ago when it popped up in the Kinder Beauty Subscription Box. Subscription boxes are awesome because it allows the consumer to fall in love with all-new cosmetic brands! It also feels a lot less wasteful when the box offers sample sizes. However, I was really happy that this product was full-size.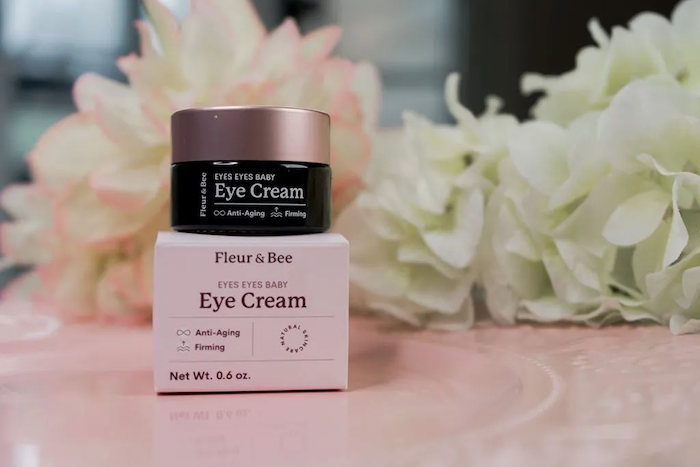 About Fleur and Bee
This brand never uses parabens, sulfates, artificial fragrances or dyes. On top of their squeaky-clean ingredient list, they're 100% vegan, Leaping Bunny certified, and cruelty-free! It doesn't stop there.
Even their packaging is crafted with sustainably sourced ingredients. Their packaging is also adorable – it looks adorable on the shelf. Another perk? Their products are much more affordable than some of their clean beauty competitors.
I love when brands donate a portion of their sales to a meaningful cause. Fleur and Bee donate 1% of their sales to Days for Girls. This organization provides menstrual care products and education to girls in need. On top of this, the company regularly volunteers for various organizations in the Los Angeles area. Now, this is a company with ethics that I can really support!
You May Also Like: Cruelty-Free Makeup For Mature Skin (Top Brands)
Where To Start With This Brand
If you haven't heard of Fleur and Bee, I would recommend starting with their sample kit. This sample pack allows you to try some of their best products for only $5! (including their eye cream). They also have regular promotions where you can try their sample kit and only pay the price of shipping. By offering samples, you know the company stands behind the quality of their products.
They also offer an anti-aging starter kit. They design these products to work together to create an easy, clean skincare routine. If you fall in love with their sample set, this might be a good place to start. I had the pleasure of trying their "Eyes Eyes Baby" Anti-Aging Eye Cream, and I have to say, I'm really impressed! Here are my thoughts.
Fleur and Bee Eye Cream Review
Typically, when trying a new eye cream, there is something that throws me off. Either the scent is too strong, it stings my eyes, or it just feels too greasy. The Fleur and Bee Eye Cream is nourishing and moisturizing without being too heavy. This is difficult to find in an eye cream!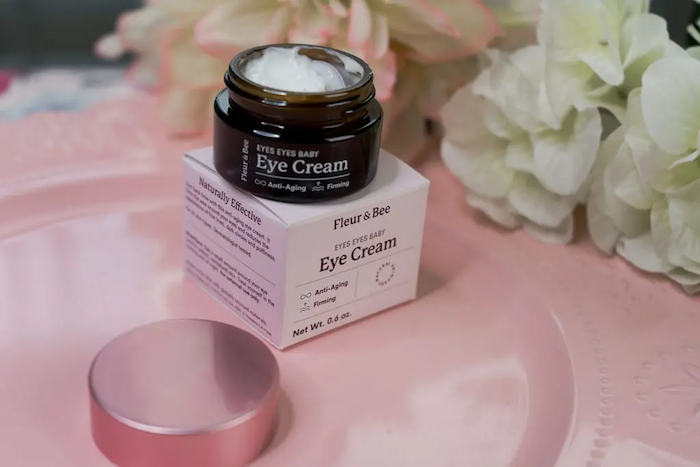 It is currently winter where I live, and the air is extra dry. When the air is dry, it is important to keep the skin around your eyes hydrated. Luckily, this eye cream does exactly that.
I have sensitive skin that reacts easily to certain ingredients. With daily use, I had no issues of irritation with this cream. In fact, it is quite soothing and I really looked forward to using it every morning. As with any product, be sure to read the ingredient list and perform a "patch test" on the inside of your arm.
Scent and Consistency
The first time I used this eye cream, I noticed a light, herbal fragrance. I have a really sensitive nose and the scent is anything but offensive. In fact, it smells clean, and natural. While I do prefer products that are unscented, the light lavender fragrance of this eye cream definitely does not deter me from using it every day.
The consistency of this product is light, and the cream absorbs perfectly. I have used this alone under makeup and have had no issue with it being too greasy. I have also used this eye cream at night and found it really complimented any face cream that I applied.
This cream does not contain SPF (which I prefer). When I go out in the sun, I like to use a separate sunscreen.
Ingredients and Cost
The Fleur and Bee eye cream is packed with beneficial ingredients to provide results in the short term, as well as the long term. Vitamin E, Vitamin B3, Caffeine, and Squalane are just a few of the notable key ingredients. The ingredient is long, but with a close look, you can see that it's all really great stuff.
Ingredients
Deionized Water, Glycerin (Kosher, Vegetable), Organic Sunflower Seed Oil, Stearic Acid, Cetearyl Alcohol, Glyceryl Stearate, Safflower Seed Oil, Organic Aloe Vera Leaf Juice, Squalane (From Olive Oil), Niacinamide (Vitamin B3), Tocopherol (Vitamin E), Tocopheryl (Vitamin E) Acetate, Palmitoyl Tripeptide-1, Palmitoyl Tetrapeptide-7, Caffeine, Organic Gotu Kola Extract, Italian Honeysuckle Flower Extract, Isopropyl Palmitate, Japanese Honeysuckle Leaf Extract, Decyl Glucoside, Wild Geranium Extract, Glyceryl Caprylate, Sodium Carbomer, Horsetail Extract, Butylene Glycol, Carbomer, Organic Dandelion Extract, Polysorbate 20, Lecithin, Alcohol, Algae Extract, Escin, Potassium Phosphate, Lavender Oil, Phenoxyethanol, Ethylhexylglycerin, Organic Green Tea Extract, Pomegranate Fruit Extract
When it comes to cosmetics, eye creams are expensive. I think this product is reasonably priced at $22 for a .6 oz container. I have been using it daily for several weeks and there is still quite a bit of product left! Because this cream comes in a jar, make sure your hands are completely clean before dipping your finger in for product.
Keep an eye out for promotions and sales that the company may offer. For instance, signing up for their email list may score you 20% off your purchase, allowing you to grab this eye cream at a pretty great price!
Read This Next: The Best Non-Toxic Concealers For A Perfect Complexion