Everyone faces unique skin concerns. For example, while you battle with oily, acne-prone skin, a friend might hate their dry, flaky complexion.
Contrary to what many believe, skincare is not one-size-fits-all. Just because people are raving about a moisturizer or serum on TikTok doesn't mean it will work for everyone. To target your most pressing skin problems, you need a personalized routine.
That's where the Geologie Power Bundles come in. Instead of forcing the same routine on everyone, these personalized routines fight a specific skin concern. The best part? Every product is made with powerful ingredients that give you results, all packed into simple, easy-to-understand steps.
Read on to see what we think of this brand and their bundles.
About Geologie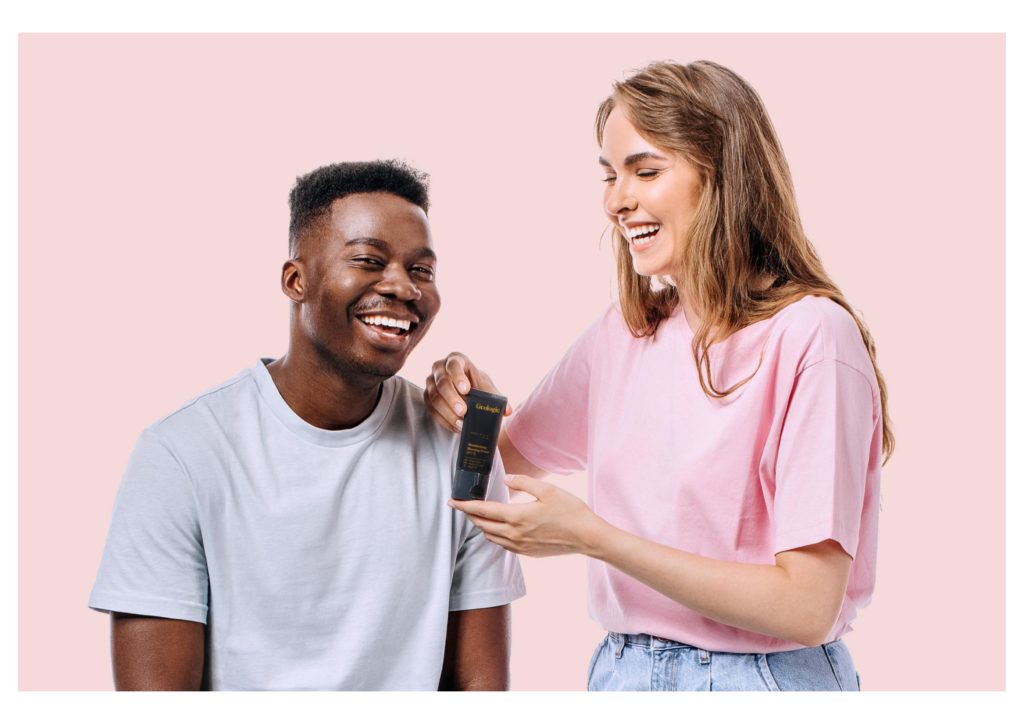 Geologie believes your regimen should be personalized to what your skin needs. With that in mind, this brand creates routines that answer your specific skin woes.
Each product line focuses on specific skin concerns. So, whether you're dealing with acne, oiliness, or even wrinkles, there's a Geologie routine for you.
Geologie doesn't care about gimmicky ingredients. Facts power them, never fads. As a result, the products are minimalist and straight to the point while getting the job done exceptionally well.
The dermatologist-designed formulas use simple but effective ones. This is because they believe skincare doesn't need to be complicated. It just needs to be effective.
Their products contain powerhouse ingredients proven to work for your skin. These include retinol, niacinamide, salicylic acid, azelaic acid, and hyaluronic acid, to name a few.
These straightforward ingredients get down to business and take care of your skin.
Geologie started out as simple, personalized skincare for men. So many females write in on the regular, telling them how much they love the products and have stolen things from boyfriends and partners. Like any brand or any person, they've evolved.
Geologie has learned so much from its customers and with all this customer insider info, they've been able to formulate routines and formulas that cater to both men and women.
Formula-wise, you can expect Geologie products to be on par with many of the top-rated skincare brands out there, at a much more affordable price. Geologie wants to give people high-quality formulas with the finest ingredients for a fraction of the cost.
Today, the brand has over 17k followers on Instagram and 59k on TikTok. Check out their pages for more updates on the brand.
---
Ordering from Geologie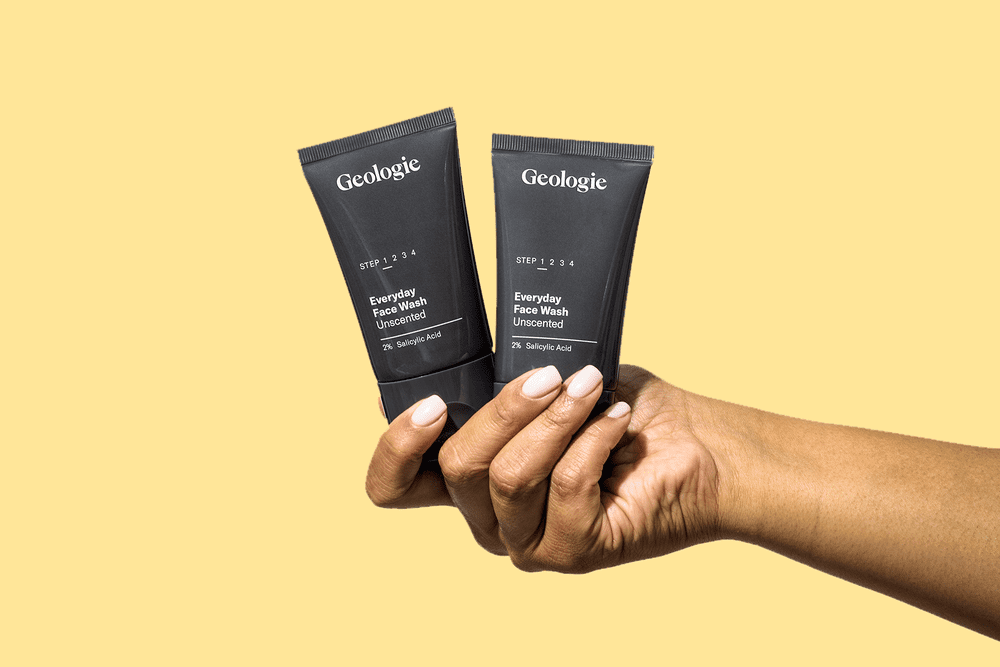 It's easy to find your perfect skincare routine using Geologie's diagnostic skin quiz. It takes less than a minute to accomplish. Here's how it works:
Take the quiz on the website. Answer all questions honestly and accurately.
The website recommends a line-up of products based on your skin issues, put together by their team of skincare experts. This line can target different concerns, from wrinkles to dark under the eyes.
Buy your trial set and start your Geologie skincare journey! The products work best as a set, so make sure you get every product in it. Each set comes with detailed instructions to guide you.
Replenish your products as they run out. You can buy a la carte or get their 90-day supply for this one. Consistency is key if you want noticeable results.
Geologie Skin Concern Power Bundles Reviews
The brand's Power Bundles are quick routines designed to target your unique skin issues. There's a bundle for zapping away wrinkles, soothing redness, combating acne, and more. There's something for everyone, no matter what your skin is going through.
What's great is that you don't have to create a routine from scratch by buying one of these bundles. No more fussing over what cleanser to buy and toners and creams to match it with – these bundles take out all the guesswork.
The brand has 14 bundles tailored for different skin concerns. Each bundle is available in 30-day and 90-day supplies.
Geologie Acne Duo Trial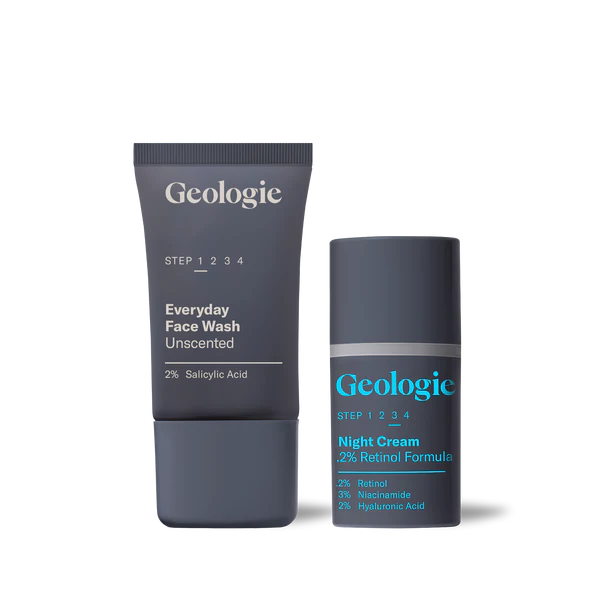 People with acne don't need to use 10 products to zap away those pimples. Sometimes, you need two powerful products that control acne and oiliness. This duo is perfect if you want to diminish your blemishes.
Includes:
Salicylic Acid Exfoliating Cleanser. Salicylic acid helps control sebum—a huge culprit for pimples. It also lessens inflammation to make pimples smaller and less painful.
Retinol Night Cream. It contains retinol and niacinamide to keep redness and breakouts at bay. It also has hyaluronic acid to keep the skin soft and hydrated.
What customers like about it:
Clears up severe breakouts
The cream smells amazing
Shows results in as little as 30 days
Geologie Anti Aging Duo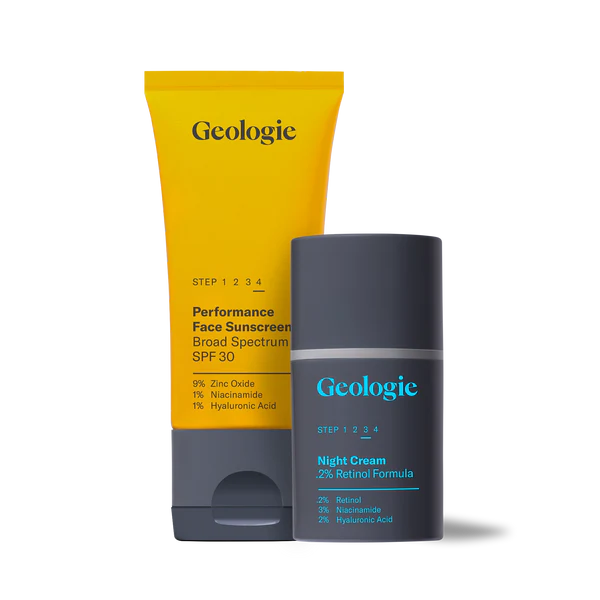 Sun protection and moisture are the keys to eliminating wrinkles and fine lines. That's why these two products make up our prized anti-aging duo.
Includes:
Retinol Night Cream. Retinol is awesome for collagen production, which volumizes the skin and diminishes wrinkles.
Broad-Spectrum SPF30 Face Sunscreen. It helps protect your skin from UV rays, which contribute to premature wrinkling.
What customers like about it:
Night cream replenishes moisture after cleansing
Sunscreen isn't heavy or greasy
A little goes a long way with the SPF
Noticeable results
Applies well under makeup
Geologie Dark Under Eye Duo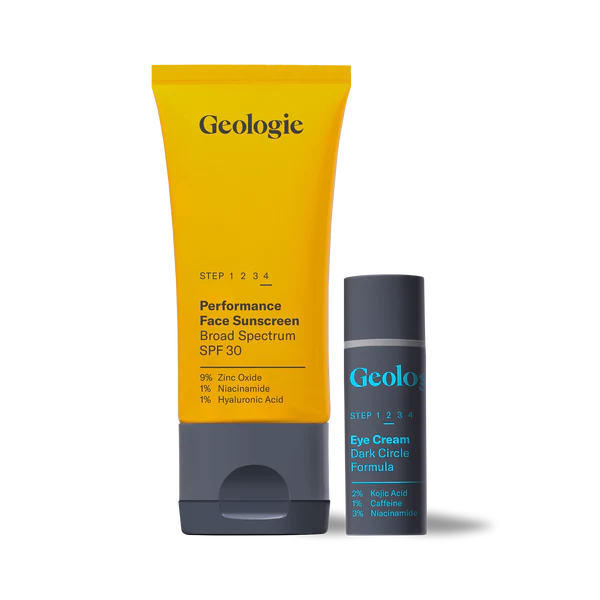 There's nothing worse than waking up with dark, discolored eyes after a long night. But concealer isn't the only solution. You can also combat it with this duo that targets your under-eyes to make you look energized again.
Includes:
Dark & Puffy Under Eye Cream. This eye cream has 2% kojic acid to inhibit melanin production. It lightens discolored under eyes, making them even-toned.
Broad-Spectrum SPF30 Face Sunscreen. Slather on the SPF to ensure your under eyes don't get dark again. Protect them from UV rays that threaten to make them discolored.
What customers like about it:
Products blend into the skin smoothly
Brightens under the eye over time
Geologie Complete Anti-Aging Routine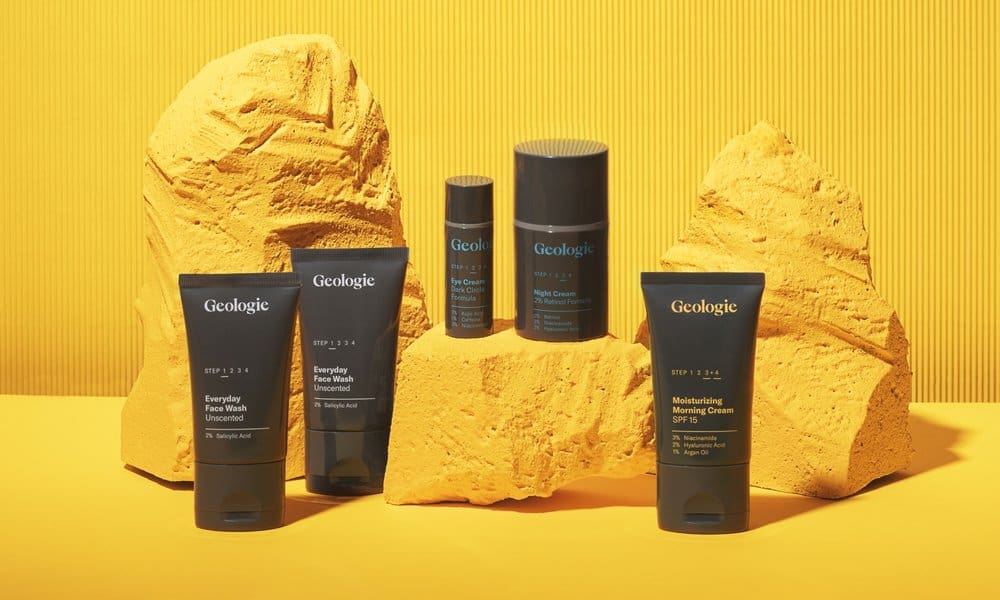 Getting wrinkles is natural as you age. But that doesn't mean you should tolerate it. Feed your skin nourishing, firming ingredients to boost hydration and smoothen those lines. This set has all that and more to give you younger-looking skin.
Includes:
Bergamot Cedar Exfoliating Cleanser 2-Pack. Exfoliates the skin with salicylic acid for a smoother texture.
Moisturizing Face Cream with SPF15. Hyaluronic acid hydrates the skin. Meanwhile, SPF protects your skin from wrinkle-producing UV rays.
Retinol Night Cream. Nourishes your skin as you sleep while diminishing fine lines.
Anti-Aging Eye Cream: Rich in peptides and antioxidants to make your eyes look younger and firmer.
What customers like about it:
Skin texture improves in just two weeks
It makes the complexion smoother
You May Also Like: Our Earth Breeze Review After 2 Weeks use: Are The Laundry Sheets Worth It?
Geologie Redness Relief Routine Trial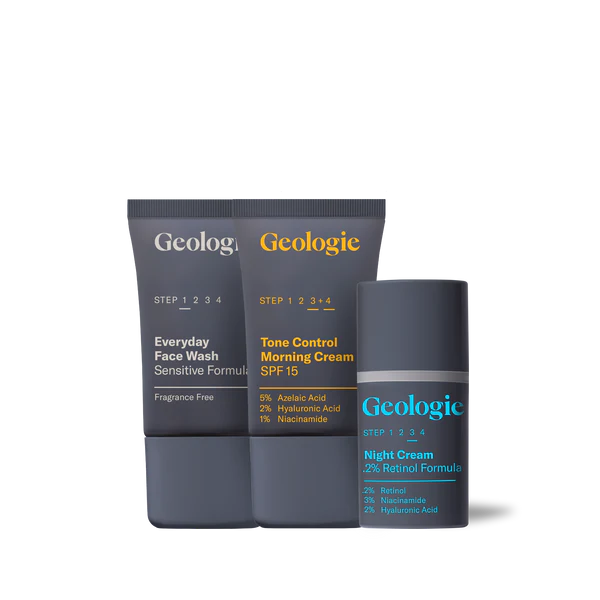 Sensitive skin is prone to irritation and redness. It can be a huge issue if you want to look presentable at work or on a date. Try this trial routine to give it some instant relief to calm your skin.
Includes:
Sensitive Cleanser. Washes dirt and debris from your skin without stripping it of essential moisture.
Tone Control Face Cream. Has azelaic acid to calm down inflammation. This reduces your skin's redness and tenderness.
Retinol Night Cream. Smoothens and soothes the skin as you sleep.
What customers like about it:
The cleanser isn't harsh or drying
The cream is soothing and brightens the skin
Geologie Oil Control Routine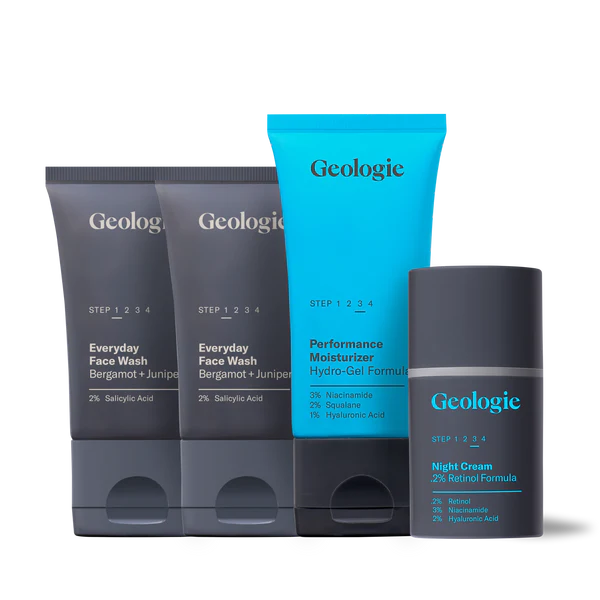 Oily people know how much hassle it is to deal with greasy skin. You end up looking like a shiny disco ball all day. Need help controlling your oiliness? Manage it better with this set.
Includes:
Bergamot Cedar Exfoliating Face Wash 2-Pack. This salicylic acid wash brings down your oil production levels. It also exfoliates the skin for a matte, shine-free finish.
Oil Free Gel Moisturizer. Adds lightweight hydration that won't clog pores or leave your skin oily. It even has niacinamide to lessen sebum production.
Retinol Night Cream. It keeps the skin hydrated at night while combating acne.
What customers like about it:
Gel moisturizer feels cool and refreshing
The face wash makes the skin feel cleaner and less congested
How to use Geologie
Not sure about the flow of your skincare steps? Here's a quick guide to show you what goes before the other in the AM and PM.
| | | |
| --- | --- | --- |
| | | |
| | Gently wash your face for 30 seconds and rinse clean. | Gently wash your face for 30 seconds and rinse clean. |
| | Have any fancy skincare serums? Add them here. If not, skip to Moisturize  | Split 1 pump of the eye cream and dab onto the skin undre your eyes. Rub in gently, avoiding eyes. |
| | Dab your Moisturizing Morning Cream onto your forehead and cheeks. Use 1 pump for that. | Restore your skin with 1 pump of the night cream. Rub in gently avoiding eyes. |
| | Layer your favorite SPF for extra protection. | No sun protection needed once the sun goes down! |
Geologie Reviews
There are over 5,200 glittering reviews for Geologie on their website alone. But people always have amazing things to say about the brand across the internet.
On Trustpilot, the company has a solid 4.1 out of 5, which is an excellent score. And people don't just type out their reviews. Some satisfied customers even put in the effort to create YouTube videos.
"I must say the products are amazing and my skin looks beautiful and it
works better than most female skin care products. I love it and will definitely
buy again." – Ulani.
---
Pros and Cons
Pros:
Products individually selected by skin type
Designed by experts and dermatologists
Made with simple yet effective ingredients
For men and women
Noticeable results
Offers skin consultation
Exceptional customer service
Cons:
No free shipping
Some ingredients make your skin more sensitive to the sun, like retinol
Is Geologie worth it?
If you need help curating a regimen according to your skin issues, the Geologie Power Bundles are so worth it. They're perfect for newbies who aren't sure how to build a routine from scratch. There's something for everyone, whether you have oily, mature, dry, or sensitive skin.
The brand is also worth trying if you're looking for simple, dermatologist-designed products that pack a punch.
Take the skin quiz on their website, and you'll be presented with a perfect routine. So try it out today and let us know what you think!