Shampooing has become a habit for everyone. It's so usual that barely anyone stops questioning whether it's good for their hair.
People don't realize that shampoos contain chemicals that strip hair of its natural oils. That causes your hair to be dry and brittle. So, it might make sense to drop shampoo and switch to something more hair-friendly—like Geologie Co-Wash.
Geologie is a high-performance skincare label that we've written about before. We love their brand because of their products' top-notch quality. Today, we can't wait to introduce their newest product—Hair Co-Wash in two formulas.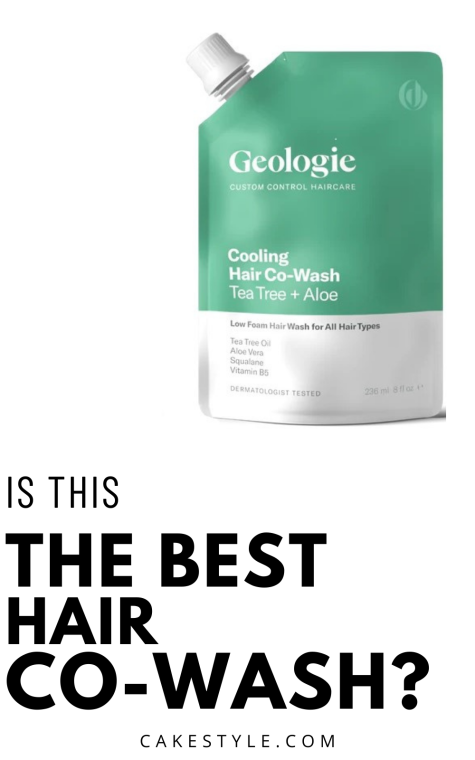 About Geologie
You might have known Geologie as a skincare brand that has evolved into a unisex personal care brand.
Their products are tailor-fit to specific needs, from dry skin to excessive oiliness. They come up with collections specific to each skin concern. Every product they churn out is made with dermatologist-proven powerhouse ingredients and botanicals.
They're quite a renowned skincare brand. They have over 6,000 five-star reviews to show for it. You can check out our full review of their skincare products.
They're also an award-winning brand. Over the years, they've accumulated 14 awards from Men's Health, Esquire, HypeBeast, and more.
But what's cool about Geologie is that they're now branching into hair care. And it's not just your ordinary hair products. They're innovating new stuff to ensure that you properly care for your hair and scalp.
What is Co-wash?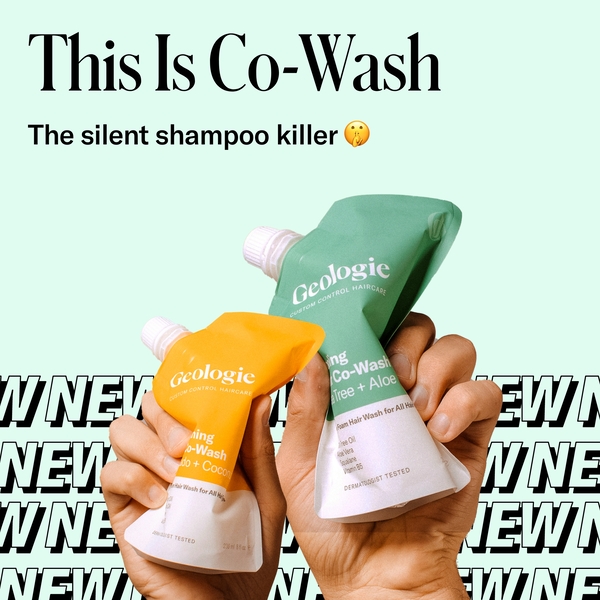 Most people shampoo their hair daily because it's what they've been taught since childhood. But the harsh ingredients in shampoo—like sulfates—strip the hair of much-needed moisture.
Sure, they're great at washing away all the gunk and grime from the day. But this leaves your locks dry, brittle, and even straw-like in texture.
That's where co-wash comes in. A co-wash is a cream-based cleanser that refreshes your hair by removing build-up and sweat. Is the biggest difference with shampoo? It doesn't lather into foamy suds, so that it won't be harsh on your hair.
Instead, it cleans it thoroughly to get rid of that oily look while retaining natural moisture to keep your hair healthy, shiny, and hydrated. It also keeps your scalp moisturized, leading to less itchiness and dandruff. After all, the scalp is part of your skin, too.
It's not a shampoo, but it's also not exactly a conditioner. It's a combination of both. When you massage it into your hair, the friction of the scrubbing motion removes the dirt and sweat from your scalp. However, it doesn't strip all the healthy moisture.
The result? Clean, hydrated hair without dryness or damage!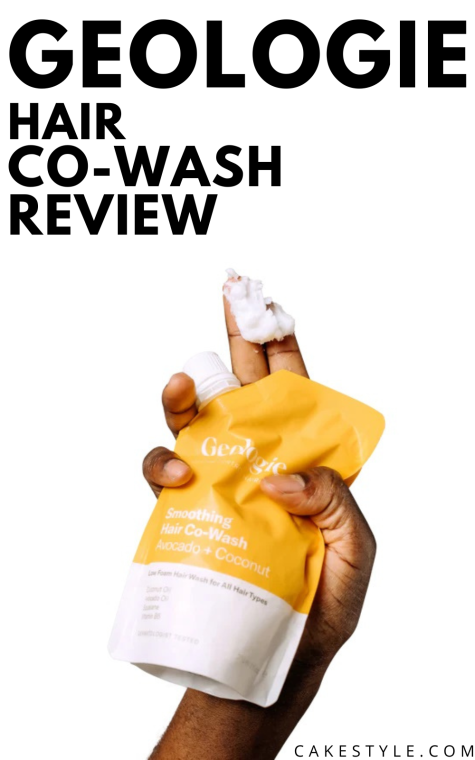 Geologie Co-Wash Review
The Geologie co-washes don't lather up right away. The low-foam formulas focus on hydrating your hair and scalp. This is the brand's main goal—keeping your scalp skin healthy so that your hair grows well, too.
Right now, the brand has two co-wash formulas:
Cooling Hair Co-Wash with Tea Tree and Aloe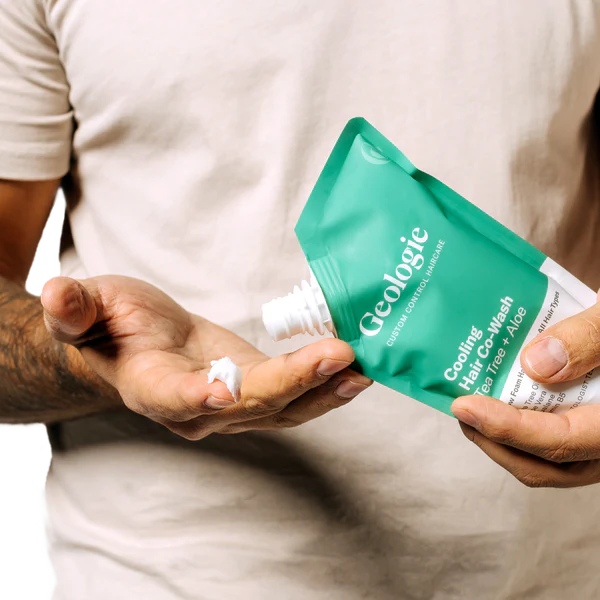 If your scalp is oily, you'll want a purifying and cooling formula like this. It contains tea tree oil to cut the grease and sweat in your hair. Combined with menthol, it creates a refreshing sensation on your scalp as you co-wash it.
Meanwhile, aloe vera and squalene hydrate your locks and scalp, leaving them strong and moisturized. It also has vitamin B5 to seal the moisture in your hair follicles. This prevents dryness throughout the day.
This co-wash leaves your hair smelling like a refreshing tea tree.
You May Also Like: Unbiased Vegamour Reviews – Does Vegamour really work?
Smoothing Hair Co-Wash with Avocado and Coconut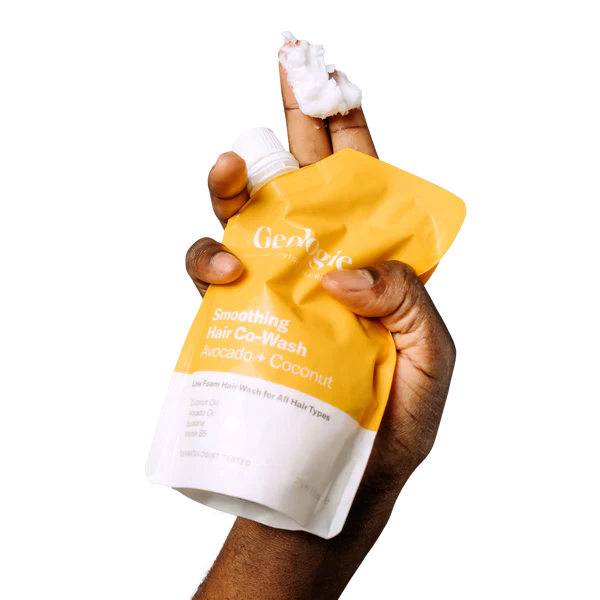 If you have curly or dry hair, you need something more nourishing. The Cooling Co-Wash is infused with avocado and coconut oils to nourish the hair and scalp. It ends up taming frizz and giving your hair a smooth, silky texture.
Like the previous formula, this contains squalene adds more softness and moisture. Vitamin B5 locks all that hydrating goodness in for lustrous hair.
Co-washing with this makes your hair smell sweet and citrusy, like bergamot.
What we like about it:
Healthy, moisturizing replacement for shampoo
Cuts greasiness on the scalp without drying out the skin
Doesn't have harsh chemicals
Extends the time between washes
It works for men and women
Geologie Co-wash Ingredients
It has no sulfates, parabens, or phthalates that can dehydrate or damage your hair. They are made with the superstar botanicals we mentioned above. Both formulas are color-safe and suitable for all hair types.
They're also packaged in cute pouches with 84% less plastic than usual. That's a huge plus for the eco-conscious shopper!
How to use Co-wash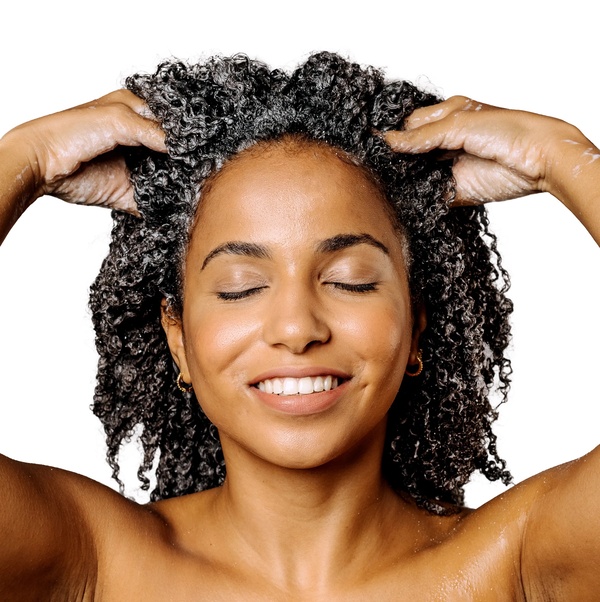 Apply the co-wash to your hair, from the roots to the ends.
Add some water to activate the cleanser. Massage it into your hair with your fingers, focusing on your scalp.
Wait one minute before rinsing it out. Rinse all the products to prevent build-up in your hair and scalp.
You can use a co-wash twice a week, depending on when your hair needs a refresh.
4 Ways to Use Geologie's Custom Hair Care Co-Wash
Here are all the ways you can use these co-washes:
Cleansing and conditioning. This method is great for dry, curly, and chemically treated hair.
Conditioning after shampooing. Yup, you read that right. Co-washes can replace your conditioners, too.
Deep conditioning once a week. This is great for those who have damaged hair from daily heat-styling.
Styling slicked back hair. The creaminess helps keep your sleek hairstyles in place.
Bonus tip: they're excellent for conditioning beards, too!
Pros and Cons
Pros:
Cons: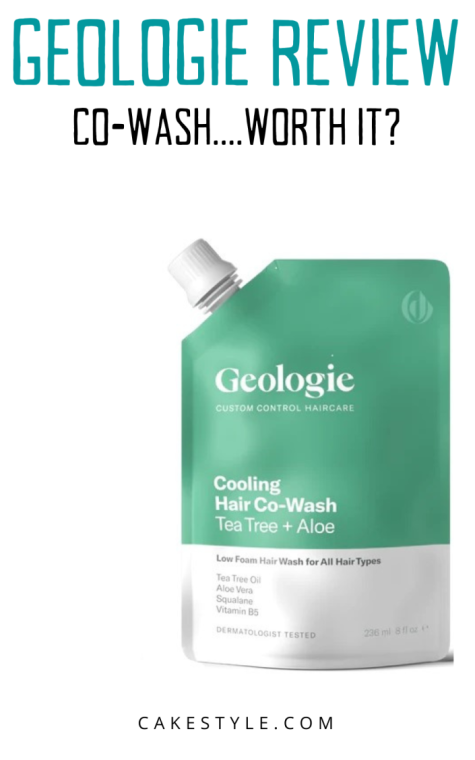 Is it worth it?
Yes, the Geologie co-washes are great for those who want to find a healthy alternative to shampoo. They're formulated with botanical ingredients to help boost shine, softness, and moisture in your hair. You'll love these if you're trying to be gentler with your hair.
The co-washes are vegan and have no harsh ingredients. So, rest assured that your hair will drink only the good stuff while you cleanse it thoroughly.
Read This Next: