Sonage Body Sculpting Contour Crème Review: Will It Give You Summer Body?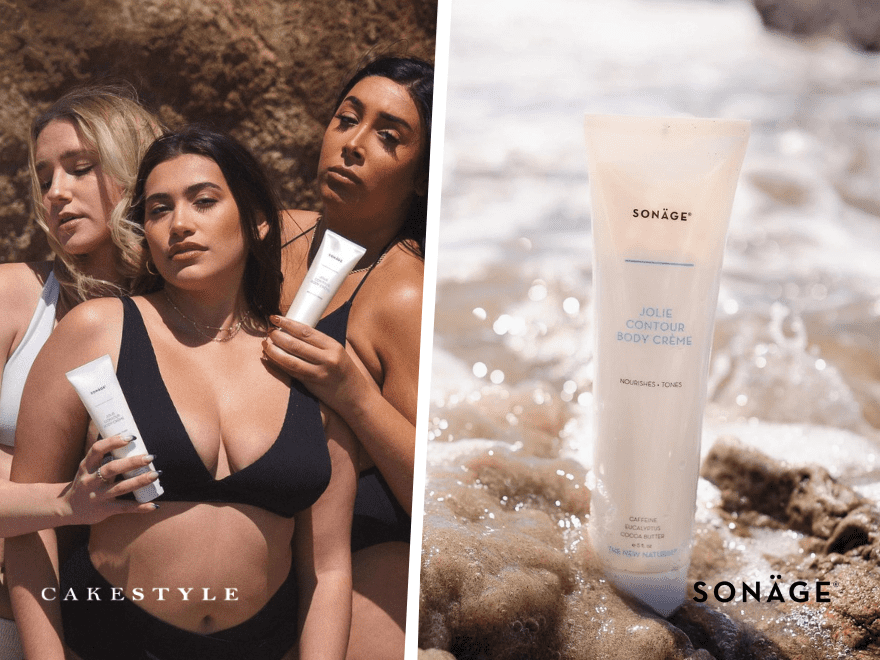 Hot summer is right around the corner. That means it's almost time to whip out your cutest bikinis and take photos by the beach. But that's not easy for everyone, especially when conscious about their body. So do you already have your hot summer body?
Yes, we know—anybody is a beach body. But you can't deny that toned skin can make anyone feel extra confident at the beach.
And it's not just about your body. Even if you're a yoga or pilates nut, you could still grapple with skin issues like dryness and cellulite.
As an affiliate partner of various brands and sponsored content, CakeStyle may earn commission on qualifying purchases. Disclaimer | Advertise With Us
We'll introduce you to a promising body cream designed to tone your skin and reduce cellulite. So be ready to get that summer body of your dreams with the Sonage Jolie Body Sculpting Contour Crème.
Sonage Jolie Body Sculpting Contour Crème Review
First, let's talk about the brand that brought this cream to life. Sonage is a vegan, eco-friendly, women-owned beauty brand. It's known for its facial skincare products. But this summer, they went the extra mile to develop a product specifically for the body.
The Jolie Contour Body Crème brings professional cellulite-blasting treatments to you. This toning cellulite cream helps moisturize the skin while firming it up. That makes it a terrific cream to use on your arms, stomach, waist, and buttocks.
One of the star ingredients of this vegan cream is green coffee oil. This oil minimizes the appearance of cellulite and stretch marks by boosting circulation. The result? Smooth, firm, toned skin. This cream is fantastic for body contour.
The caffeine in green coffee oil also helps reduce puffiness. So, if you have an abdomen or thighs that look a bit lumpy, this cream will be your best friend. It does a fantastic job of body sculpting.
It also has other nourishing oils, like cocoa butter and avocado oil. This leaves the skin hydrated and glowy. However, it doesn't feel greasy when massaged into the skin.
It's also great for keeping the signs of aging at bay. Over time, the collagen levels in our skin decrease. So the older you get, the more likely you are to develop saggy skin. This cream contains ingredients to boost collagen, keeping your skin tight and younger-looking.
The cream has a fantastic eucalyptus scent, which is refreshing for summertime.
You May Also Like: Unbiased Vegamour Reviews – Does Vegamour really work?
How to use Jolie Body Sculpting Crème:
Apply a generous amount of this body contour cream all over your skin. Focus on problem areas that need extra firmness and lift, like your thighs and arms. You can also apply it to drier areas, such as your elbows and knees.
Massage the cream into your skin with circular motions. Take your time to rub the product in for better absorption. For cellulite-heavy areas, pinch the skin while lifting and rolling to "break up" the fats in the area.
Watch this video to learn more about how to apply it!
Sonage Jolie Body Contour Crème Ingredients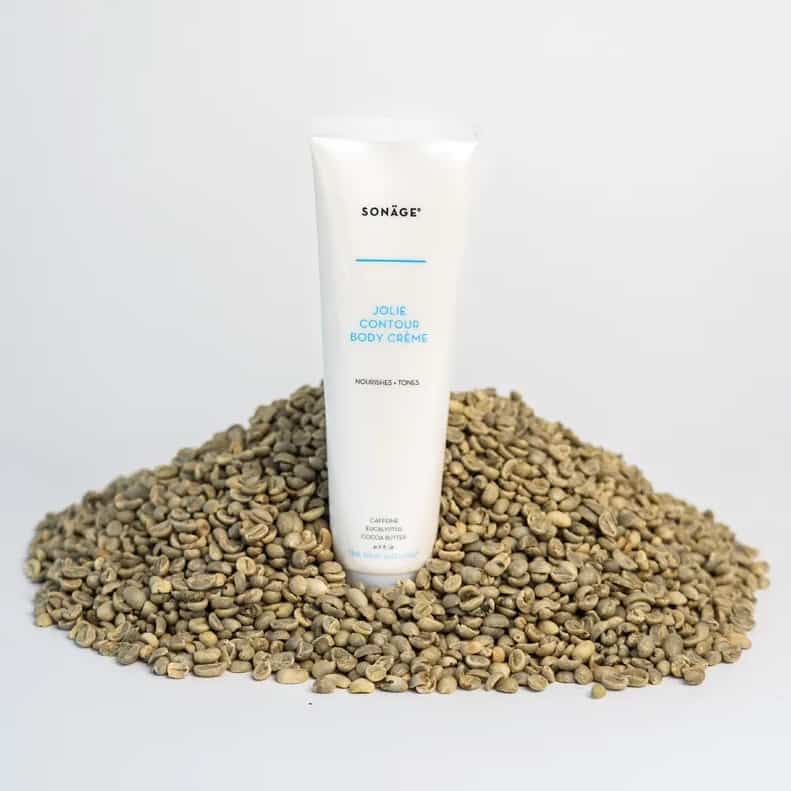 Here are some of the cream's powerhouse ingredients and how they work for your skin:
Green coffee oil: Rich in fatty acids to hydrate your skin. It also has antioxidants to protect your skin from free radical damage.
Shea butter, cocoa butter, and avocado oil are nourishing botanical oils that deeply moisturize the skin. They work to smoothen the skin to ensure soft and plump.
Eucalyptus and lavender oil: Calming essential oils that help you reset and relax.
Cedarwood: Adds a woodsy note to the fragrance. It has to clarify properties as well.
Bitter orange extracts: Boosts cell regeneration.
What to expect from Sonage Jolie Body Sculpting Contour Crème
There are tons of benefits you can reap from this firming body cream.
One of the most impressive effects of using this cream is how it reduces the appearance of cellulite. The caffeine in green coffee oil helps dissolve the fat trapped in your skin. It converts it to fatty acids that can be drained and turned into energy.
The second most significant benefit of this cream is that it is super moisturizing. This is a plus if you have skin that tends to be dry during the summer. In addition, it leaves the complexion looking and feeling silky smooth and touchable.
Even if it's rich in nourishing oils, the cream is never heavy or greasy. Instead, it's fast-absorbing and glides smoothly across the skin.
Sonage Jolie Sculpting Body Crème Pros and Cons
Sonage Sculpting Body Crème Pros:
It contains green coffee oil, which dissolves cellulite
Incredibly moisturizing
Made with botanical ingredients
100% vegan
Non-comedogenic and free of parabens
Made in the USA
Sonage Sculpting Body Crème Cons:
It will only work in the long term if you combine it with exercise and a healthy lifestyle
Sonage Jolie Body Contour Crème Reviews
It's hard to tell what people think so far about this body cream since it was only launched a few weeks ago. So, we're still waiting for reviews from verified buyers.
But the few who have already tried the Sonage body cream have fantastic things to say.
One user shares how smooth and easy it was to apply to the skin. In addition, they raved about the fact that it doesn't feel greasy or waxy.
Another user praises the body cream for increasing the moisture levels in their skin. They used to have dry skin, but now their complexion is glowy and conditioned.
Sonage Jolie Body Contour Crème vs Clarins Body Fit Anti-Cellulite Contouring Expert
Cellulite creams are not a new thing. There are plenty of them in any beauty department. But how does the Sonage Jolie Body Contour Crème fare against them? Today, let's look at one of the more popular body creams—the Clarins Anti-Cellulite cream.
Body Fit Anti-Cellulite Contouring Expert

Helps with collagen production

Minimizes the appearance of cellulite

Works for any skin type and age

Good for: Loss of firmness

Extracts of Organic Quince leaf,

They both have caffeine and claim to firm up skin and zap away cellulite. But the main difference is that the Sonage one contains more botanicals than the Clarins one.
Clarins boasts of quince leaf, celosia, and blue button flower. Sonage has more potent botanicals. These include shea butter, green coffee, and a blend of cult-favourite essential oils.
The Clarins one gets you 13oz of the product instead of Sonage's 5oz. However, a tube of Sonage's cream is way more affordable.
Conclusion
If you ask us whether the Sonage Body Contour Crème is worth it, we'll say yes, it is. The ingredient list is filled with nourishing, hydrating oils and extracts. These botanicals have proven their effectiveness at toning the skin. So, why not give it a go?
This toning cream is excellent, not just for improving the appearance of your body this summer. It will also improve the health of your skin overall, making it feel softer and look younger.
Plus, buying from Sonage means, you're supporting a minority-owned business. They're also an eco-friendly and cruelty-free brand, so it's a reliable shopping option.
Nervous about how you'll look at the beach this summer? Invest in something that will improve your body contours and skin.