Everyone wants to be healthy. More people are exercising, prioritizing sleep, managing stress, and being more intentional about the foods they eat to support immune health and nourish their bodies.
But often it is challenging to rely solely on food to get the necessary vitamins and minerals. Even the healthiest diets sometimes aren't enough to do that
MegaFood is a health and wellness brand that aims to address nutritional gaps. Their supplements complement your diet to help make it easier to be on top of your health.
But are the brand's supplements worth it? What do their customers say about them? Let's find out the answers together in today's review.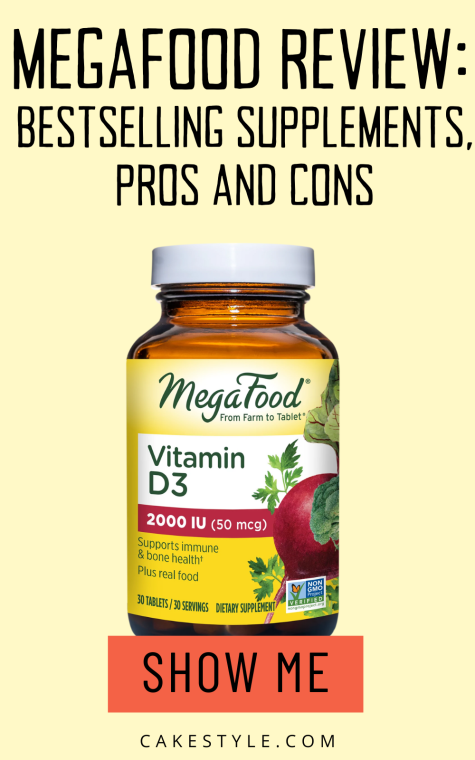 About MegaFood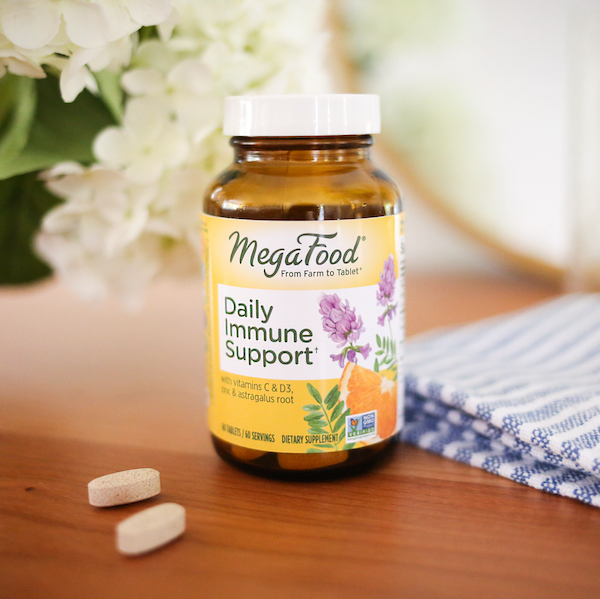 MegaFood is a renowned supplement company known for its high-quality products. It's been around since 1973. That's nearly 50 years in the industry!
Their main goal is to allow people to live healthier lives. To do that, they offer key vitamins, minerals, herbs and botanicals in various formats (gummies, chews, tablets, powders) to support your needs.
What's awesome about the brand is that they're obsessed with quality. They're super transparent on certifications and safety standards.
In fact, in 2018, they became a certified B corporation. That means they meet the rigorous social and environmental standards to operate. So, you can rest assured that you're getting vitamins and supplements of the highest caliber.
And before you get all skeptical about supplements, don't worry. The brand believes that plants and botanicals are the keys to good health. So, they often will pair vitamins and minerals with real food.
Their products are certified glyphosate free, tested for over 125 herbicides and pesticides and are made without common allergens milk, eggs, peanuts, tree nuts, soy, wheat, fish, shellfish and sesame. Many of their offerings are also Non-GMO Project Verified and either vegetarian or vegan.
And that's not all. The brand also works to improve soil quality with its partner farms. This is because they want regenerative agriculture to prosper. The brand is conducting a five-year study to prove how regenerative agriculture can impact the nutrient density of food.
MegaFood vitamins are loved by many people all over the world. As of writing, they have almost 60k Instagram followers. They also have over 220k Facebook followers. The company has also been mentioned in top sites like Forbes, Women's Health, Well + Good, and more.
Ordering from MegaFood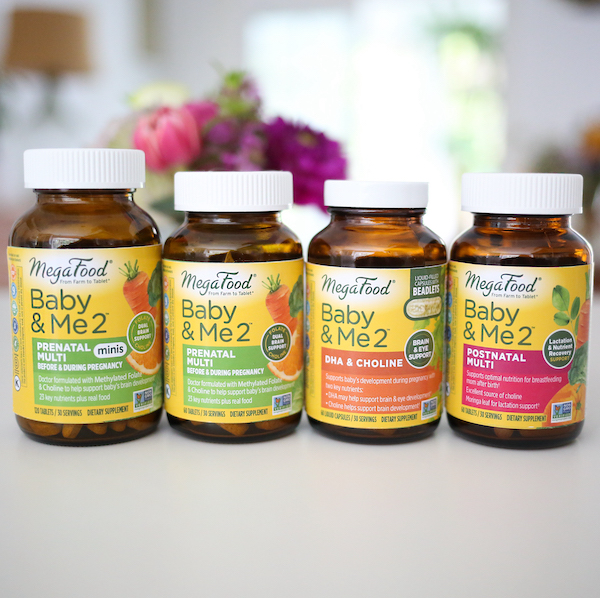 They carry a wide variety of supplements, not just for adults but kids too. There are products designed for different life stages. Some supplements are meant to be used during childhood, pregnancy, or senior life.
They also have products according to health needs. There are supplements for immune health, digestion, stress, sleep, inflammation, and more. Whatever your needs are with your health, they are here to help.
All their offerings are available nationwide in the US in-store and online. If you want to shop for the products in-store, you can find them at Whole Foods Market and Target. They also have a store on Amazon if you'd rather buy from the trusted online marketplace.
You can also visit the brand's website to get free shipping for on orders above $29. And if you join their Subscribe & Save program, you can get 15% off and free shipping for every purchase. They're also 100% happiness guaranteed, thanks to their return policy.
MegaFood Products Review
Baby & Me 2™ Prenatal Multi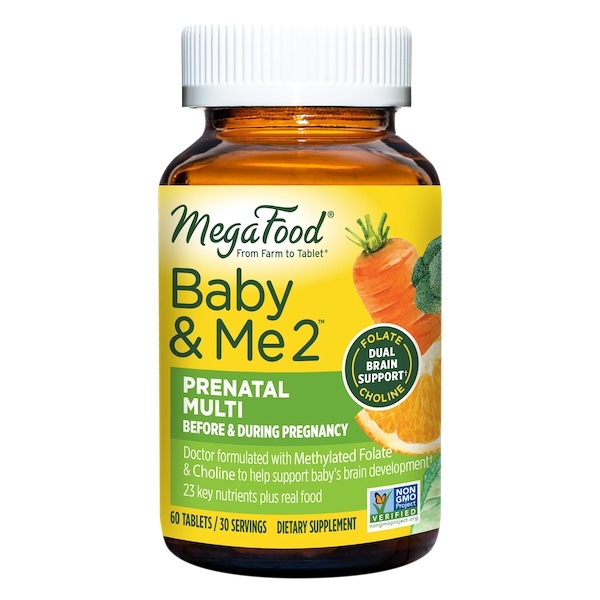 This multivitamin gives expecting moms and their developing babies optimal nutrition. It's available in 30-day and 60-day supplies.
It has key ingredients like vitamin B12 and iron. These are excellent before and during pregnancy. It's also made with real food, like organic oranges and broccoli.
For your baby specifically, the multivitamin has choline and folate. These essential nutrients are known to support your baby's brain development.
You can take this vitamin any time throughout the day and even on an empty stomach.
It's non-GMO and doesn't contain pesticides and herbicides. That way, you can be sure that the formula is safe for you and your baby.
If you love taking this during pregnancy, you'll also enjoy the natural postnatal vitamins. Check them out to complete your supplement collection throughout your pregnancy.
Blood Builder®Iron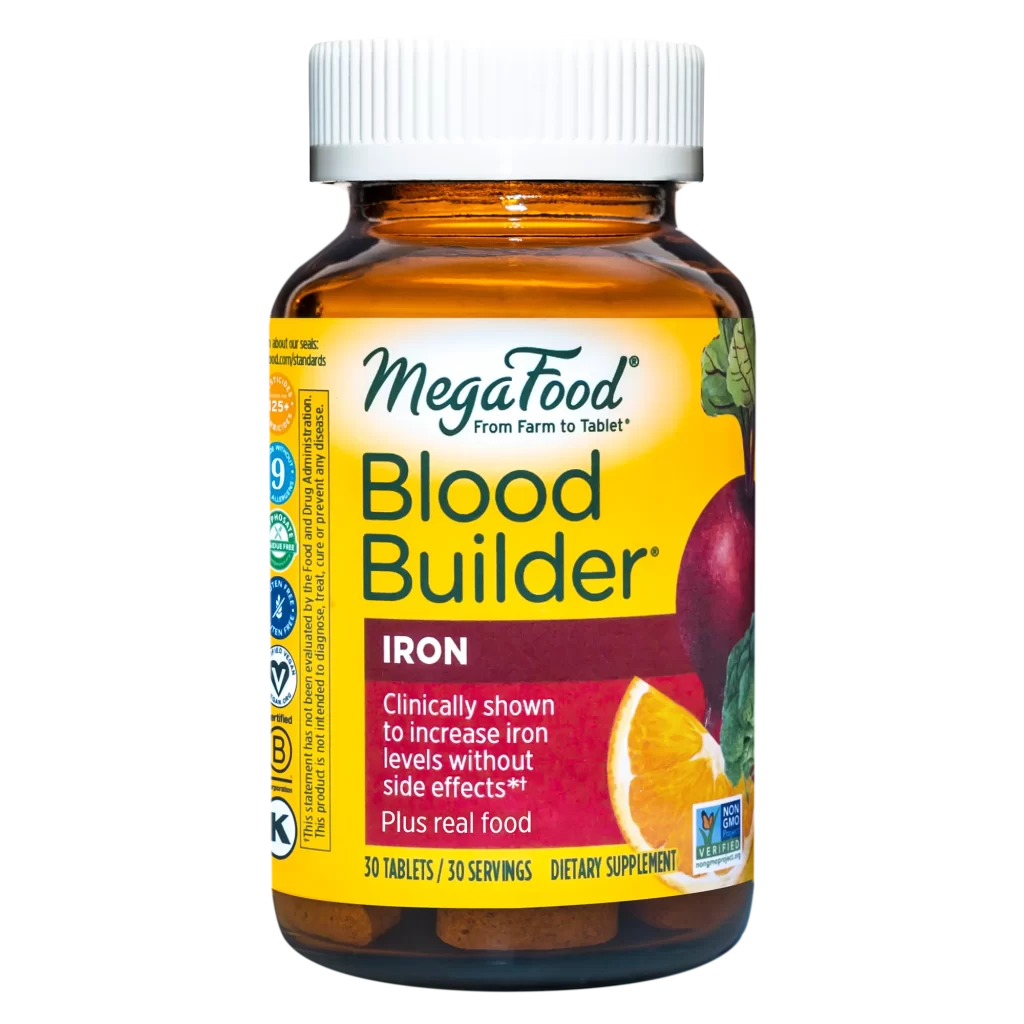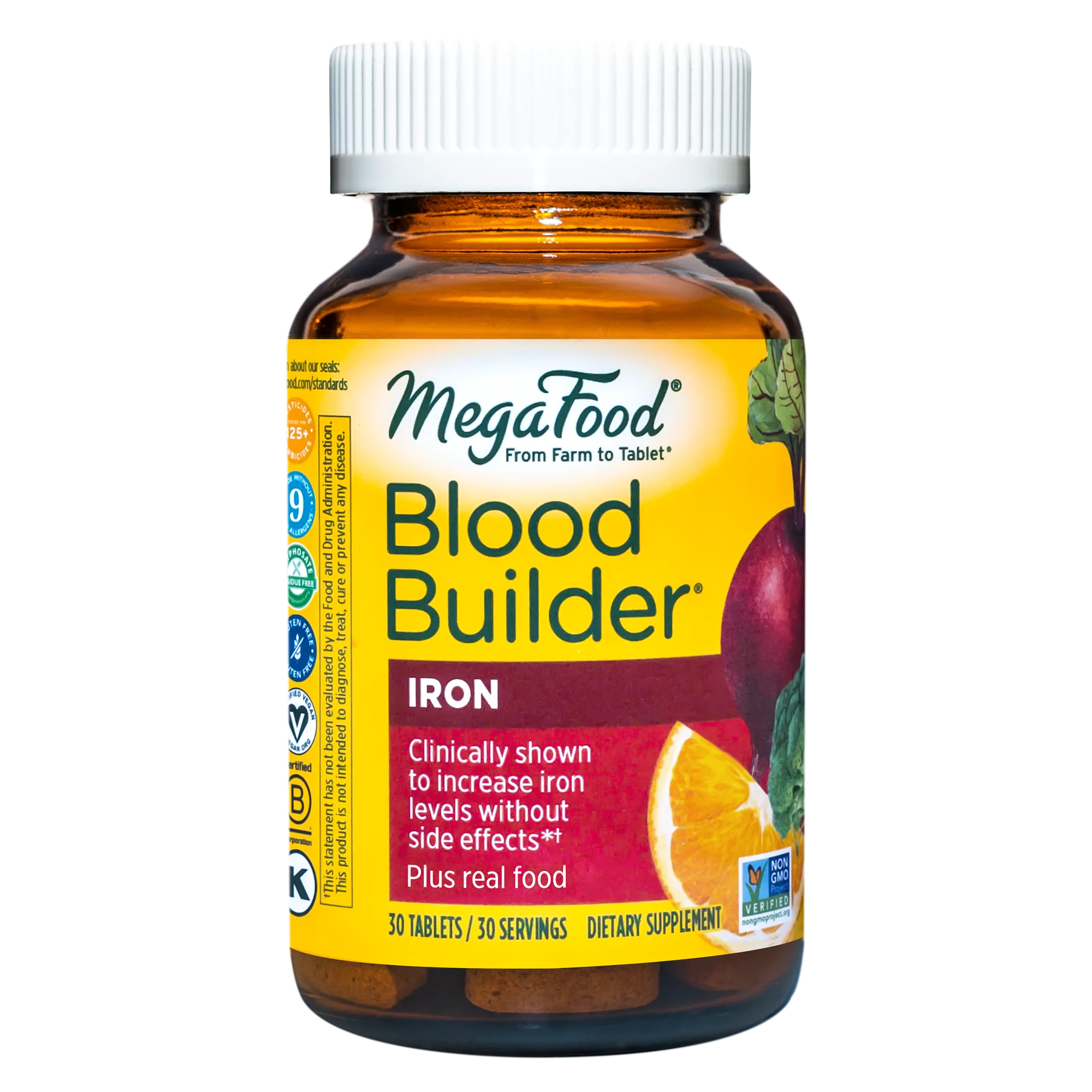 Do you suffer from a lack of energy on long days? If yes, you'll find this best-selling iron supplement beneficial. It has 26mg of iron per serving, which is gentle but effective for improving your iron levels.
According to a clinical study, this iron supplement was shown to increase iron levels. But the best part is that it does so without the unpleasant side effects. So, you can boost your iron levels without worrying about nausea or constipation.
It also contains real food like beets & oranges, plus vitamin C to support iron absorption and folic acid & B12.
Blood Builder may help support those who are at an increased risk for low iron: menstruating women, teenage girls, pregnant women, vegans and vegetarians, athletes & recent blood donors.
It's also gentle enough to be used any time of the day, even if you have an empty stomach.
These supplements are available in 30-, 60-, 90-, and 180-day supplies.
Women's One Daily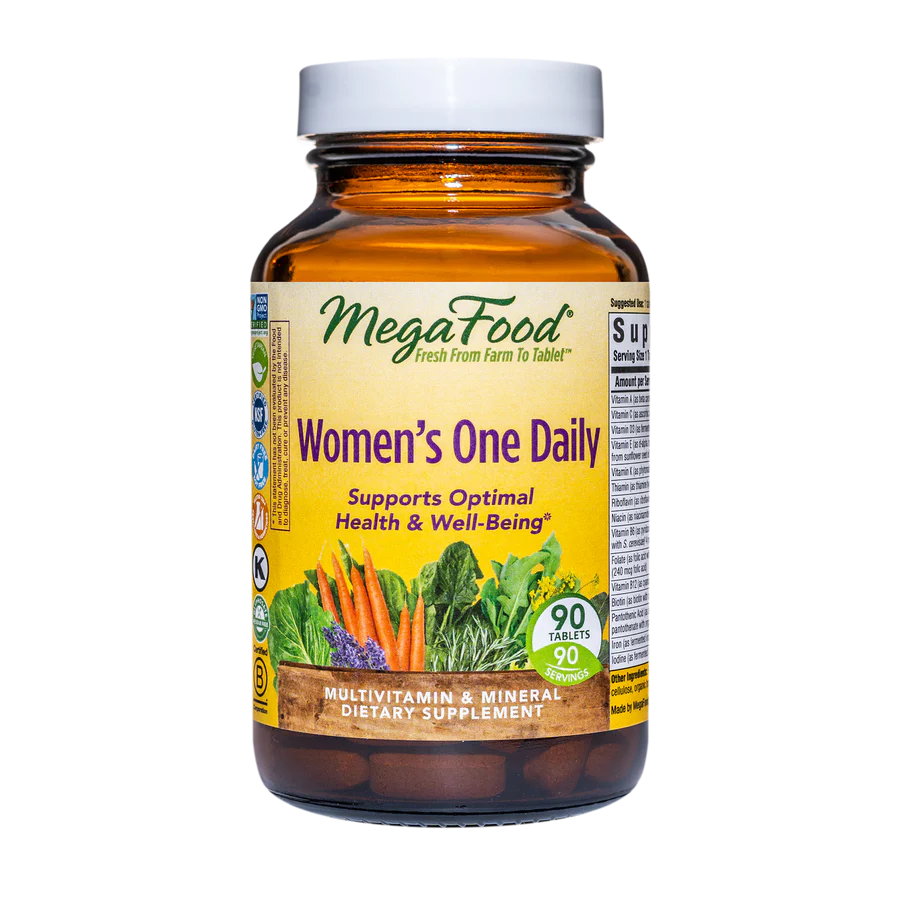 Another supplement designed specifically for women is this once-a-day multivitamin. It has essential nutrients women need daily to help them maintain their health and well-being.
It's formulated with vitamins C and A, which are great for your body, skin, and hair. B vitamins are also in the formula for cellular energy production and nervous system health. Meanwhile, vitamin D supports healthy bones.
And it's not just key vitamins. It even has iron to help replenish iron lost during the menstrual cycle.
This formula supports the unique needs of women, like normal hormone fluctuations. We can't recommend it enough for all women.
As with all of these products, you can take this multivitamin any time of the day, even on an empty stomach. It's available in 30-, 60-, and 90-day supplies.
Pros and Cons
Pros:
Intentional formulations that target specific health concerns
Wide variety of products – there's something for all ages and life stages
Their entire line is Certified Glyphosate Residue Free & tested for over 125 pesticides and herbicides
Committed to product quality
Vegetarian or Vegan formulas
Free shipping for orders above $29
100% happiness guaranteed
Cons:
Results vary from person to person
MegaFood Customers Reviews
On Facebook, the brand has stellar reviews. They've garnered a score of 4.3 out of 5 on the platform. They also have excellent reviews on Influenster, especially for the women's multivitamins.
There are also a few cool reviews from buyers on YouTube about the brand. One is from Afope Atoyebi, who made her review around the MegaFood Blood Builder supplements.
"I can remember how within about two weeks I started to feel better, like symptomatically," she said. "I wasn't struggling as much with low energy, if at all. I also had more focus."
MegaFood vs. Garden of Life vs. Mary Ruth's
Two of the bigger brands in the market are Garden of Life and Mary Ruth's. So, how do MegaFood vitamins fare against them? Let's take a look at their prenatal vitamins and compare and contrast.
[affiliatable id='122826′]
They seem to be the easiest to handle when it comes to usage. You just have to take two tablets a day with a beverage. Meanwhile, the Garden of Life vitamin requires three tablets a day. On the other hand, Mary Ruth's syrup makes it messier and fussier to take.
The key ingredients also seem to work in MegaFood's favor. Garden of Life contains folate and iron. Mary Ruth's contains folate and choline. Meanwhile, MegaFood contains all three—folate, iron, and choline. Additionally, it has real food like organic broccoli and oranges.
The brand is also the least expensive of the three, starting at $29.99. The other two brands will start at around the $38 price point.
Is MegaFood worth it?
Yes, MegaFood supplements are worth it if you need help filling in nutritional gaps in your diet. Their offerings are of top-notch quality and can bring you closer to your health and nutrition goals.
They create vitamin blends for more specific health needs, like women's health or prenatal vitamins. Each one is crafted with the intention to help you become the healthiest version of yourself.
The number of reviews about the brand is a testament to its high-quality supplements. Give MegaFood a shot, and let us know how you feel about their products!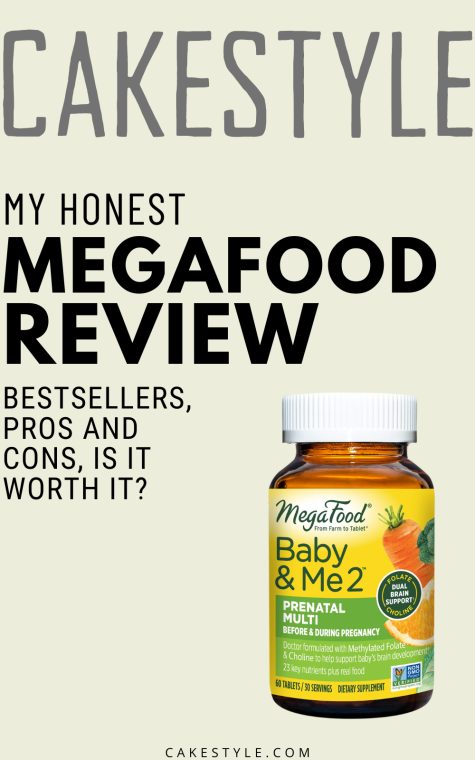 Read This Next: