Vegamour is one of the most popular hair restoration brands that has quickly become a multi-million dollar company.
What makes it stand out from its competitors is Vegamour's committed and sustainable approach to beauty and wellness: all of its products are cruelty-free and made of natural ingredients from organic farms.
But are Vegamour's products really effective? If so, which ones are worth trying?
Fortunately, we've compiled their 10 best-seller products with in-depth reviews to help you decide if this brand is a must-try.
What makes Vegamour unique?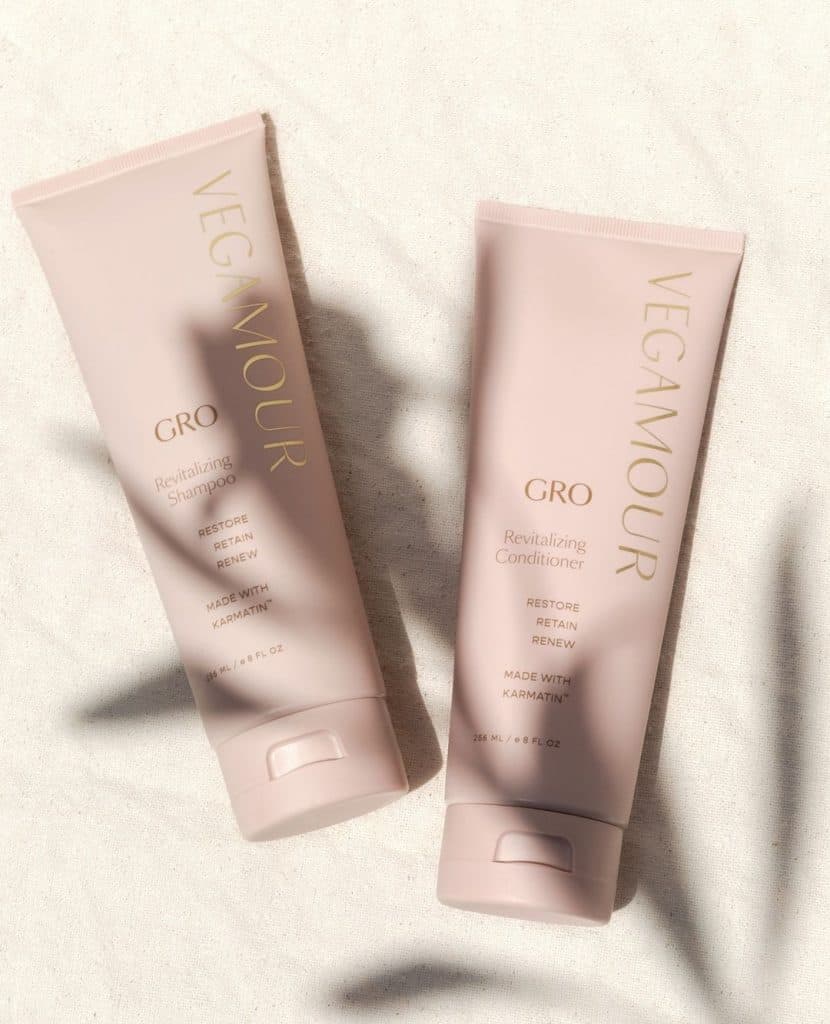 What's interesting about this popular hair company is that it doesn't consider itself merely a hairstyling brand. It stands for overall hair health and growth. This translates into the brand's motto, "Not hair care, hair wellness."
Case in point: in recent months, Vegamour's hair-growing serum increased in sales by 500%. The company even sold over 52,000 bottles of their GRO Hair Serum in a single month!
This spike was due to women experiencing stress-related hair fall from the pandemic. This goes to show that Vegamour doesn't just beautify your hair, but restores it to health when it's not at its best.
Vegamour prides itself on using 100% vegan ingredients in its products. These natural ingredients give your hair the best chance at growing healthily.
The brand's safe, effective, plant-based formulas have been featured in countless publications. This includes prestigious sites and magazines like Allure, InStyle, Refinery29, Shape, and Glamour.
Vegamour boasts 189k followers on Instagram. Here, they post "shelfies" to show off their products' gorgeous packaging. They also try to educate their followers on what their products can do for them.
Pros and Cons
Pros
Cons
Top 10 Vegamour Products
#1 Gro+ Advanced Hair Serum
Honoring their original hair serum, the Gro+ Advanced version has the added benefit of micro-encapsulated full-spectrum hemp oil. This ingredient has been scientifically proven to enhance blood circulation and reduce inflammation.
To step up their game, Vegamour decided to boost the efficacy of hemp oil by reducing the size of its molecule which allows it to reach hair follicles at the root level. The Gro+ Advanced serum will increase the growth cycle of your hair, making it stronger and thicker.
Natural and effective, this serum is a great option for those who have thin and fragile hair. It also increases the hair density up to 50% and reduces loss up to 76%.
If you suffer from alopecia, Vegamour serum will be your quick fix. This company prides itself in having the only vegan hair serum that's actually effective for dealing with this type of hair issue.
Furthermore, the reviews are all extremely positive. This is a fan-loved product that almost has a 5-star rating on the website, with over 320 reviews.
The only downside is that you need to be patient to see results. Some users have complained that it takes a long time to actually experience the change, so keep this in mind if patience is not your thing.
Does Vegamour hair serum really work?
I'm impressed, to say the least, by the Vegamour community sharing their before and after pictures. This product is not cheap, but it's really worth the investment.
After a couple of months, you can expect your hair to be much longer than usual, thicker and stronger. Popdust editors tried this serum and shared their experience, expressing how effective this serum really is: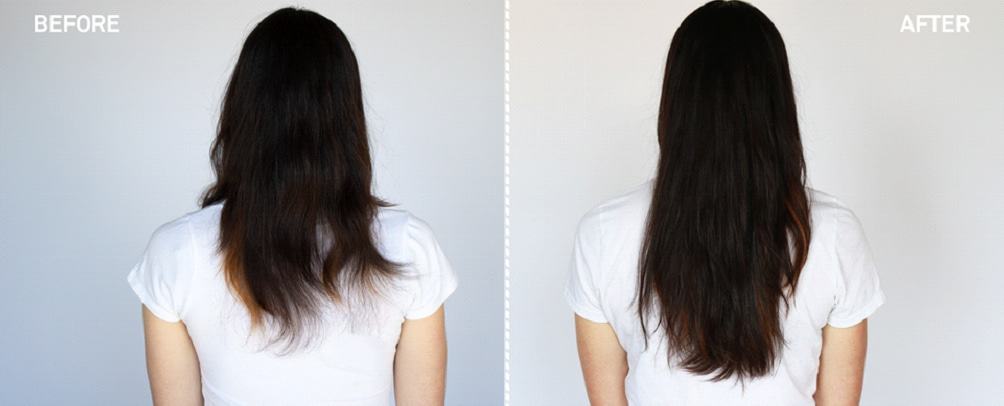 What users say: "My hair is longer than it's ever been and it's only been 6 months since my last cut. It's slow but it works! It's growing and staying stronger"
However, Vegamour reviews on Reddit are quite different. Many complain that they haven't yet noticed any difference or that there are other products much cheaper with similar effects.
How to use Vegamour Gro+ hair serum?
Vegamour's Gro+ Advanced hair serum needs to be applied to the scalp and not on the strands:
Try to disperse the product and massage into the scalp using your fingertips.
Also, it's best to use it on towel-dried hair, but you can also apply it on dry hair.
Vegamour suggests using daily for maximum effects (only once a day).
Vegamour vs Rogaine vs Nutrafol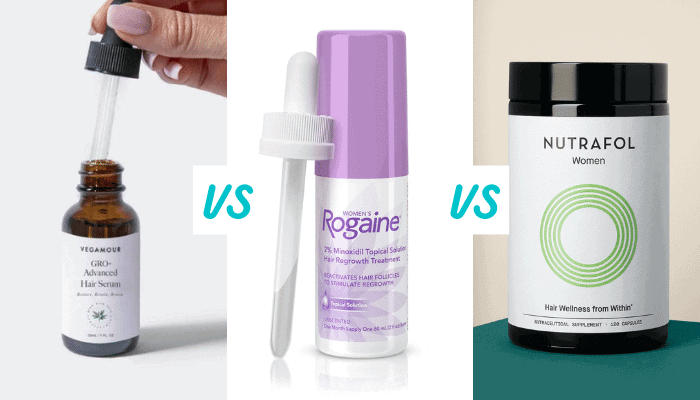 Rogaine and Nutrafol are other hair supplement brands that achieve similar results as Vegamour. The three of them promise to give you longer, fuller and healthier hair in up to 3 months of use.
The application method is also the same: massage into scalp after towel-drying your hair.
Therefore, the biggest difference is that:
Rogaine prides itself in being the first and only FDA-approved product proven to boost hair growth and its products are almost half the price of Vegamour's. However, they're not vegan nor all-natural as opposed to Vegamour.
Nutrafol, on the other hand, is 100% natural just like Vegamour, but their products are pills instead of serums which can be easier to use. The price range is similar to Gro+ Advanced Hair Serum, so it truly depends on whether you prefer a serum or pills.
| | | | |
| --- | --- | --- | --- |
| | | | |
| | | | |
| | | | |
| | | | |
| | | | |
| | | | |
| | Subscription orders and orders $49 and over always ship for free. Orders under $49 ship for $5. | Free for subscribtion orders. Standard shipping rate for ground shipping is $7.95 | |
| | | | |
Is Vegamour Gro+ Advanced Hair Serum safe during pregnancy?
Vegamour is safe during pregnancy, as its products are natural and vegan. However, they suggest to review the ingredient list with your doctor to ensure safe usage.
Furthermore, Vegamour products won't give you any side effects. The brand explains on its website that its ingredients are scientifically proven and free of harmful toxins or unwanted side effects. Also, out of all their customer reviews, none expressed having any side effects.
#2 Gro Hair Serum
Vegamour's upgraded Gro Hair Serum features their signature formula which includes new phyto-actives that help inhibit DHT production, increases the hair-growth cycle and protects the roots.
This serum will help your hair look fuller and thicker, all thanks to its naturally sourced and highly effective ingredients. It also promises to increase your hair density up to 40% and reduces hair loss by 76%.
Just like all of Vegamour hair supplements, you'll need patience to see the results. Remember that the hair growth cycle varies by individual so don't compare your experience with someone else's.
Vegamour Gro vs Gro+ Advanced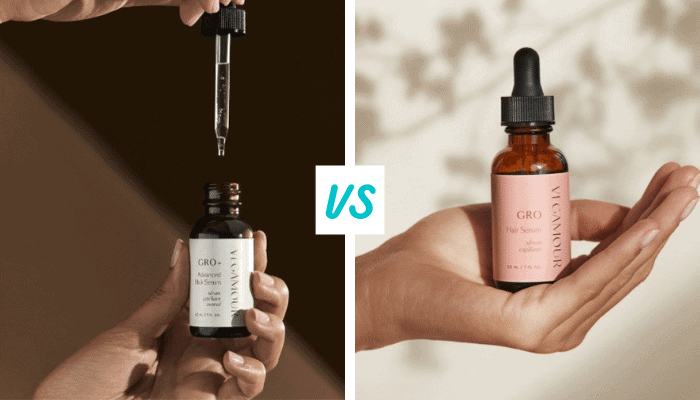 The difference in price between one and another is $20, but why is this?
Vegamour Gro+ Advanced is more expensive but it features micro-encapsulated full-spectrum hemp oil which penetrates into the upper dermis much more effectively than the regular hemp molecule. Also, it works as an anti-inflammatory that soothes your scalp and follicles.
However, both promise the same result in the same time frame, so we would suggest that if you have really fragile and thin hair, go for the Gro+ Advanced.
#3 Gro Hair Serum (3 Pack) Best deal for a complete hair repair
Vegamour decided to come up with a three-pack to provide you with their fan-loved hair serum for a long period of time.
The reason why their 3 pack is a best-seller is that customers really love their hair serum. One bottle is not enough, especially when you experience visible results in a couple of months.
Vegamour ingredients are all-natural, and these hair serums are not the exception: using their plant-based and cruelty-free formula, Vegamour has come up with the solution to your hair problems. This serum is perfect for anyone who's experiencing hair loss or thinning or for those who simply want healthy-looking hair.
This Gro Hair Serum pack has an amazing 4.5 star rating out of 5 from 655 reviewers. Users share that they've experienced new hair growth since using and are in love with how healthy it looks after a few months.
We would suggest going for this pack. Not only does it include three bottles of their best-seller product, which gives visible and effective results, but it's also a great deal if you consider how much each one is sold for.
Lastly, keep in mind that results will vary by individual.
#4 Gro More Kit – Best basic kit for hair growth
The Gro More Kit from Vegamour includes one Gro Hair Serum and one Lovestruck Biotin Gummies. The serum helps increase your hair-length cycle while making it thicker and fuller, and the gummies combine vitamins and minerals that strengthen strands and boosts hair growth as well.
Vegamour suggests using both daily for maximum impact. Users agree that the gummies have a great taste and really help providing that healthy and good-looking hair.
This kit is not budget-friendly, but definitely worth the try since the serum is a fan-loved product and the gummies have great reviews, so you can consider it an investment.
#5 Gro Dry Shampoo – best shampoo for a healthy hair growth
Vegamour's plant-based dry shampoo is a great option for those who strive for healthy hair but are always on the go. As many of you may know, dry shampoos can substitute regular shampoos because of their active ingredients that soak up the oils and sweat from the hair.
Gro Dry Shampoo, as opposed to most alternatives, uses a scalp balancing and volumizing formula that brings the best of regular shampoos without the need of water. Just like all of Vegamour's hair supplement products, this one also helps increase hair density up to 50% and reduces loss up to 76%.
Vegamour suggests using their dry shampoo in combination with their serums for additional support. This is a great option for those who don't have time to rinse their hair every single day.
#6 GRO Scalp Detoxifying Serum – Best option for a healthy scalp
Vegamour's Detoxifying serum has been designed to eradicate the proliferation of dandruff-causing fungi and reduce sebum production and inflammation. Their ingredients include clinically proven plant and mineral actives that provide you with the healthiest approach to a healthy scalp.
Keeping in mind our highly polluted environment, Vegamour decided to give their customers a detoxifying serum that protects the scalp from pollutants. The brand also guarantees results in the first three days of use.
#7 GRO Hair Foam – Best for volumizing hair
Gro Hair Foam features the same plant-based ingredients found in their best-selling hair supplements, guaranteeing follicle stimulation and instant texture while promoting hair growth.
This product has a mousse texture and should be applied to towel-dried hair for a nice self-pampering experience. You can use it on a daily basis to give your hair volume and body.
A couple of users, however, have complained that the hair foam does nothing to their hair.
#8 VegaLASH Voluminizing Serum – Most effective serum for lash growth
Vegamour before and after results are quite impressive, and this lash serum is no exception. With visible results up to 4 weeks of usage, you can expect longer, fuller and thicker lashes.
This brand prides itself in providing a lash serum that's free of hormones, carcinogens, and dangerous side effects. Just like all of their products, the vegaLASH volumizing serum has been clinically proven to boost your lash growth in as few as 30 days.
However, Vegamour lash reviews show some customers saying that they have experienced only one of its promised results. For example, longer lashes but not thicker nor fuller.
Comparable brand: Liaison.
#9 GRO+ Advanced Lash and Brow Kit – Complete kit for longer lashes and brows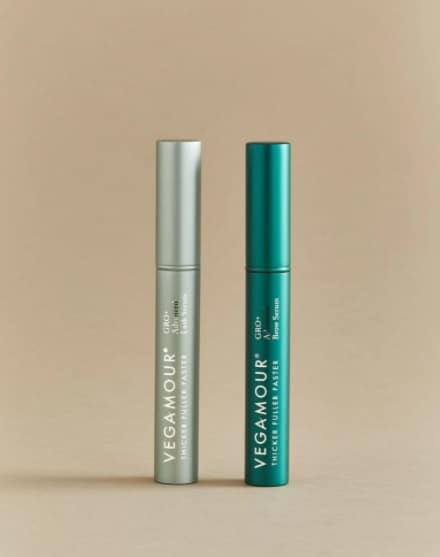 You can find Vegamour's new formulas in these two products which promise to boost your lash and brow length. Thanks to the addition of full-spectrum hemp oil which penetrates effectively in the roots, your lash and brow base will look really healthy and longer.
If you buy this kit you save $36! A great deal if you're looking for that extra boost. However, retailing at $140, some users have found this kit quite expensive for their taste.
On the other hand, customers do agree that both serums really do their work. One reviewer had chemotherapy two years ago and lost her lashes and brows, and this kit has really helped in bringing them back.
#10 Good to GRO Kit – the best foundation for hair growth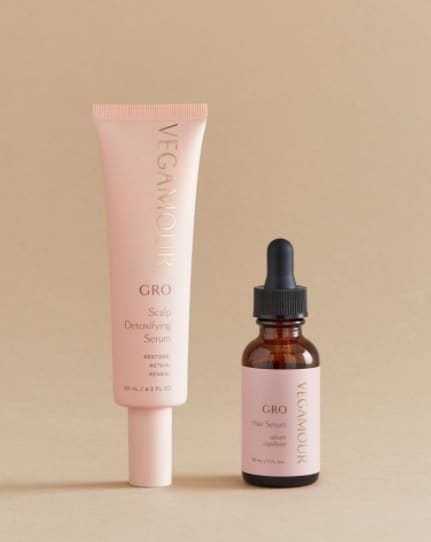 If you want to boost your hair growth but aren't willing to spend more than $100 on a kit, this Good to Gro combo is a great option to start building a foundation. Vegamour describes it as "a power duo" that sets the ideal base to help you achieve healthy-looking hair.
The kit includes one Gro Scalp Detoxifying Serum that helps protect the scalp from pollution while destroying unhealthy bacteria, and one of their best-seller Gro Hair Serum which effectively penetrates the scalp to bring you thicker and fuller hair.
FAQ
Is Vegamour effective?
Vegamour does have an impressive rating for most (if not all) of their products. You can see the before and after pictures of customers and believe it for yourself.
However, you need to keep in mind that depending on your hair-growth cycle the results may take longer to become visible. Also, some customers complain that the products don't last as long as they wanted, so you really need to reorder them if you want to maintain the results.
You May Also Like: Cruelty-Free Makeup For Mature Skin (Top Brands)
Does Vegamour hair serum work?
After compiling multiple customer reviews, we can confirm that Vegamour's hair serums really do their job. Customers love sharing them before and after pictures, and you can appreciate how happy they are with the results.
Only a few users have complained of not seeing any result after many months of usage.
Is Vegamour a real company?
Vegamour is an e-commerce company that sells hair, lashes and brow supplements using plant-based ingredients and sustainable/ethical practices.
Is Vegamour FDA approved?
Vegamour's products feature natural actives such as mung bean, red clover, curcumin, and nicotiana benthamiana that promise to achieve certain results. However, these statements have not been evaluated by the FDA.
Final words
Vegamour is truly committed to providing natural and cruelty-free products that help you achieve beautiful hair, lashes, and brows. You can find impressive before and after pictures from happy customers who have used their products consistently for a few months, so it's really tempting to try this brand.
Whether you're tired of having bad hair days or simply want to try environmental-friendly products, Vegamour will offer you a wide range of products to target your specific concern.