Coffee and tea stains on your teeth can be a headache. They'll make you ten times more self-conscious as you smile in photos. They might also bar you from using your favorite warm-toned lipsticks.
Good news! If you have stained, yellow teeth, going to the dentist for a teeth whitening session isn't your only option.
White with Style helps you whiten your teeth at home in as fast as half an hour. It turns your dull, yellowish teeth into pearly whites. It also claims to help keep them white over time.
Is this teeth whitening brand legit and worth a try? Let's find out.
About White with Style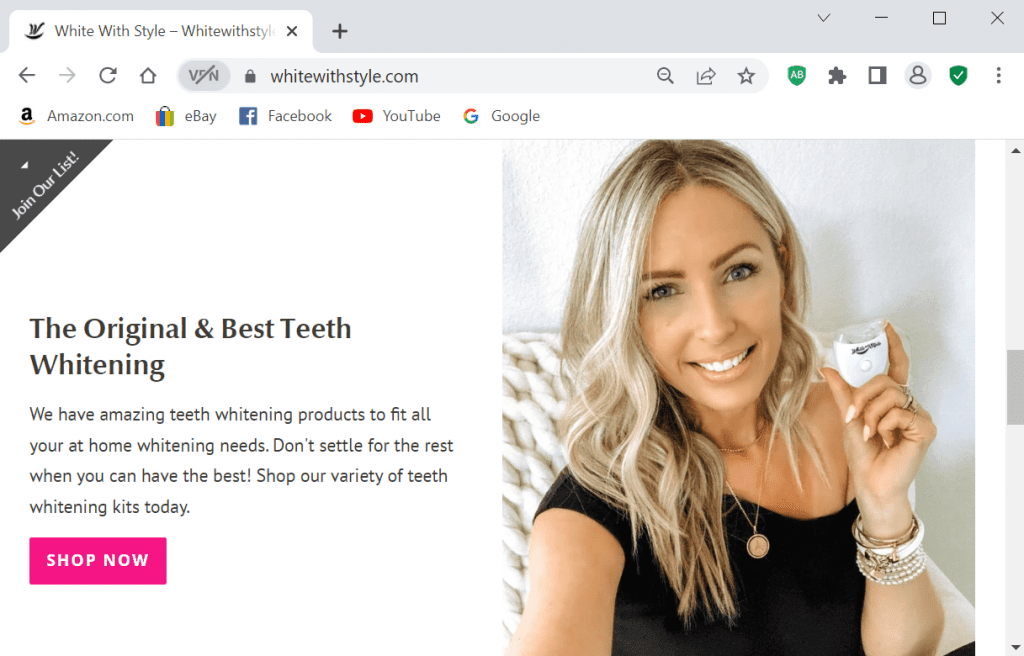 White with Style is a business owned by two sisters in Idaho. Their main goal is to make sure every woman feels confident every time she smiles. They do that with their collection of highly effective, sensitivity-free teeth whitening kits!
These easy-to-use kits remove tough stains that make your teeth look yellow. The best part is that they do so without damaging your enamel.
Each kit has a whitening gel, which comes in many refreshing flavors. There are two kinds of formulations—regular and peroxide-free. Either way, the gels are vegan, cruelty-free, and BPA-free.
The company puts the safety and quality of its kits first. So, they make sure that their products are made only in an FDA-registered facility in the US. They design the kits so that they don't cause sensitivity for the teeth, so you don't have to worry about that.
The brand carries other oral and gum care products too. These include toothbrushes, polishers, charcoal toothpaste, and many more.
White with Style has over 270k followers on Instagram and 21k likes on Facebook. On these platforms, they show stories of real people who have seen tremendous results from their kits.
White with Style Review
The brand has plenty of whitening kits to choose from. They each have different inclusions and waiting times. But today, we'll do a review on the most popular one—the Sparkle White Teeth Whitening Kit.
Sparkle White Teeth Whitening Kit
This kit allows you to whiten your teeth in 30 minutes or less in your own home. It includes a 10cc whitening gel and a rechargeable LED whitening light device. It also has moldable trays to make them fit properly in your mouth.
One pack of gel should be enough for up to 12 treatments. If you need more, you can always buy a pack of separate gels.
What makes this kit so unique is that the gel comes in many fun flavors. You can choose between mint, strawberry, raspberry, watermelon, and cotton candy. This is something we haven't seen in other teeth whitening brands, which usually don't even have flavors.
Tools like precision brushes, vitamin E swabs, and a cute neoprene bag are included as well. Lastly, you'll find a shade guide and instruction manual for your kit.
Many customers notice a difference immediately after their first session. Of course, results may vary depending on how stained your teeth are. If you're unhappy with the product, you can return it 14 days from ordering. However, this will cost you a 20% restocking fee.
Your promotional coupon code is "Cakestyle"
Surprise! Here's a code you and your followers can use when you buy the Sparkle White Professional Teeth Whitening Kit. With Cakestyle, you can get it for just $29.99. That's almost 90% off its original price of $269!
You can also use the code to get the Stellar White Teeth Whitening Kit for just $69.99. This kit is White with Style's most advanced system. It allows you to whiten your teeth faster than other kits. The LED device also has a red light option to boost gum health.
What customers like about it:
Makes your teeth whiter in just one use
Users get complimented on brighter teeth
There's enough gel for multiple uses
Affordable yet very effective
How to use White with Style
Whitening your teeth with White with Style's kit is super simple. Here's how you do it.
Brush and floss your teeth. You want your teeth as clean as possible before you whiten them.
Check the shade guide to see your starting color. Take note of this so you see how effective the kit will be after the treatment.
Scatter drops of the gel throughout your top and bottom molded trays. Make sure your teeth will be coated in the gel. But don't pour so much that it will be oozing out of the trays.
Place trays into your mouth. If there's any excess gel, wipe them away with the vitamin E swabs.
Put the LED light between your lips and in front of your trays. Make sure your light device has batteries beforehand. Leave it there for 30 minutes.
When the half-hour is up, remove the LED light and trays. Rinse your mouth with lukewarm water.
And you're done! Check the shade guide to see how white your teeth have gotten!
White with Style Pros and Cons
White with Style Pros
See results in as fast as 30 minutes
Easy to follow instructions for use
Made in an FDA-registered facility in the USA
Vegan, cruelty-free, and BPA-free for your safety
Free shipping for orders worth $60 and above
Get a 90% discount with Cakestyle
White with Style Cons
Prices are inconsistent on different platforms
White with Style Reviews
One of the most informative White with Style video reviews is this one by Victoria LaShay. Like many people, she hated that whitening sessions at the dentist were so expensive. So, she went with the next best option: White with Style.
She goes through every step of the teeth whitening process with the kit. And in just 30 minutes, you can see that her teeth have gone up a few shades on the color scale. "If you want to know if I recommend this product? Yes, I do," she said.
Victoria also liked how you get a lot of product in the kit—enough for multiple uses. "I definitely could use this a whole bunch more times," she said.
Is Style with White worth it?
Absolutely! If you're not ready to commit to an expensive whitening treatment at the dentist, White with Style is worth it.
Their vegan and cruelty-free kits are effective almost instantly. They're awesome if you need to whiten your teeth pronto. Plus, they have free shipping for orders over $60. So, you get great value for money, too!
Some of our latest posts in the oral care category: