ScalpMed Review: Are these hair growth products effective?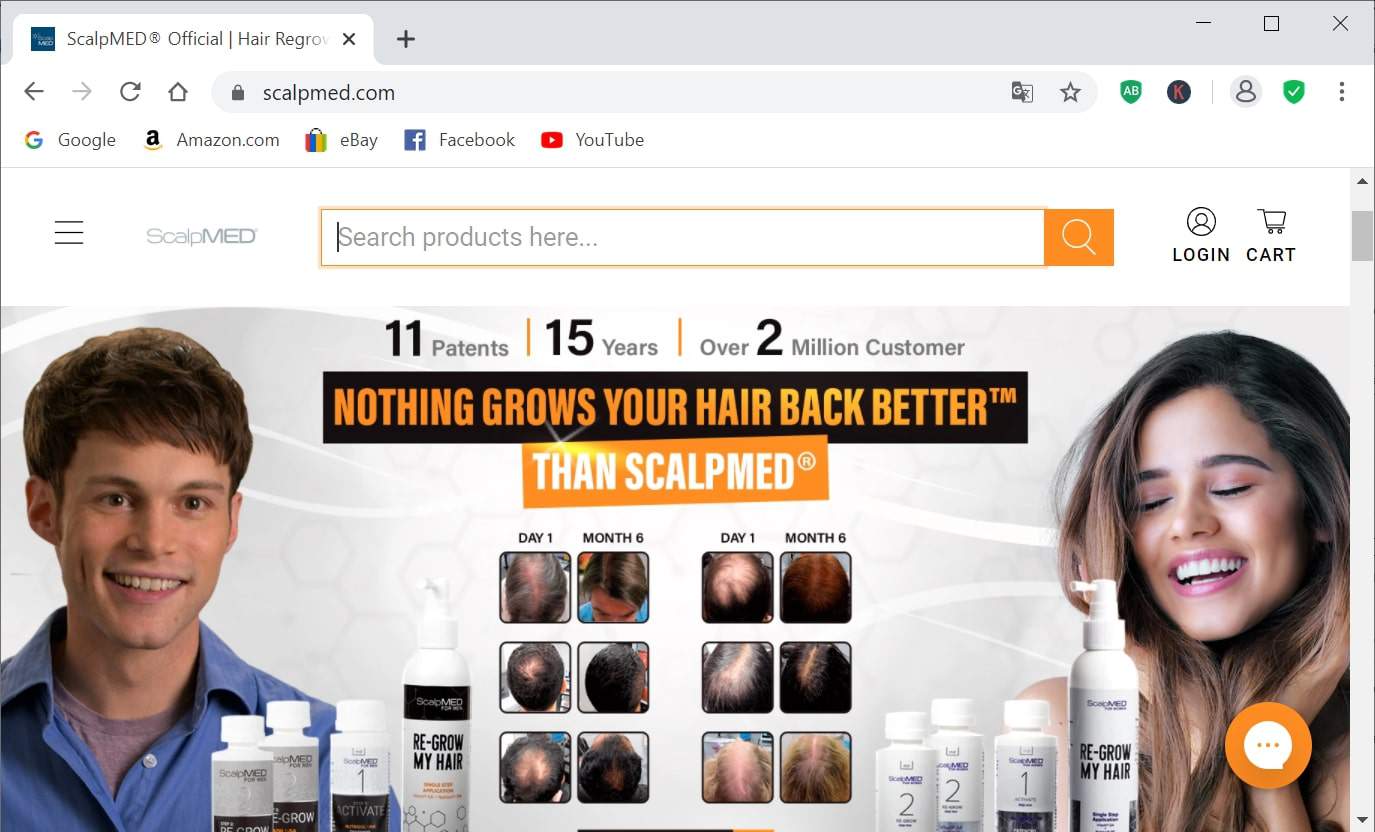 Here's everything you need to know about ScalpMED, like what their products can do and whether they're worth it.
About ScalpMED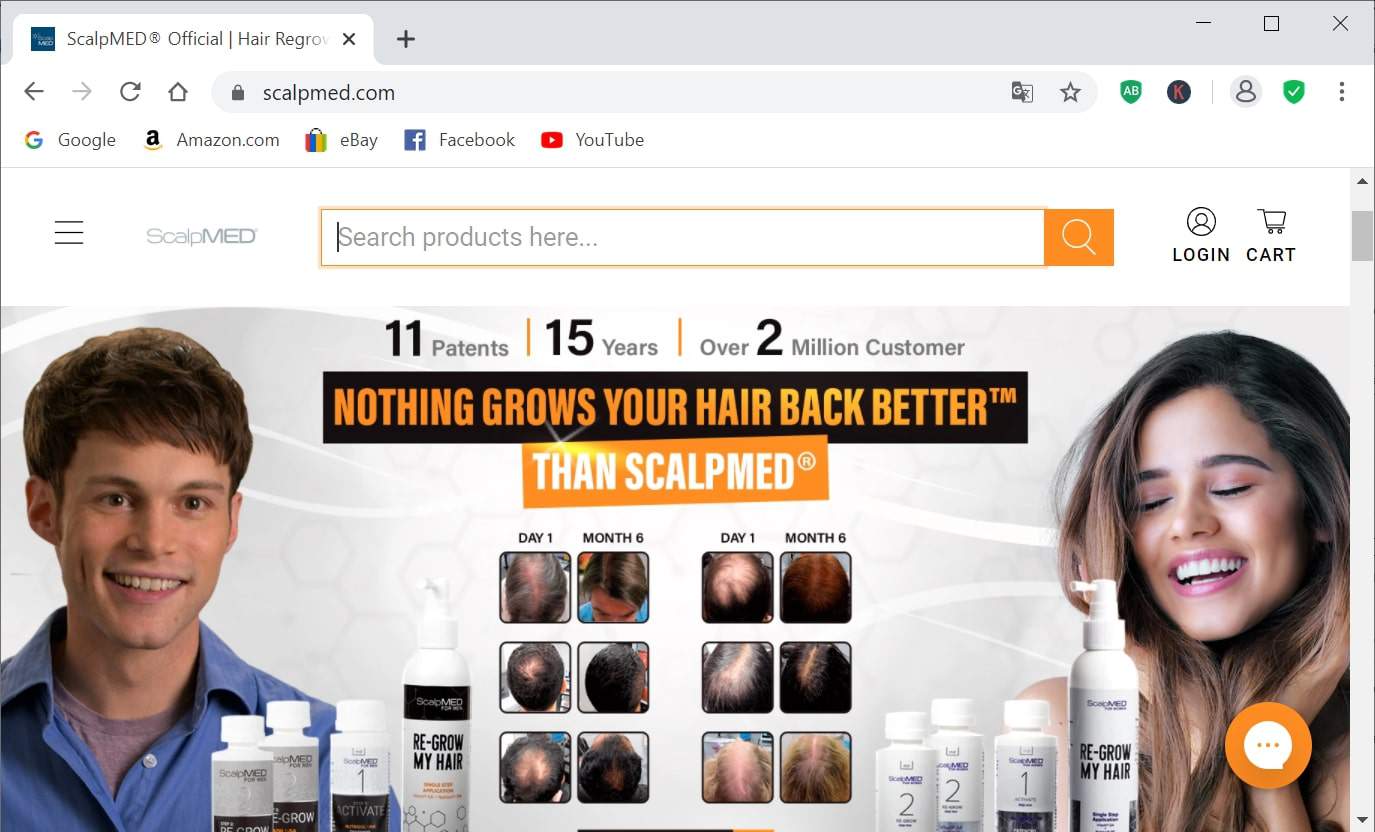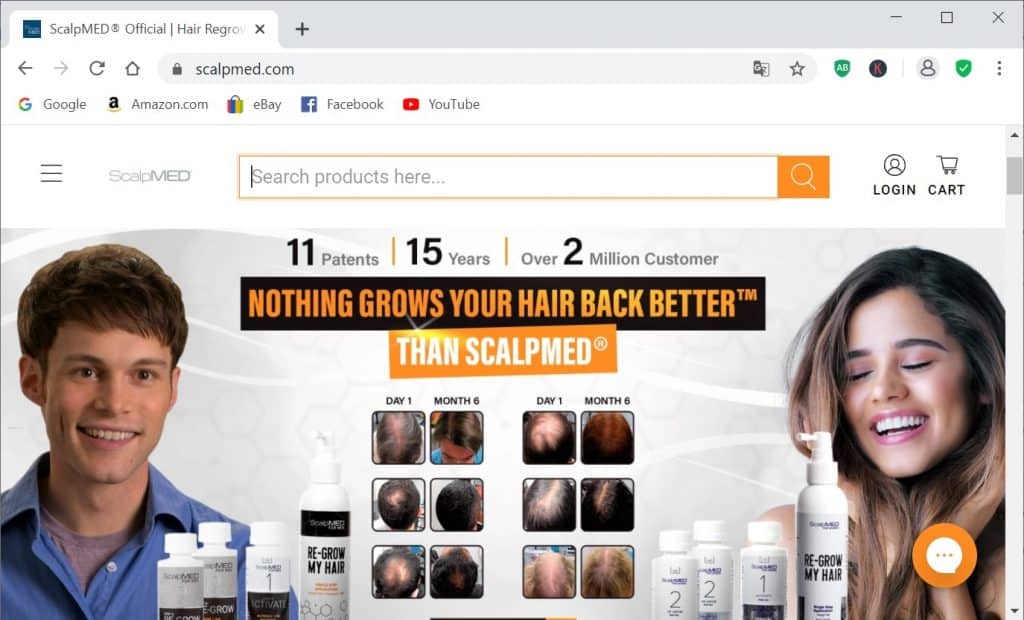 ScalpMED is an innovative hair brand that offers FDA-approved hair growth systems. They carry systems designed for both men and women. The brand also has other hair growth supplements in its line.
Some products under ScalpMED contain Minoxidil, the only FDA-approved topical ingredient for growth. That means the hair growth products are safe and aren't just full of fillers and sketchy chemicals.
As an affiliate partner of various brands and sponsored content, CakeStyle may earn commission on qualifying purchases. Disclaimer | Advertise With Us
ScalpMED has been featured on renowned news channels and publications. These include NBC, Fox, ABC, and the Los Angeles Times, to name a few.
The brand is happy to have served over 2 million customers to date. That should come as no surprise, seeing as how they've been in the beauty industry for 15 years and have 11 product patents under their belt.
ScalpMED's brand promise is simple: they'll help you grow your hair back stronger and healthier. If you're struggling with thinning hair, you should look into ScalpMED's solutions.
What is it like to order on ScalpMED?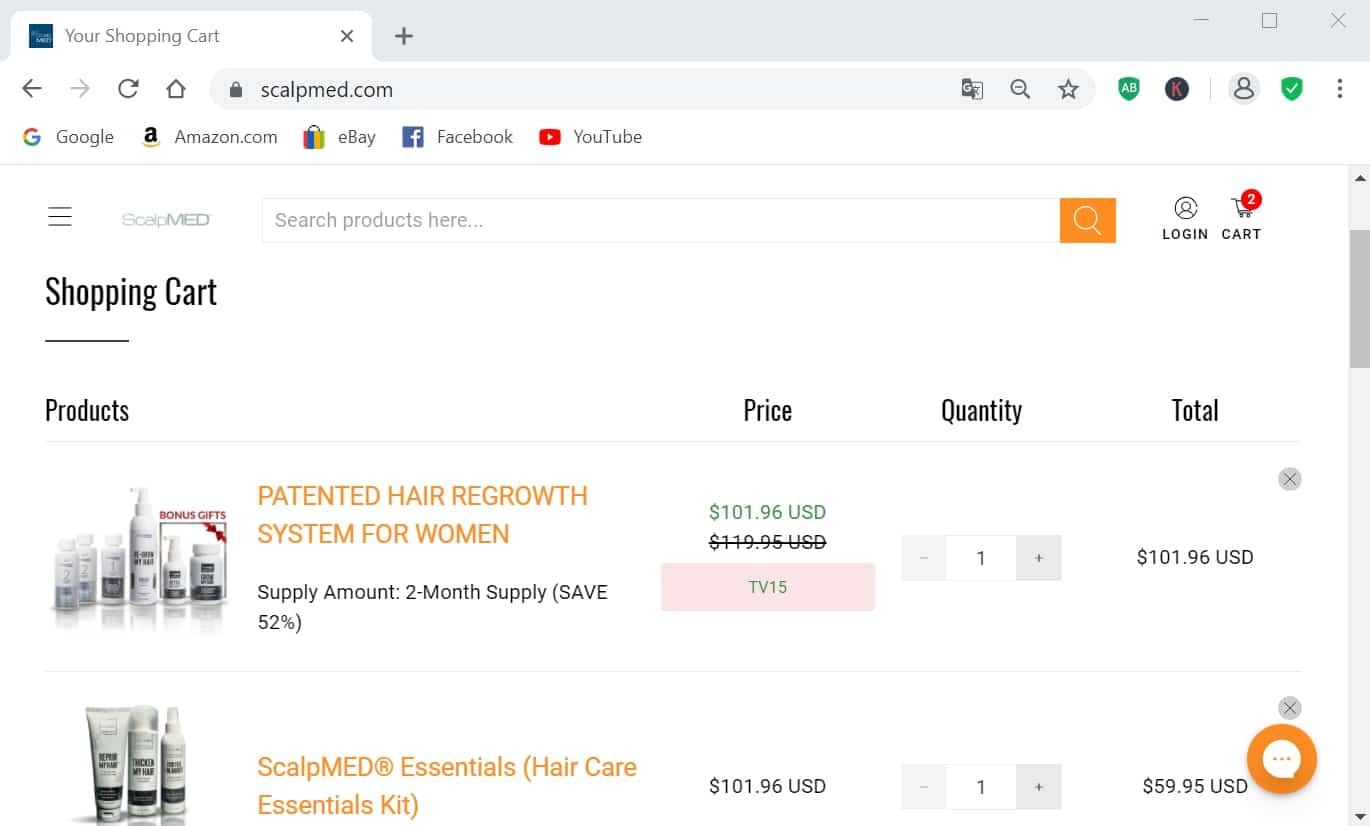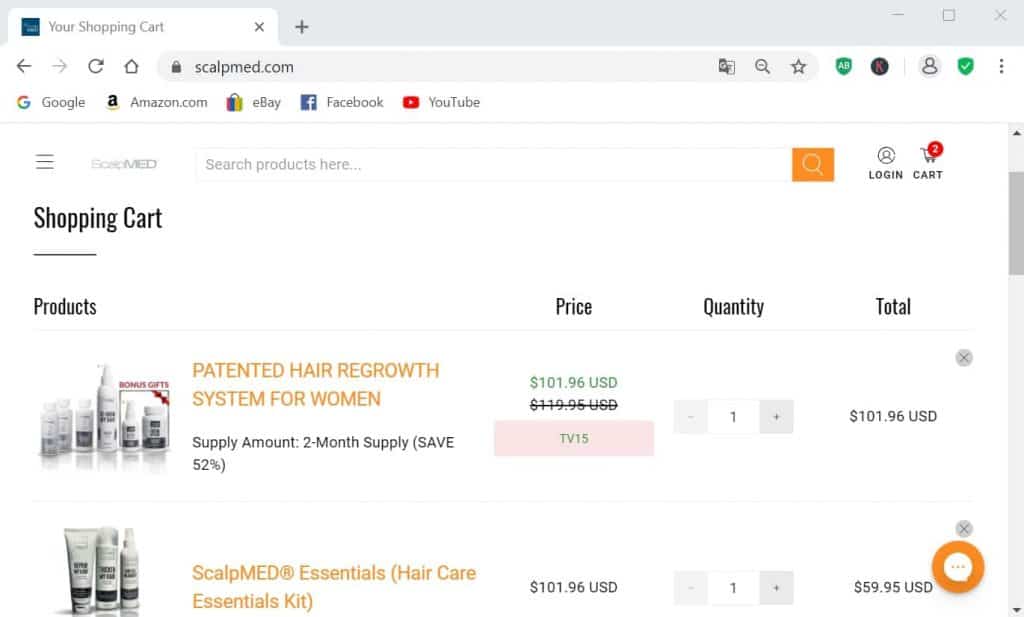 It's not particularly overwhelming to shop on the ScalpMED website. The categories fall into two: the flagship hair growth systems and the rest of their regrowth products.
There are two main hair growth systems available—one for men and another for women. Each system carries four products (we'll get into those later!). You can't get these products separately since they work best when used together.
They also have a daily hair care kit that includes a shampoo, conditioner, and styler. While these come in a set, you can also buy each one separately.
You can also check out their scalp detoxifier and other hair growth supplements.
Every patented ScalpMED formula is backed by scientific data and real results. You can tell how effective each one is based on the impressive before-and-after photos plastered on the product pages.
On the website, you'll be asked to take a quick quiz to help assess your hair needs. It takes only one minute to complete, so it's not a hassle to finish. After getting your answers, ScalpMED will recommend what products they think will suit your hair concerns.
Once you finish this quiz, you can get fast and free shipping on your purchase. Not only that, but you also get a voucher for 15% off!
There's also a friendly support team that you can message at any time. This comes in handy if you have questions you want to ask that aren't on their FAQ page.
The pros and cons of using ScalpMED
Although ScalpMED seems to be very effective, it's not a miracle product. While there are many things to rave about, there are also a few downsides to ScalpMED. Here's a rundown of the things we like about the brand, and the ones that can raise eyebrows:
ScalpMED Pros:
Offer a wide range of hair growth products, from daily shampoos to supplements.
They offer a 120-day money-back guarantee.
The products are FDA-approved. So you can rest easy knowing they're safe to use.
You can get free fast shipping plus 15% off your purchase just by taking a quiz.
The results are proven and backed up by a scientific 6-month consumer study.
Highly rated by those who have tried it out.
You can choose between 2-month, 4-month, and 6-month supplies of each set. Buying a larger supply also means getting a discount of up to 59% off.
ScalpMED Cons:
You must wait 3-4 months before seeing noticeable results in your regrowth. But remember, good things come to those who wait!
The items are quite pricey compared to competitor brands.
High-maintenance; you must continue using it to keep your hair thick and strong. If you discontinue use, your issues with thinning may come back.
ScalpMED for Women
The brand prides itself on formulas tailored specifically for men and women. Even the patents are specific to the audience.
Women shopping for ScalpMED solutions can choose between few products.
There's the special hair growth system that includes four different products. These come in a set, so you can't buy them separately.
If you're looking for something a bit more non-committal, you can opt for the daily hair care kit or other growth supplements. More on those later.
We examined ScalpMED's line of products and systems for women. Read our full review here..
ScalpMED for Men
Men can generally buy the same products as stated above, just formulated for them.
The special hair growth system and other supplements are available in a men's formula. Meanwhile, products like the daily hair care kit are universal and can be used by men as with women.
Read our full review of ScalpMED products and systems for men here.
We'll take a deeper dive into these products in the following section.
ScalpMED's Top Products
Now, let's get into the nitty-gritty—ScalpMED's products and what they can do for you. We've conducted thorough research on each one to help you decide which ones to get. Let's take a look: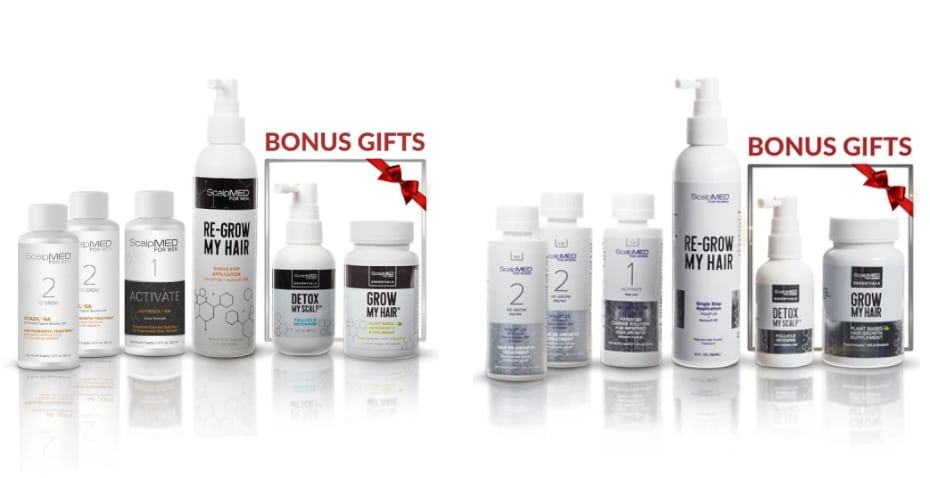 ScalpMED carries two hair regrowth systems—one for men and another for women. Each is patented according to its especially for its corresponding audience, but essentially do the same thing.
The core hair growth system contains two main products along with some bonus steps. The two patented steps that comprise of primary regrowth system are Nutrisol®-RM and ScalpMED®'s Vitadil®-5A.
These two come in separate bottles. The package includes an applicator bottle so you can mix the two active ingredients without making a mess. This bottle also helps to make application easier.
You can also get a couple of free items in your system. These include a scalp detoxifier and supplements that contain PhytoComplex® to beautify your hair from the inside out.
All these patented formulas help speed up the process of hair growth. They also work to prevent thinning and hair loss, solving the root cause of the problem. The formulas also feed your hair the essential nutrients it needs to be healthy and strong.
ScalpMED prides itself on this "extra strength" formula. It nourishes your hair with vitamins and botanicals that fortify and hydrate your locks. These include biotin, saw palmetto, green tea, zinc, linolenic acid, and more.
Here's how to use this coveted system:
Read our helpful guide on how to use ScalpMED, as well as the following tips:
Combine the formulas labeled Step 1 and Step 2 into the empty application bottle.
Apply nine pumps directly onto your scalp. Focus on the areas where you've noticed thinning.
Massage the mixture into your scalp every 2-3 pumps. Do this twice a day and leave the formula in your hair for at least four hours
Next, use the Detox My Scalp formula once or twice a week. Simply apply about 20 pumps to your scalp and massage it in for three minutes.
Wash off the mixture with shampoo and conditioner. Towel dry your hair gently.
The system is entirely topical. Because of that, it doesn't create any unwanted sexual side effects.
You can purchase your own set starting from a 2-month supply. If you're in it for the long haul, you can opt for the 4-mont or 6-month sets and enjoy a discount.
People love this system, which is why it has garnered a score of 4.8. This is from over 200 satisfied buyers who have gotten impressive results.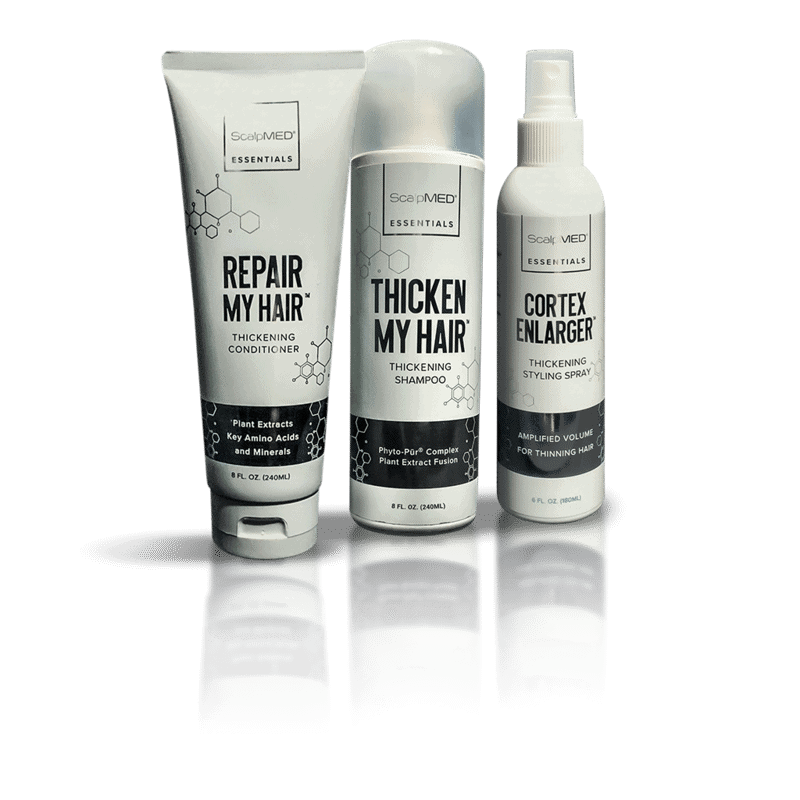 This daily hair care kit is suitable for both men and women. It contains three products you can use on an everyday basis for your washing and styling.
The first is the Thicken My Hair Shampoo (240 ml). It contains the Phyto-Pūr® formula, which is a blend of hair-loving nutrients.
It's formulated with organic, plant-based cleansers to be gentle to your hair as it deeply washes away dirt and debris. These ingredients also strengthen your hair strands and promote excellent scalp health.
Next up, we have the Repair My Hair Conditioner (240 ml). It's rich in plant extracts, vitamins, and minerals to repair and restore your locks. These include vitamin D, tyrosine, and threonine. The formula also boasts 22 amino acids to strengthen your strands.
This conditioner fortifies your hair fibers while softening your locks. It infuses much-needed moisture into the hair shaft to leave your hair strong, shiny, and silky smooth.
It doesn't contain potentially harsh chemicals like sulfates and parabens. It's also never tested on animals.
Lastly, we have the Cortex Enlarger Spray (180 ml), a styling product that strengthens as it volumizes your hair.
It contains pro-vitamin B5 and panthenol—much-needed vitamins for hair growth and shine. Just a few sprays and it instantly adds body and volume to your hair, making it look lush and full.
This styling product is invisible, so you won't see a powdery residue on your scalp afterward.
This entire daily hair care system is excellent for encouraging regrowth. After all, a healthy scalp every day is the foundation of good hair growth. Plus, the hair-thickening and strengthening ingredients promote fuller hair.
It has a lovely fragrance, leaving your hair smelling nice but never overpowering.
These products work to their full potential when used with ScalpMED's signature hair growth systems.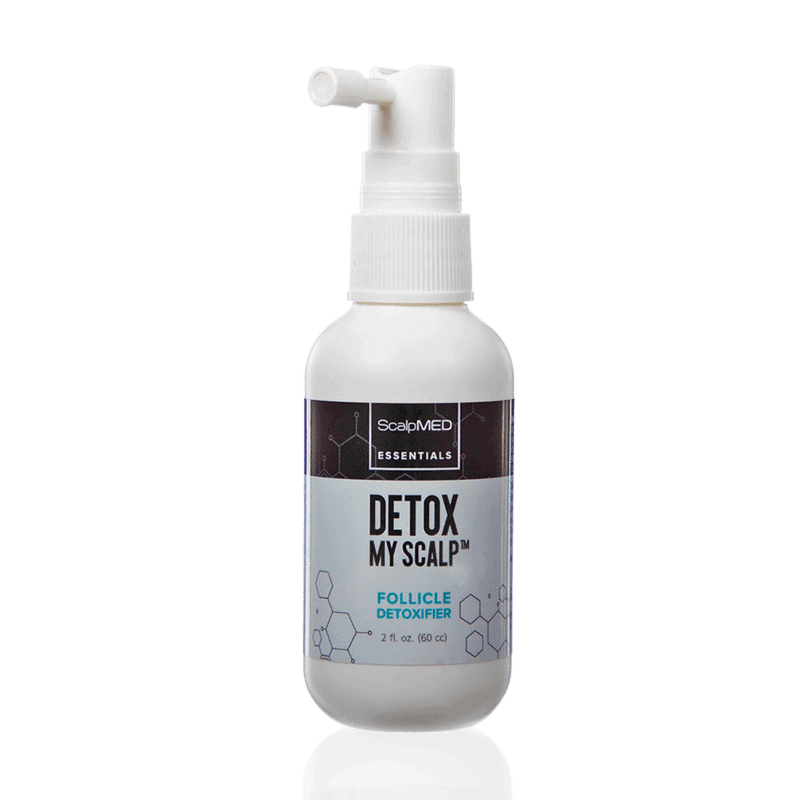 Over time, nasty gunk like cholesterol and excess oils will accumulate in your scalp. This then becomes a breeding ground for bacteria.
These deposits build up in your hair shaft and suffocate your follicles, hampering hair growth. It can even lead to more hair loss and thinning.
Shampoo alone can't wash out this stubborn grime, which is why a deep cleansing scalp treatment is a must for your hair-growing routine. The Panthenol-DX Follicle Detoxifier (60 ml) is one such product.
It breaks down years of toxin and product build-up in your hair. This unclogs your congested follicles. With a detoxified, purified scalp, you can start growing healthy hair again.
Apply this detoxifier all over your scalp twice a week right before wash day.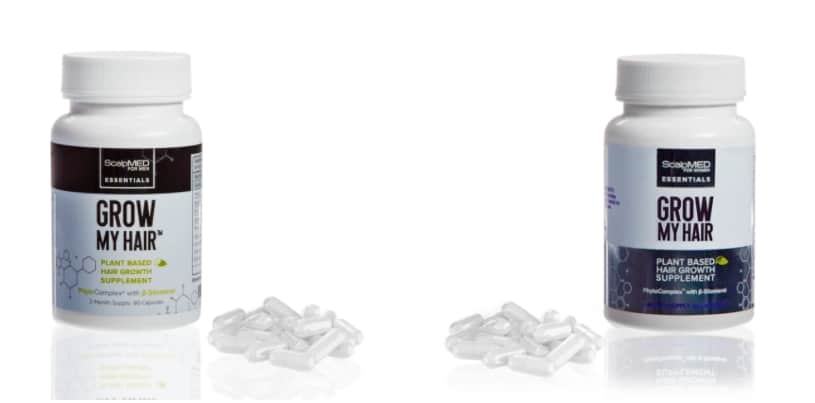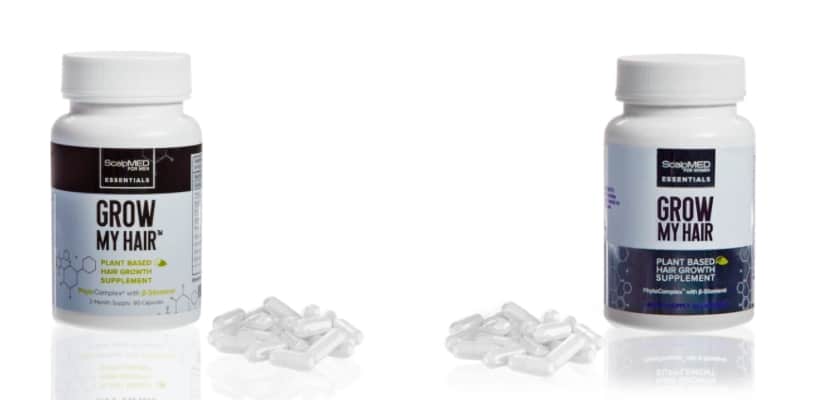 ScalpMED carries two different hair growth supplements for men and women. However, the ingredients are pretty much the same for each one.
The plant-based, steroid-free formula contains PhytoComplex™ with Beta-Sitosterol. This complex is excellent at promoting hair growth. It also has essential nutrients that your hair will love, such as saw palmetto, biotin, and more.
These supplements help thicken and grow out your hair for more body and volume. One capsule a day for at least two months is all it takes.
And don't worry about any side effects. Since the formula is plant-based, there aren't any sexual side effects.
To get optimal results from this supplement, use it alongside the ScalpMED's Vitadil® treatment.
ScalpMED Reviews: What do real customers think about it?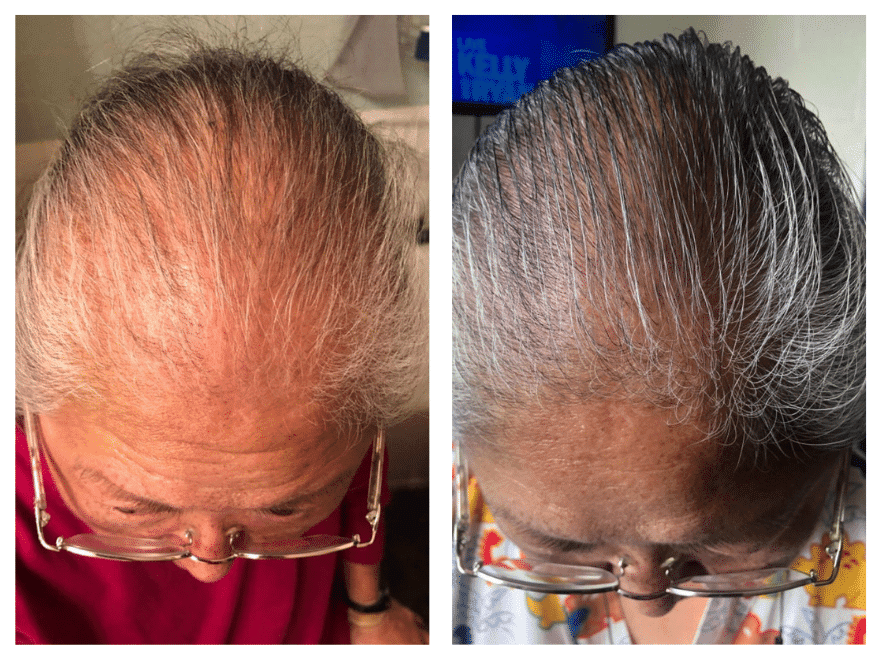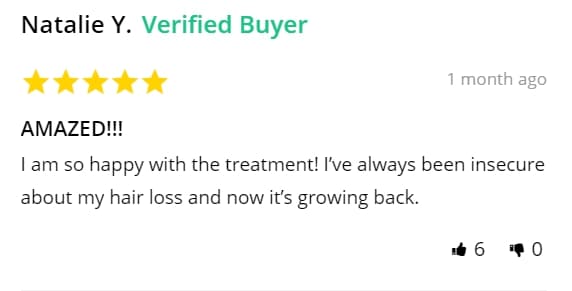 There's some talk about ScalpMED products on forums like Reddit, where people wonder about how effective the products are.
That said, it's rare to find people posting about their experiences with the products on social media.
This is likely because the hair loss and recovery journey is personal and sensitive. It could also be because it takes months to see results, and documentation can be difficult.
Nonetheless, there are tons of happy customers who rave about their ScalpMED products. Some swear by the shampoos and thickening conditioners that make their hair look fuller. But most put their trust in the hair growth systems that show excellent results for regrowing damaged or thinning locks.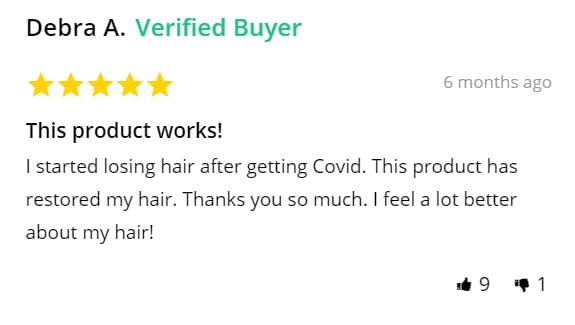 ScalpMED vs Rogaine vs Keeps
Hair loss and thinning are common hair issues, especially among those who are older. So the reality is that ScalpMED isn't the only hair growth brand out there claiming to restore thick hair. Brands like Rogaine and Keeps are also popular in the hair industry for the same promise.
All three brands cater to an audience who wishes for longer, thicker hair. They all also offer hair growth products that contain Minoxidil. So why choose ScalpMED? What makes it so different from these two other brands?
One stark difference is that ScalpMED is more expensive than the other two brands, which are significantly cheaper. Plans over at Keeps start at $10 per system. Meanwhile, Rogaine products start at $27.49.
But while these are more accessible for those on a budget, you must remember that price is a testament to quality. ScalpMED may be the priciest of the three, but this only suggests that it's the most high-quality.
However, it's the opposite when it comes to shipping. While ScalpMED offers free shipping, Rogaine and Keeps do not.
Rogaine only offers free shipping for subscription orders. Otherwise, standard ground shipping will cost $7.95. Keeps charges just $3 per shipment, but has no offerings for free shipping.
ScalpMED has the upper hand among its competitors when it comes to product efficacy. It shows results in as fast as 3-4 months. On the other hand, Rogaine promises a difference in as far as 6 months.
The brand also shows strength in catering to both men and women. Meanwhile, Keeps only designs products for men, therefore alienating the female audience. ScalpMED formulates different sets of products specifically for the needs of men and women.
PATENTED HAIR REGROWTH SYSTEM FOR WOMEN with 4 products:
Nutrisol®- RM,
+ 2 bottles of ScalpMED®'s Vitadil®-5A
+ PhytoComplex®
+ Detox My Scalp product

WOMEN'S ROGAINE® 2% MINOXIDIL SOLUTION

3 months supply for men with different kind of hair loss.

Depends on it, you can choose the trestment:
MINOXIDIL SOLUTION, 5%, MINOXIDIL FOAM, 5% or FINASTERIDE,1 MG supplement

Supplements for Men and Women

5% MINOXIDIL UNSCENTED FOAM for women and for men, and 5% MINOXIDIL SOLUTION for men

KEEPS THICKENING CONDITIONER

Yes + 15% OFF after taking an easy 1 min quiz

Free for subscribtion orders. Standard shipping rate for ground shipping is $7.95

Shipping's only costs $3 per shipment

Starts from $89.95 for bundle with 4 products

Plans starting at
$ 10 /mo
depending on treatment

Patented and FDA approved formula

120 days MONEY-BACK GUARANTEE

Proven and studied effect

Need 3-4 months to see the results


Not that many reviews of the product


First results in 3-6 months
Is ScalpMED worth it?
While it can be pricier than its competitors, ScalpMED is worth it for the solid results you're bound to see in a few months. Plus, you could get a terrific deal out of your products by purchasing larger supplies.
The free shipping, 15% off discount, and 120-day money-back guarantee are only some of the bonuses when buying ScalpMED products.
So if you're looking to grow your hair to make it look thick and strong again, ScalpMED is definitely for you. Don't pass up the opportunity to flaunt voluminous hair again.