Today we are sharing our Scentbox review. We all have busy lives, so it's important to stop and smell the roses, or in this case, the designer perfumes.
I love exploring different perfumes. I think it's fun and exciting to change my scent regularly. One day I like to wear a dark spicy perfume, and the next day I want to go to the beach wearing a light citrus scent. This love of diversity is why I was so excited to hear about Scentbox.
Scentbox is a monthly subscription program that delivers designer perfumes to your doorstep.
Building a fragrance library has never been easier.If you're like me don't like crowded department stores and you loathe pushy salespeople.
I was excited to finally ditch the noisy perfume counter and find out more about Scentbox so I did a bit of research.
With 35% off your first month of Scentbox and a flexible cancellation policy, I think this is a dream program for any fragrance lover like me.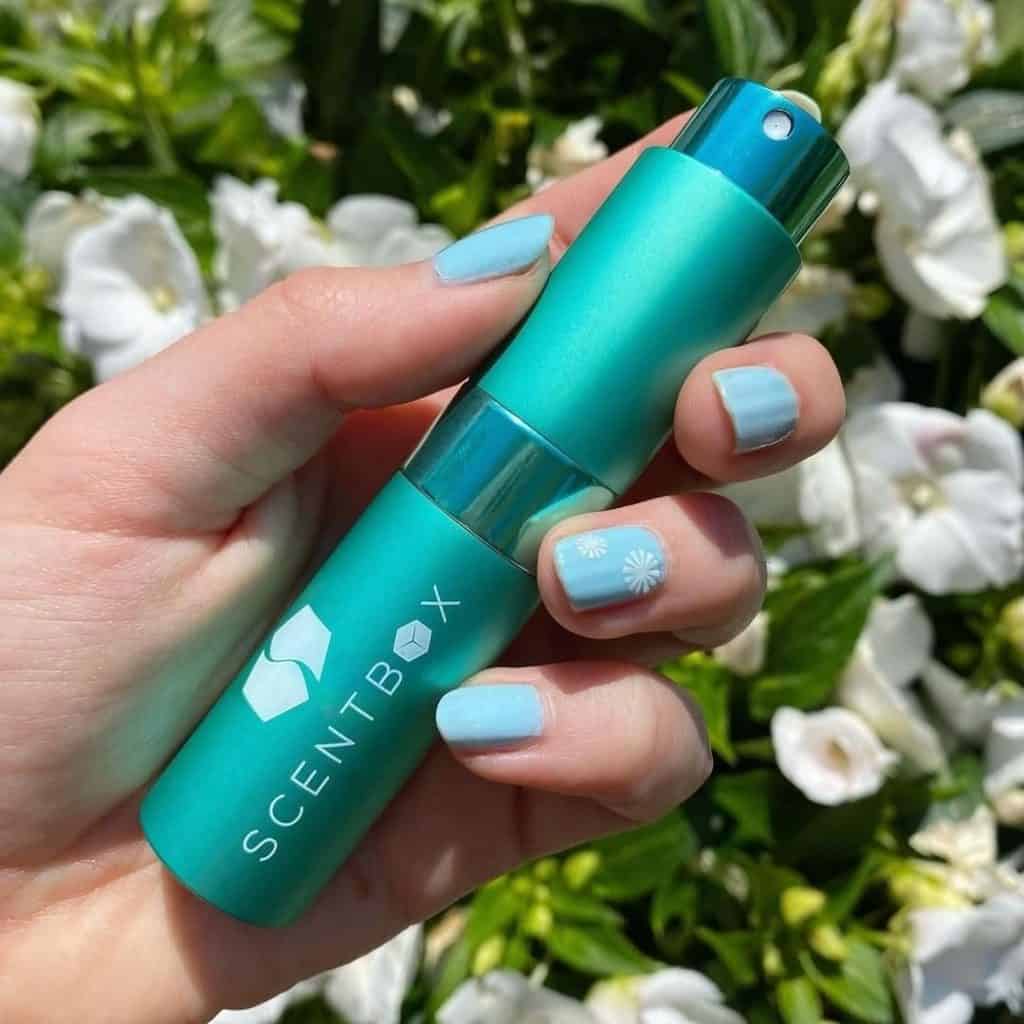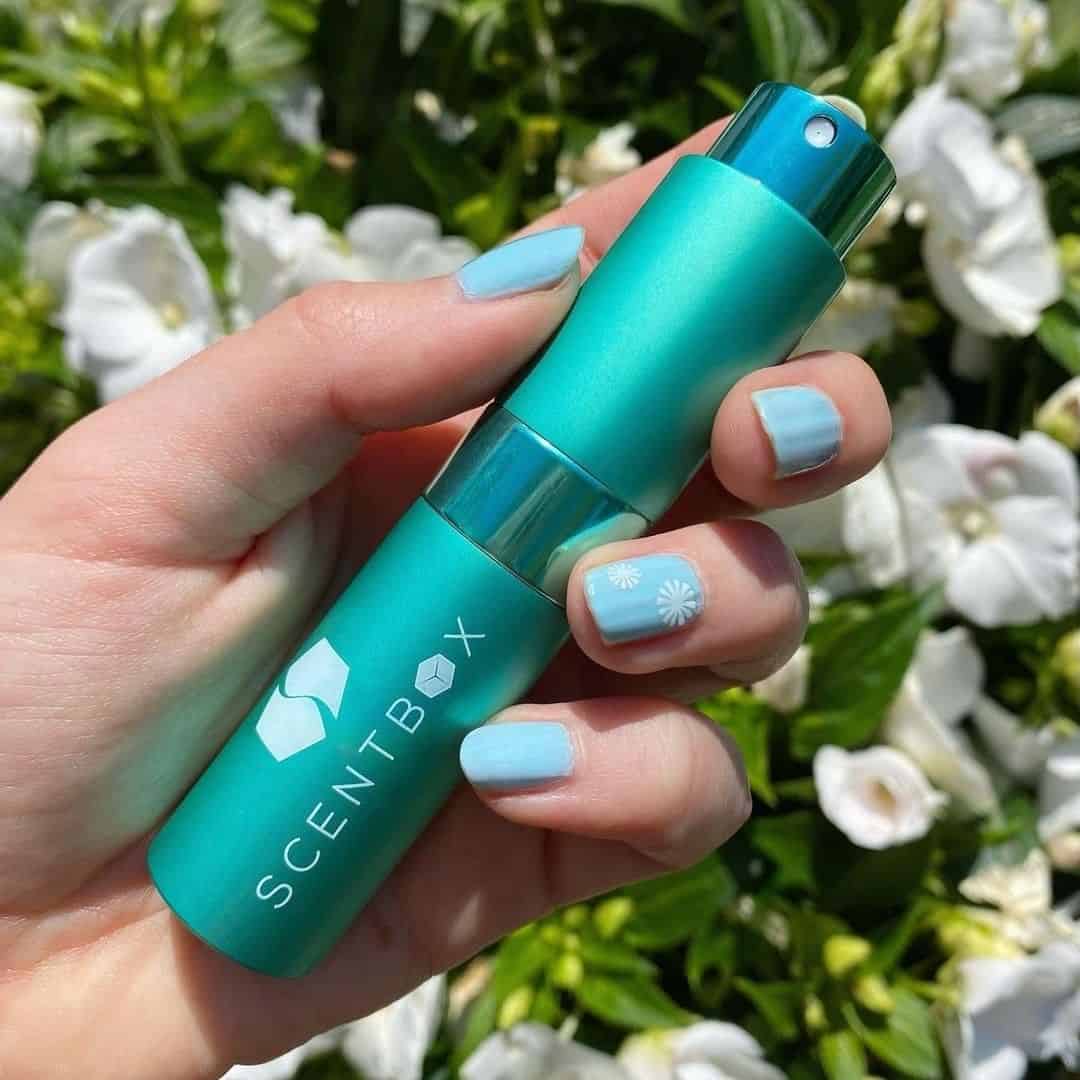 With four different subscription plans, this company delivers a designer perfume to you every month. You choose which perfumes you want to receive.
They have a huge variety of over 800 scents. Many of them are from well-known designers, brands, and celebrities. You'll recognize household names like Balenciaga, Ariana Grande, and Gucci in the long list of fragrances.
You receive a 30 days supply of fragrance in a sleek signature atomizer and keepsake box. This is a great way to try out many different scents before investing in a larger bottle. If you want to buy a full bottle, they have that too.
Scentbox has made it easy to order with a free exchange and shipping program and has over than 30k fragrances lovers on Instagram.
Scentbox Pros and Cons
No company is perfect, that's why I dug in to find out more about Scentbox and its subscription programs. If you want a balanced assessment of Scentbox consider these pros and cons. As you can see at a glance, I found many things to love about Scentbox.
Scentbox Pros
35% off the first month
Four easy to understand plans
Referral Program
Wide variety of designer perfumes
Perfect gift idea
Cancel anytime
Free shipping and exchanges
An affordable way to discover new perfumes
Both women's and men's fragrances
Fragrance stay in the queue for the next 12 months
100% authentic fragrances
Full-size bottles available
Scentbox Cons
Only one fragrance per month in their Standard Plan
To access all the brands you must take a premium subscription
Shipping only in the U.S.
Subscribing to Scentbox, what is it like?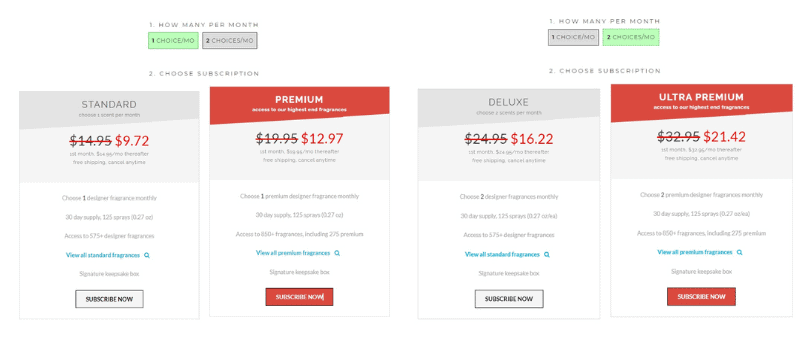 Four easy-to-understand subscription plans
As mentioned, Scentbox has four subscription plans: Standard, Premium, Deluxe, and Ultra-Premium Plans.
The first two plans include 1 choice of fragrance per month. The Deluxe and Ultra Premium plans include 2 choices per month.
The Standard Plan includes one scent per month starting at $9.72 for the first month and then $14.95 per month after that.
Other features of the Standard Plan:
30 day supply
125 sprays (0.27 oz per spray)
Over 575 designer fragrances.
Signature atomizer and keepsake box
Free shipping
Cancel anytime
The Premium Plan includes one scent per month starting at $12.97 for the first month and then $19.95 per month after that.
This plan includes all the above-mentioned features of the Standard with an extra 275 premium high-end fragrances.
The Deluxe Plan includes two scents per month starting at $16.22 for the first month and then $24.95 per month after that.
The Deluxe plan includes all the features of the Standard Plan. It does not include access to the 275 more premium high-end fragrances.
The Ultra Premium plan includes two scents per month starting at $21.42 for the first month and then $32.95 per month after that.
The Ultra Premium Plan includes all the features of the above plans and includes access to the 275 additional premium high-end fragrances.
I will be trying the standard plan to start. If I like the program and want to try more, I can always upgrade to a plan with two scents per month. I do think 2 fragrances per month would be great. I would select one for the daytime and one for the nighttime. I prefer wearing heavier scents at night.
Scentbox Fragrance List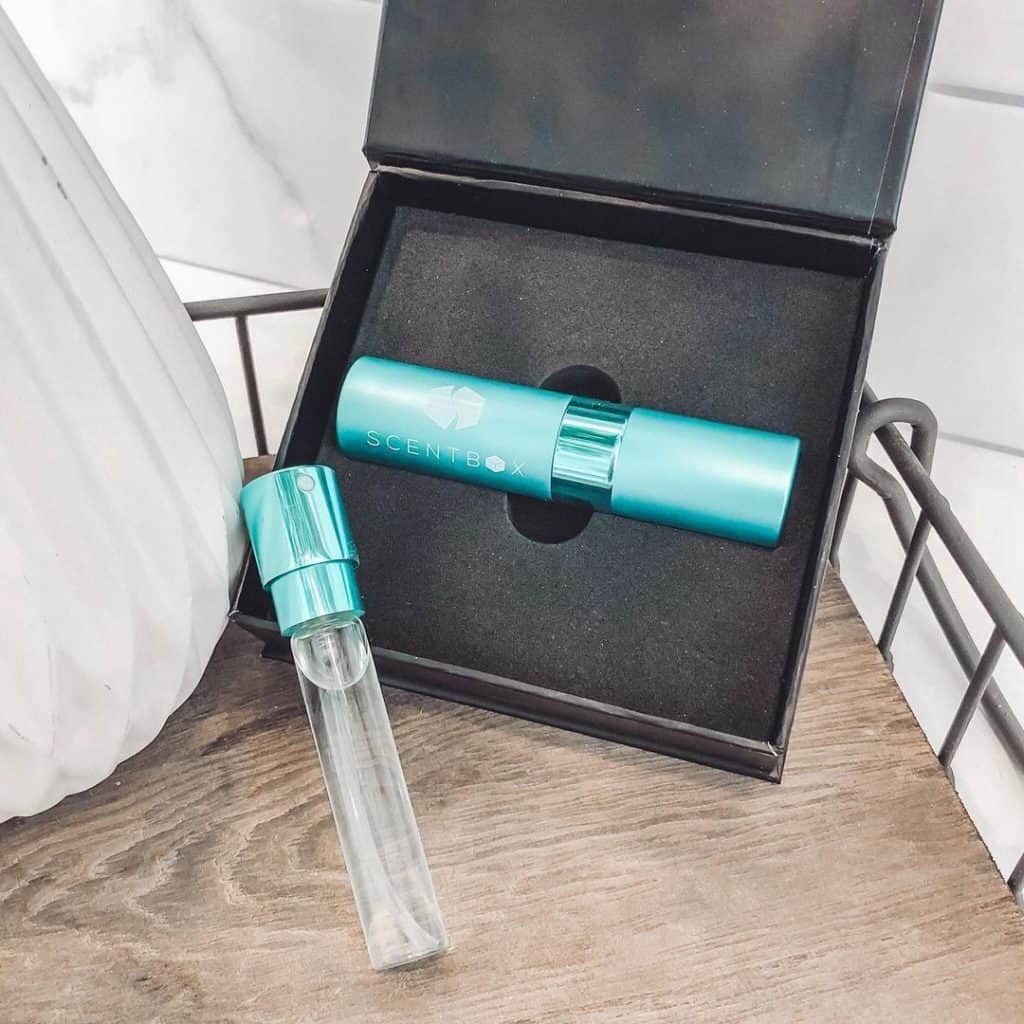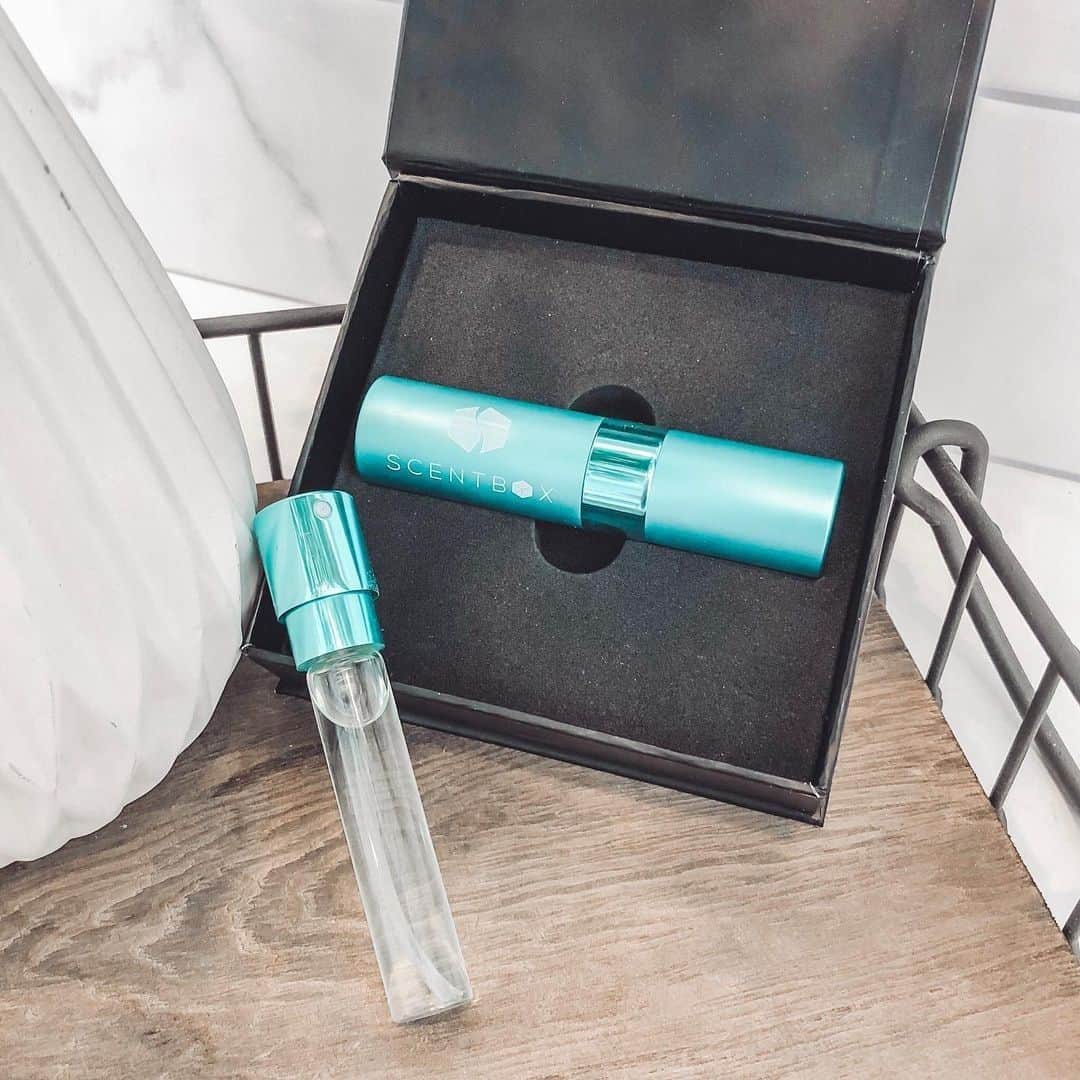 I'm blown away by the variety and quality of perfumes that they have available. I can't wait to try Polo Ultra Blue: a cool, citrusy, and refreshing fragrance.
Other recognizable names in their list of designer perfumes include Balenciaga, Ariana Grande, Acqua di parma, Burberry, Cacharel, Christian Dior, BLVGARI, Chloe, Cartier, Clinique, Dolce & Gabbana, Estee Lauder, Hermes, Gucci, Giorgio Armani, Givenchy, Hogo Boss, Jimmy Choo, Lacoste, Kenzo, Lancome, Michael Kors, Miu Miu, Moschino, Valentino, Tom Ford, Versace and more and many many more.
Scentbox Pros
Perfumes are delivered in a chic atomizer
When you subscribe to Scentbox you receive an atomizer. This sleek instrument helps you get the most out of your purchase and protects the glass vial from damage. To use it you twist right to open and spray, and left to close.
When you need to replace a scent you simply twist right to open and pull the glass vial up. You can order individual atomizers from Scentbox.
Referral program
Active Scentbox subscribers may benefit from their referral program. When you invite friends to sign up for Scentbox you get a free scent for each person that subscribes. This works through the application of a referral code. Your friend gets a free scent as well.
Scentbucks
Scentbox offers ScentBucks as a reward program for subscribed members. You get 15% back on your monthly membership charge. You receive 10% back in ScentBucks on other purchases outside your subscription. That includes full-size bottles, atomizers, and gift subscriptions.
You can apply ScentBucks to any balance. After several months of being a Scentbox member, you could apply your ScentBucks to the purchase of a full bottle of perfume that you discovered and fell in love with.
Gift Purchases
Scentbox makes a perfect gift idea. Imagine receiving a present that comes to your door month after month. What could be better? Gift purchases operate similarly to any of the other subscription services. They come in 3, 6, or 13-month gift subscriptions.
Scentbox Reviews
Ordering online can be intimidating. That's why looking at online reviews is such an important part of the process before taking the plunge and jumping into a subscription.
Scentbox Bizrate Surveys
Bizrate Surveys give Scentbox an 8.9 out of 10 for overall satisfaction. That's a pretty good score considering they have over 8 thousand reviews for Scentbox on their website.
Some of the negative reviews that I read stated that they didn't find the value worth it for the price.

One reviewer gave Scentbox a perfect rating of 10 and said the following:

Scentbox Reddit
People on Reddit are also talking about Scentbox. User RBGhearsmyRBF commented:

Scentbox Influenster
Scentbox has over 4 out of 5 stars on Influenster with over 80 reviews. Reviewer Tahrih A gave the company 5 out of 5 stars and said the following: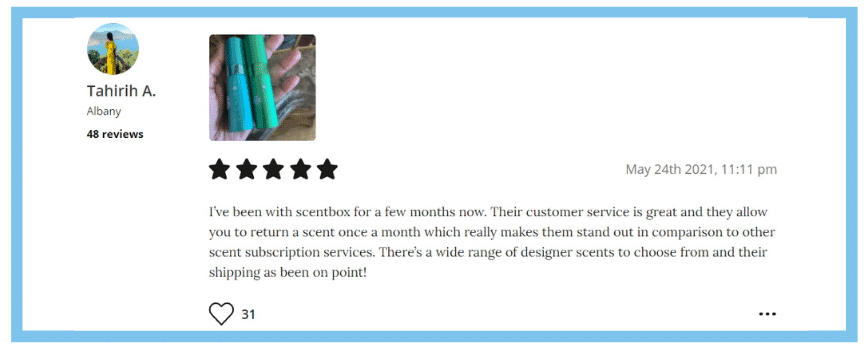 Scentbox vs Scentbird vs Luxury Scentbox
Scentbox is not the only company that is offering a monthly fragrance subscription. So how does Scentbox compare to similar services such as Scentbird and Luxury Scentbox?
Each company has its unique pros and cons and it's ultimately up to the consumer to decide which subscription program is the best for them.
Box with a 30-day supply of a new designer fragrance that will be send to your door

(0.27 oz / 8 ml, 4 sprays a day for 30 days)

Box with 1 new fragrance, which you will have after taking a small quiz

Each month you choose a box with 1 new fragrance (9 ml)


How many products in a box?

Standart - First month $9.72, after - $14.95
Premium - First month $12.97, $19.95 thereafter

First order with 25% off - $11.96
After $15.95 / month

First month for just $9.75, after $15.95.
Premium option for $20.00 per month

35% off for the first order


Over 850 original designer fragrances

Easy way to increase fragrances library

You can shoose the fragrance

Useful menu, you can see all the products available with subscribtions and reviews


Shop through App - available for both Apple and Anroid

You can shoose the fragrance

35% Off for the first order


No contract, easy to unsubscribe

Brand-name, was in New York Post, Fox, Men`s Journal, Byrdie and more 

Only 1 fragrance in month


All brands available only for premium subsribtion

Only 1 fragrance in month


Only 1 fragrance in month

Some customers complain about customer service
All three companies offer similarly priced subscriptions. Although Scentbox is slightly cheaper than the other options.
Scentbox seems to offer the largest amount of fragrances with over 800 in its inventory. Scentbird offers over 500 and Luxury Scent Box offers over 700.
All three companies are offering fragrances from top designer brands. Scentbox and Scentbird offer bottles of 8ml. Luxury Scent Box offers more, 9ml.
All of them offer free shipping and flexible cancellation policies.
Scentbird has an easy-to-navigate website. I like how you can see the ingredients in the perfumes to make choosing your scent easy. You can purchase and organize your subscriptions through their App.
When comparing the three companies, I like the fact that Scentbox has the option to have 1 or 2 fragrances per month. The fact that they have the highest selection is also important.
Scentbox Shipping and Return Policies
Scentbox offers free shipping within the U.S.
I love that there is no minimum purchase fee on free shipping. You receive an email when your monthly subscription ships.
You can follow your order when you log into your account. Scentbox has 4 monthly shipping dates and when your products ship depends on when you subscribed and your billing date. You can later change your shipping date if you go into your account and change your billing date.
Scentbox takes 7 – 10 business days to arrive once shipped.
The company does not offer refunds or returns on monthly subscriptions, however, they do offer an exchange program for active members. This means you can exchange your monthly scent if you don't like it.
On their full-size bottles, they offer a 30-day store credit on unused and unopened products.
Gift subscriptions cannot be canceled or refunded and are valid for the entire period purchased. Scentbox does not allow returns, refunds, or exchanges on anyone time atomizer purchases.
Scentbox Customer Service Number
If you should need to contact Scentbox they can be reached at:
Phone: 1-844-782-9629
Email: [email protected]

Is Scentbox Worth It?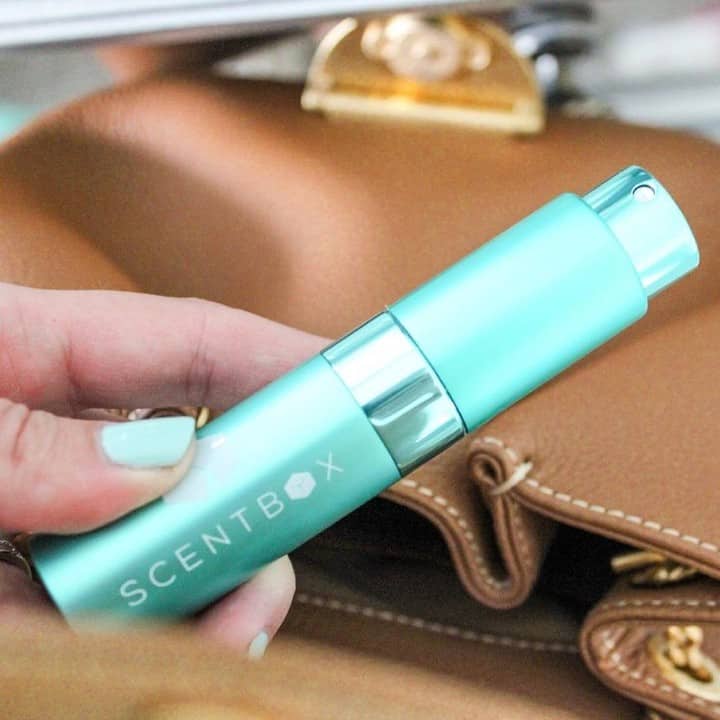 Scentbox is worth it if you like to explore and discover new scents like me. I'm always happy to try something different. I like to change my fragrance depending on my mood, the time of year, and the time of day.
However, if you are the type of person that has strong, fixed preferences and knows what you like, I can't see the benefit of a fragrance subscription service.
In the end, it depends on your personality. I love adventure and I'm happy to try Scentbox. After all, if I don't like it I can always cancel my subscription.
Read This Next: