Choosing the right products for your hair can be difficult.
The ScalpMED system claims to be the number one hair growth solution for men suffering from thinning or balding.
To determine if this product is as good as it says, we took a closer look at its science and client history.
What is ScalpMED?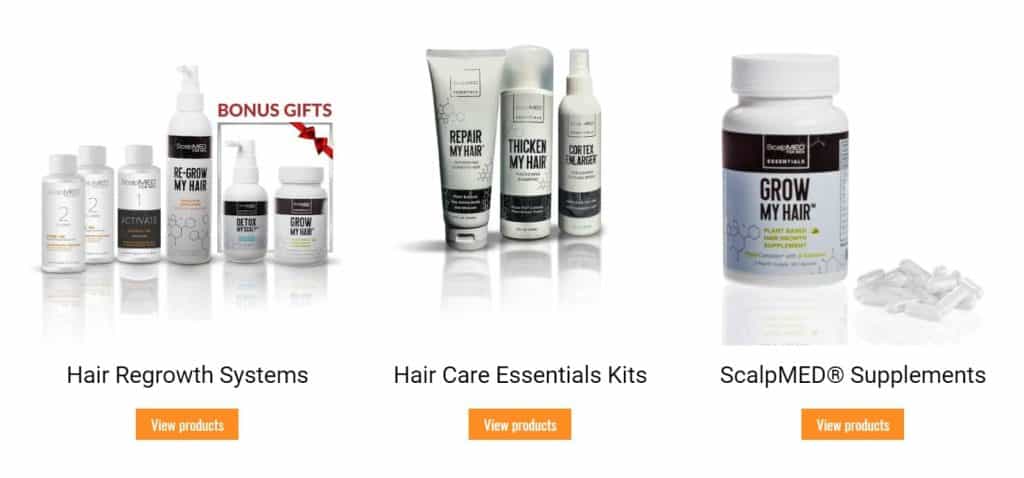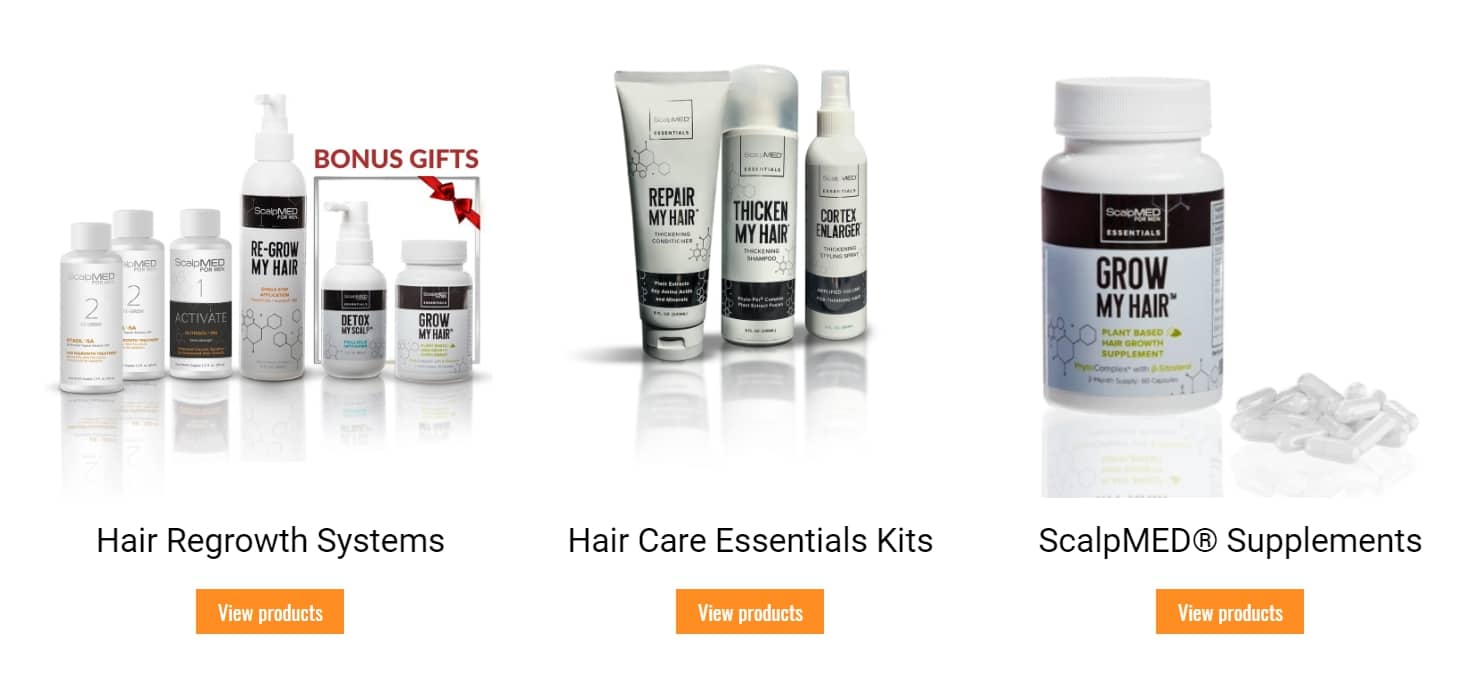 ScalpMED is a trusted company with a long proven track record that sells two regrowth systems – for men and women.
The products has been featured on major news networks such as NBC, FOX, ABC, and the Los Angeles Times to name a few.
With over 15 years on the market, they boast 11 patents to their name with 3 million customers to date. These impressive numbers are reflected in the glowing testimonials.
ScalpMED's website has a very quick and easy quiz. They offer free shipping and 15% upon completion of the quiz. It will ask you simple questions such as your gender and "do you apply heat daily to your hair".
The company is well known for offering great customer service. The service they provide is known to be superior to other more recognized hair growth brands.
What Causes Men's Hair Loss?
One of the reasons that men's hair loss is so difficult to treat is that there can be one or many contributing factors causing hair loss.
Some factors may include:
Genetics
Medical issues
Stress
Infections
Immune system
Impulse control disorder
Grooming
By using an approach that addresses as many of the above factors as possible, we can finally regain control of our hair loss.
What Men's Hair Loss Products Does ScalpMED Offer?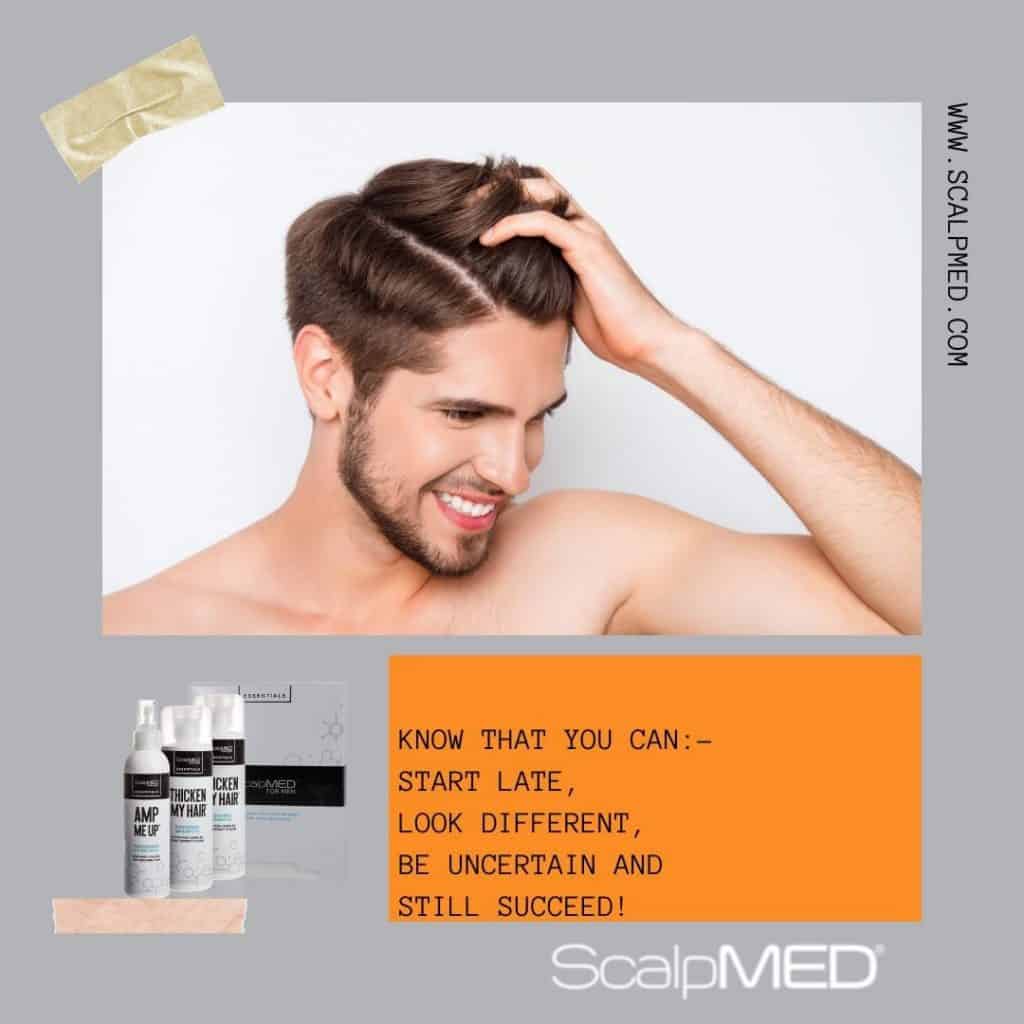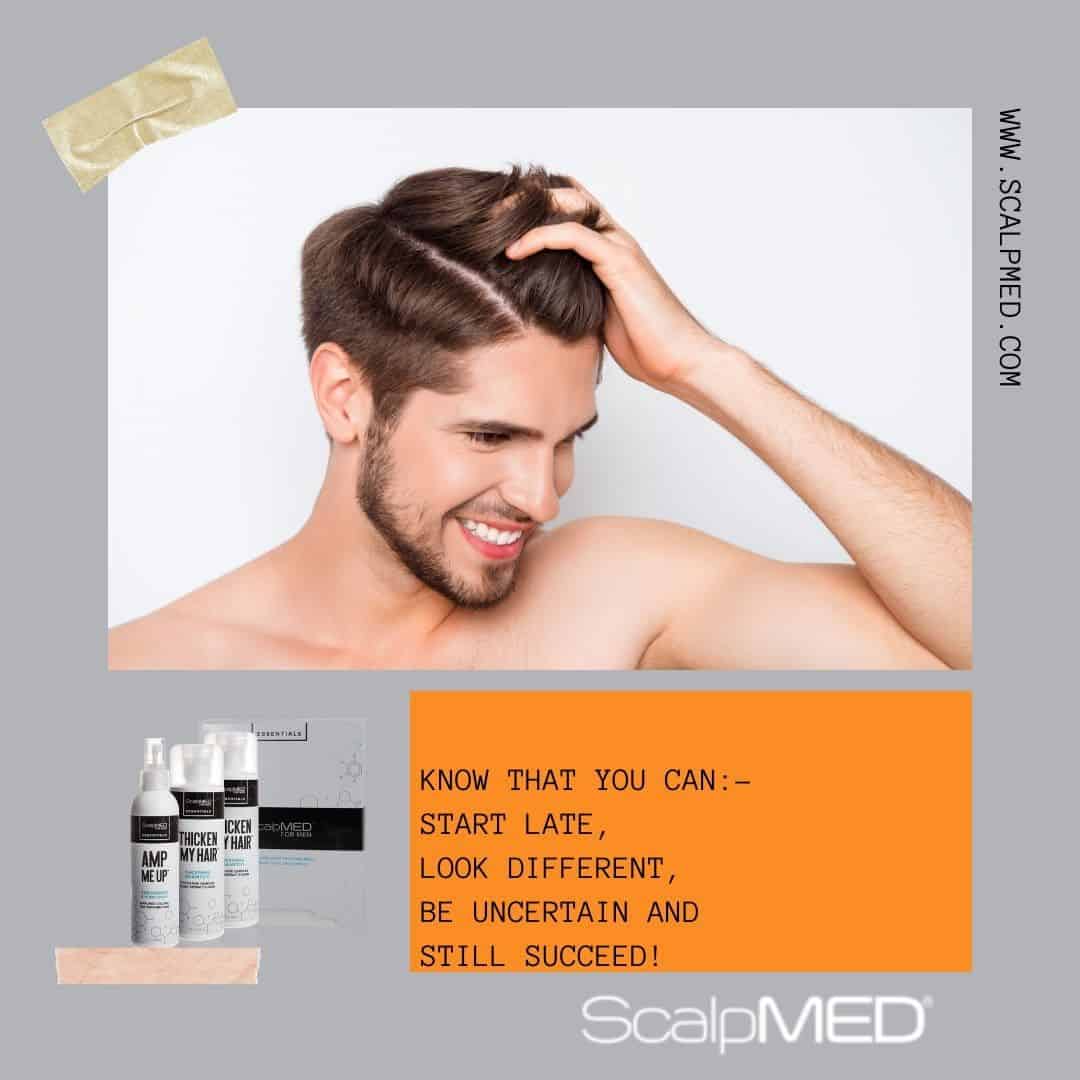 ScalpMED has the patented hair regrowth system which includes 4 innovative products. It's important to note that you cannot buy the products separately. You can order the entire system one time, or in a subscription. Their subscriptions supply you with a two-month supply. 
Another ScalpMED's solution is concentrated around daily hair care. They offer shampoo, conditioner, scalp detoxifier, and hair spray with their special formula.
It also offers plant-based hair growth supplements. Their supplements come in a 2 month supply and feature a unique Phyto complex patented by ScalpMED.
What makes ScalpMED different?
ScalpMED has several advantages over other similar topical treatments that use Minoxidil.
The NutriSol formula is an exclusive patent that can only be found in ScalpMED products. This is specifically formulated to work with Vitadil, another one of their unique solutions. Together, they help maintain a healthy scalp that is ideal for hair growth. 
Unlike other treatments, ScalpMED does not create an itchy scalp. The patented NutriSol formula prevents the build-up of Minoxidil.
The product stands by its results and insists that all before and after photos are genuine and taken by verified users of their products.
Not everyone is ready to talk about hair loss. For many, it's an embarrassing issue. To encourage their users to tell their story they have even created a contest in which the winner will be paid $5,000.
Review of ScalpMED Regrowth System for Men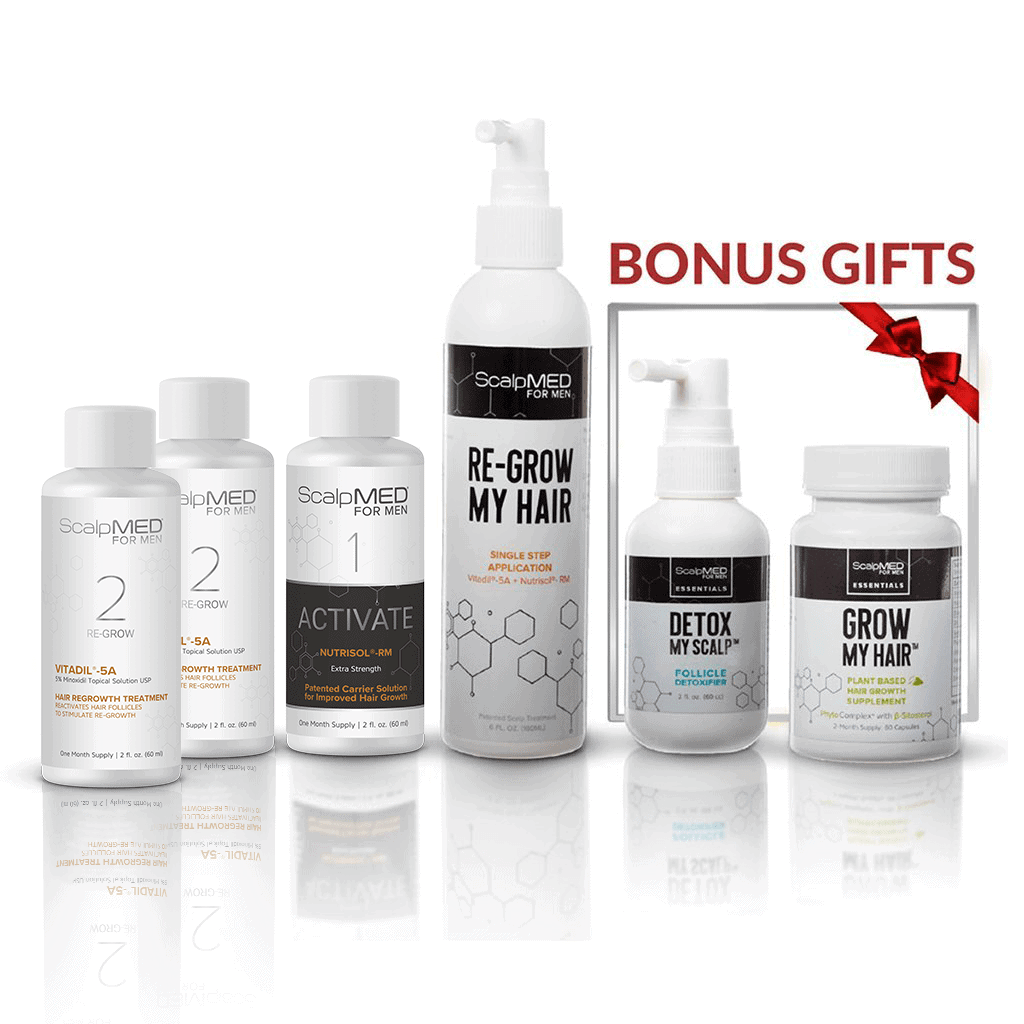 Patented Hair Regrowth System for Men
This hair growth system has two products featuring Nutrisol and ScalpMED's Vitadil-5A. These special formulas contain Minoxidil, ingredient that is backed by science.
The system comes with the application bottle for mixing active ingredients before you apply and PhytoComplex supplement which fights hair loss from inside your body. It contains a long list of hair-boosting ingredients such as Zinc, Biotin, Niacin, and Bamboo Extract to name a few.
Each ingredient promises to quicken hair growth and stop thinning by giving your hair the essential nutrients it needs.
ScalpMED goes with a special bonus the Detox My Scalp product. This product is designed to break up toxic pollution in the hair while clearing out and cleaning the follicles.
In total, this system includes 6 bottles. ScalpMED understands that hair growth takes and restoration needs to be addressed from multiple angles to ensure results.
How to use ScalpMED Regrowth System
Using ScalpMED is quite easy. The most important thing to keep in mind is consistency. To achieve optimal results make sure that ScalpMED is a daily part of your hygiene routine.
Your active ingredient solutions:
Mix active ingredients into the provided bottle.
Apply to hair 2 times a day. You must apply 9 pumps each time. After every few pumps, massage into hair
Make sure to massage and apply to the thinning area of your scalp.
Let the product set and absorb into the hair and scalp for 4 hours.
Rise
This system has been rated 4.8 out of 5 with verified users.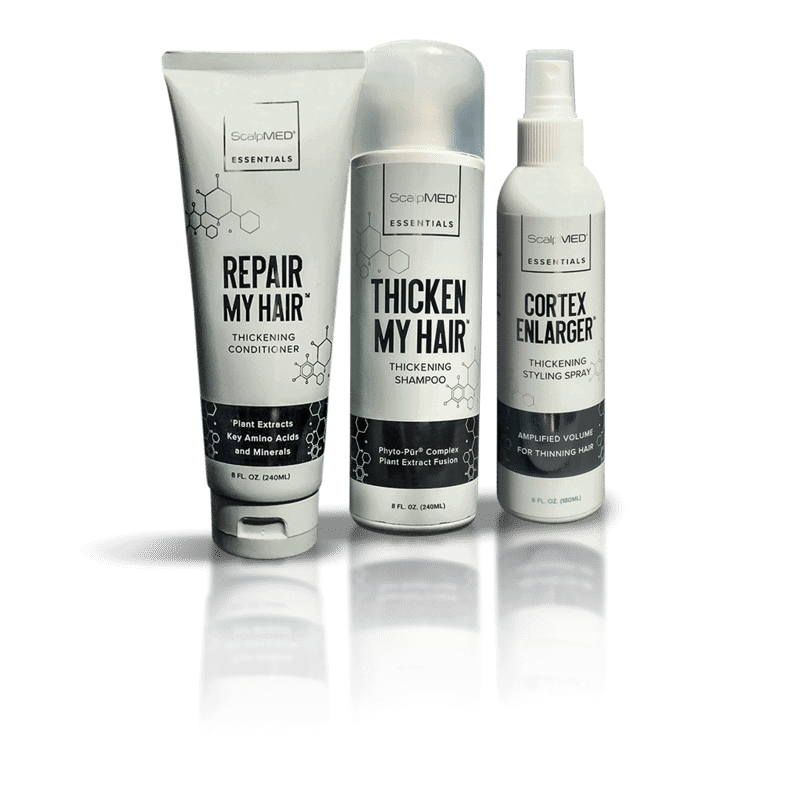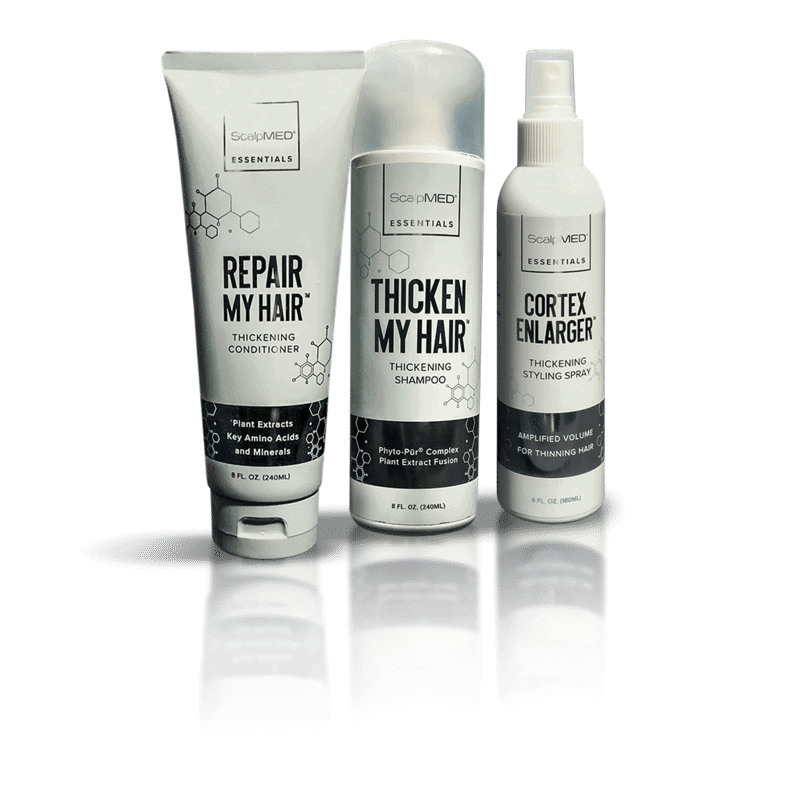 ScalpMED Hair Care Essentials Kit
This kit contains three effective and powerful treatments specially designated to enhance hair growth.
These products are unisex and can be bought separately as well.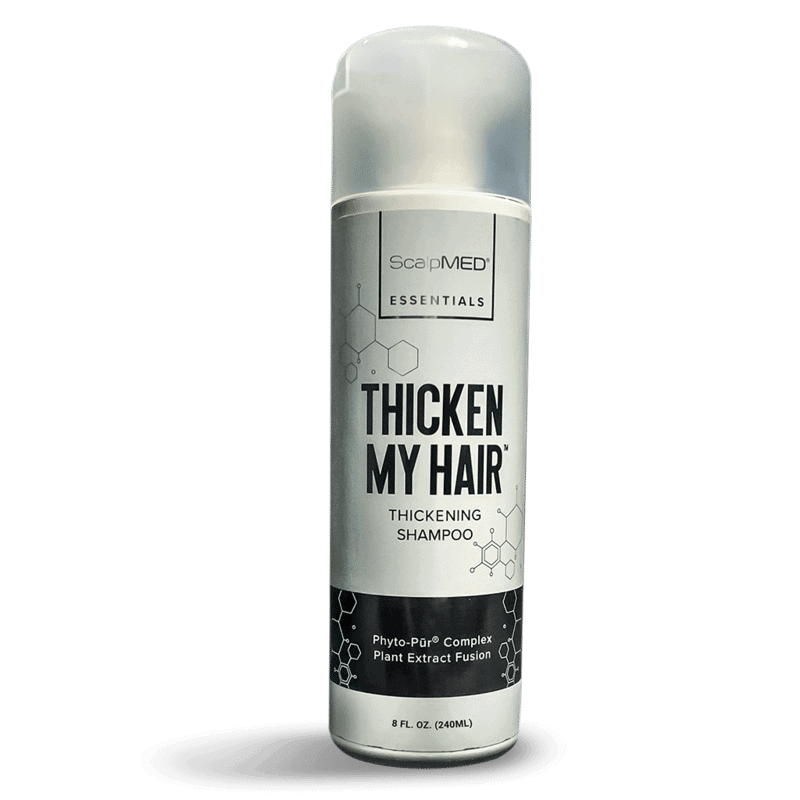 This is 240 ml of shampoo containing ScalpMED patented Phyto-Pūr formula. It's a perfect shampoo to include in your daily hair care routine.
Shampoo has been formulated with organic and plant-based cleansers and nutrients. It's an innovative solution for hair growth and repair.
It's especially loved because it makes hair feel fuller, it smells nice and it does a great overall job for daily hair care.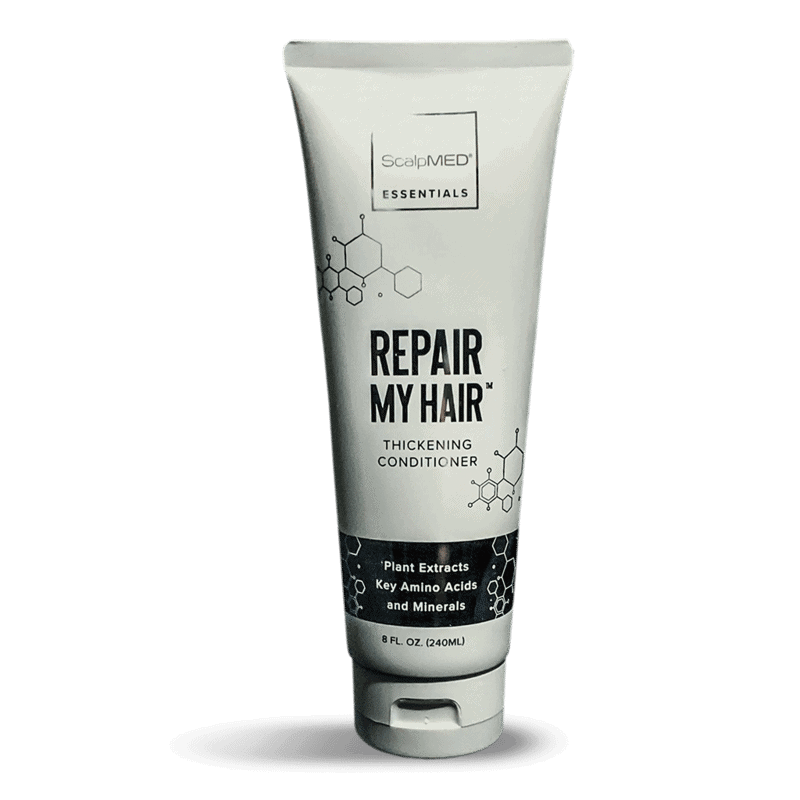 Another essential in the kit is the Repair My Hair Conditioner which comes in a 240 ml bottle similar to the shampoo formula. 
This formula contains the essential oils of plant extracts. It includes 22 key amino acids and various vitamins and minerals.
Amongst the strengthening vitamins and minerals are:
Threonine
Tyrosine
Vitamin D
An added benefit to this product is that it contains no sulfates or parabens. You can also use it with a clean conscience: it's not tested on animals.
Like many conditioners, it fortifies the hair and scalp with amino acids. By moisturizing the hair you can be sure to have the shiniest strongest hair possible.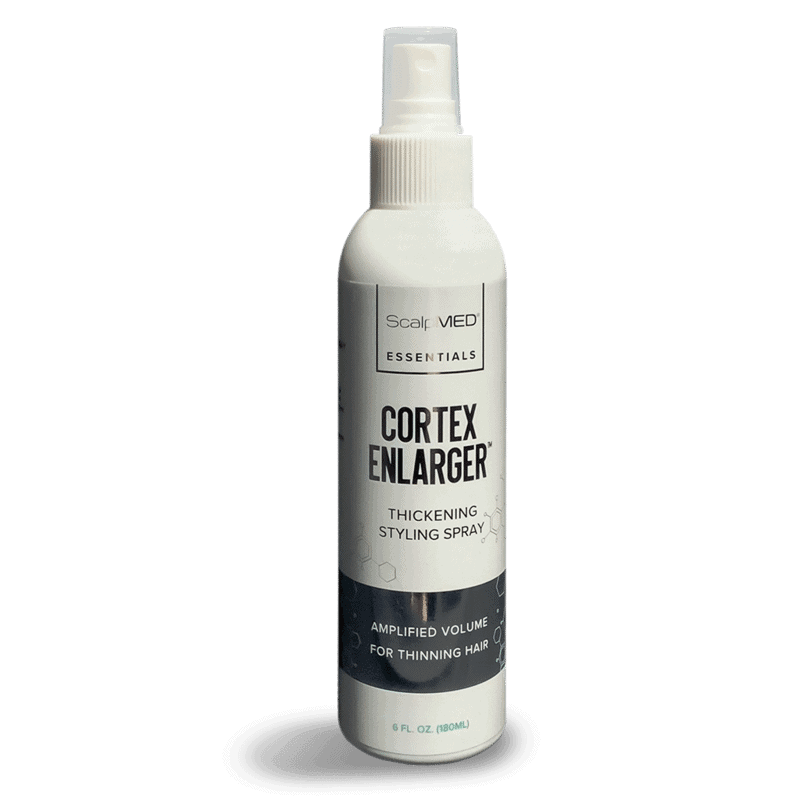 This spray adds volume and thickness for hair that looks more full-bodied and healthy. There is no sticky mess with this product.
You just spray it on and comb your hair as you would normally. You will not even notice that you have used a product in your hair – is complexly invisible. Used with their other products this spray will help to nourish the scalp. As a result of continual use, you will have visibly denser hair.
Many users of this product comment on its great smell.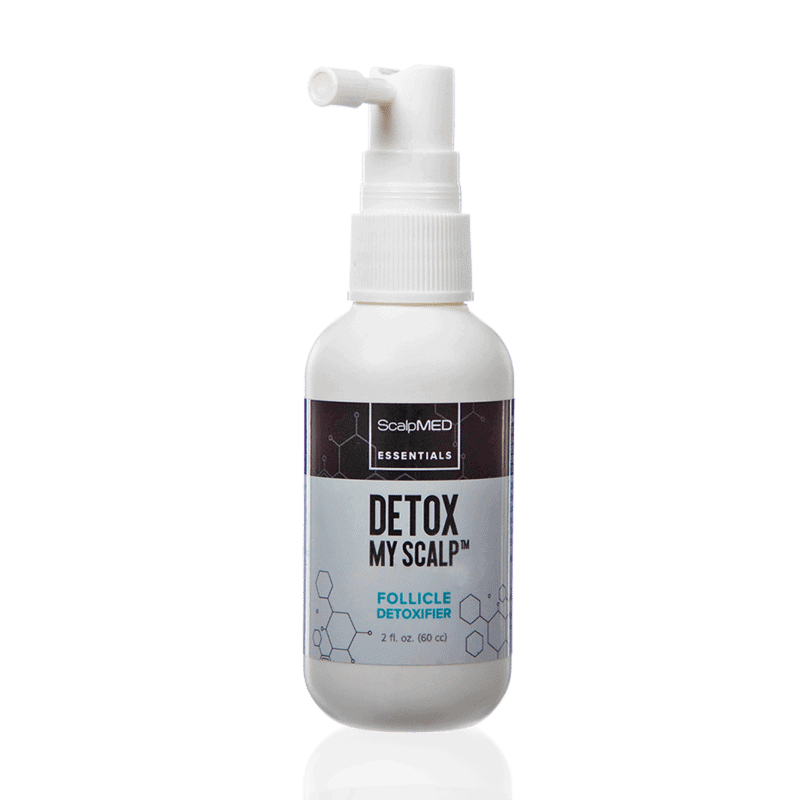 Many people don't realize that cholesterol and oils build up on the scalp creating a toxic environment. This can lead to a scalp filled with nasty bacteria. Oil blocks hair follicles, stopping them in their tracks from growing. It also can cause your hair to fall out prematurely.
Not many people realize how important it is to use a scalp detoxifier. Thanks to its Pantenols-DX formula you can finally relax knowing your hair scalp is taken care of.
Normal shampoos are not formulated specifically to fight toxins. You simply need to use this product twice a week before you shampoo.
First, apply a few pumps remembering to massage your hair and scalp after every few pumps.
Rinse and dry hair after a few minutes
ScalpMED vs Rogaine
Rogaine is the most notable hair loss treatment on the market. How does ScalMED compare to it? The truth is that both products use the same active ingredient Minoxidil in their products.
PATENTED HAIR REGROWTH SYSTEM FOR WOMEN with 4 products:
Nutrisol®- RM,
+ 2 bottles of ScalpMED®'s Vitadil®-5A
+ PhytoComplex®
+ Detox My Scalp product

WOMEN'S ROGAINE® 2% MINOXIDIL SOLUTION

Supplements for Men and Women

5% MINOXIDIL UNSCENTED FOAM for women and for men, and 5% MINOXIDIL SOLUTION for men

Yes + 15% OFF after taking an easy 1 min quiz

Free for subscribtion orders. Standard shipping rate for ground shipping is $7.95

Starts from $89.95 for bundle with 4 products

Patented and FDA approved formula 

120 days MONEY-BACK GUARANTEE

Proven and studied effect

Need 3-4 months to see the results


Not that many reviews of the product


First results in 3-6 months
When closely compared there are not many differences in the results the products offer. ScalpMED offers better shipping rates. Another thing that I prefer about ScalpMED is that they have a 120-day money-back guarantee.
People may feel comfortable using a product with a recognized name, however, the most important factor is that the product works.
ScalpMED Reviews from Men
ScalpMED has many positive verified reviews online that praise its results. Noah M, a clarified buyer from the United States tried the Patented Hair Regrowth System for men. He rated the product 5 out of 5 stars and stated that the product worked as promised for him.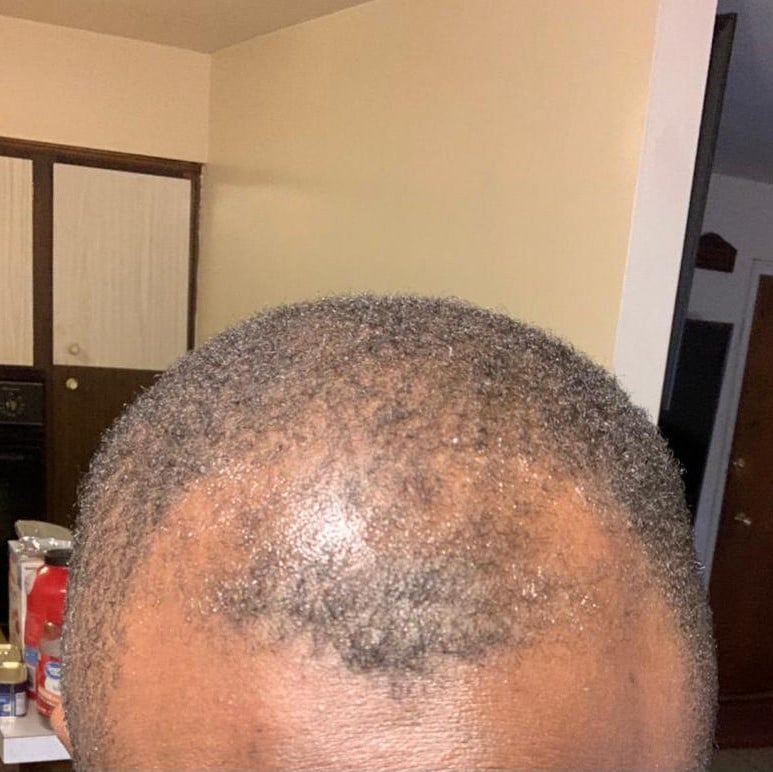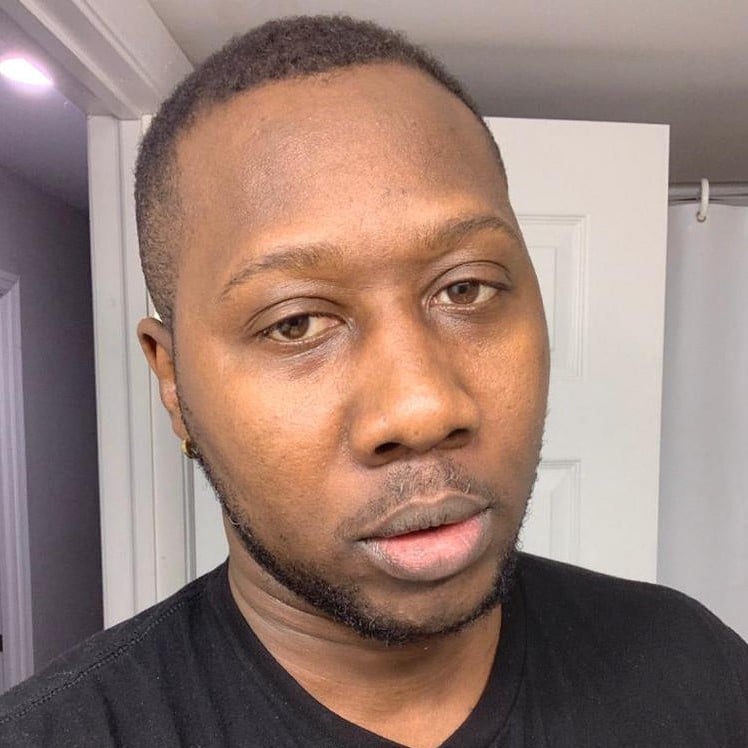 Paul, another verified user, tried the Patented Hair Regrowth System for Men. He rated it 5 out of 5 stars. He was "nervous" to try a hair Regrowth product but found the results to be worth it. He said he is "so happy" because "hair is growing and it's staying".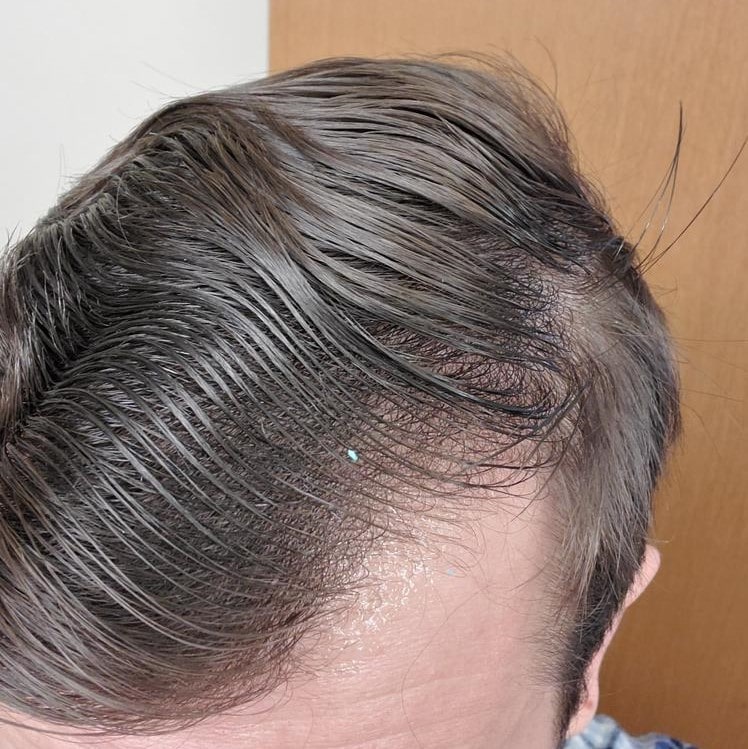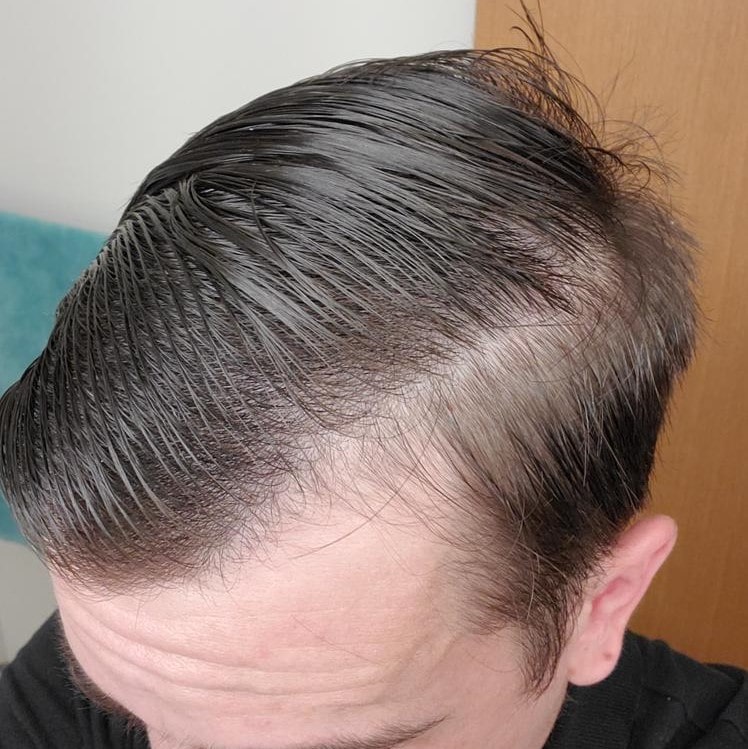 Aldo, a verified user, also recommends the Patented Hair Regrowth System for men.


Is ScalpMED Worth It?
The bottom line is this: if you want to take action against unsightly hair loss then you should try ScalpMED. Don't just sit by idle and insecure as you watch your hair fall off.
ScalpMED is offering a patented formula using Minoxidil, which is the only FDA-approved ingredient proven to stop hair loss and regrow hair.
They offer free shipping and an initial 15% off. I would opt for one of the subscriptions they offer. Seeing noticeable results in hair loss treatment takes long-term daily use.
In any case, they offer a 120 days money-back guarantee so there is nothing to lose.  
Check out Vegamour as well!