We have the most comprehensive Silk Maison reviews to share with you today. Silk dresses are a go-to for Summer wear. They are stunning, but they can be dressed up or down depending on the occasion.
However, it can be hard to find an actual silk dress that does not cost a fortune.
Most "silk" dresses on the mass market are made from polyester, which will be hot to wear and not eco-friendly.
In addition, natural silk is costly, and it can be hard to find alternatives that look just as great.
Say hello to Silk Maison — a brand that has created various gorgeous silk pieces at an affordable price point.
Don't believe us? We are going to prove it to you!
About Silk Maison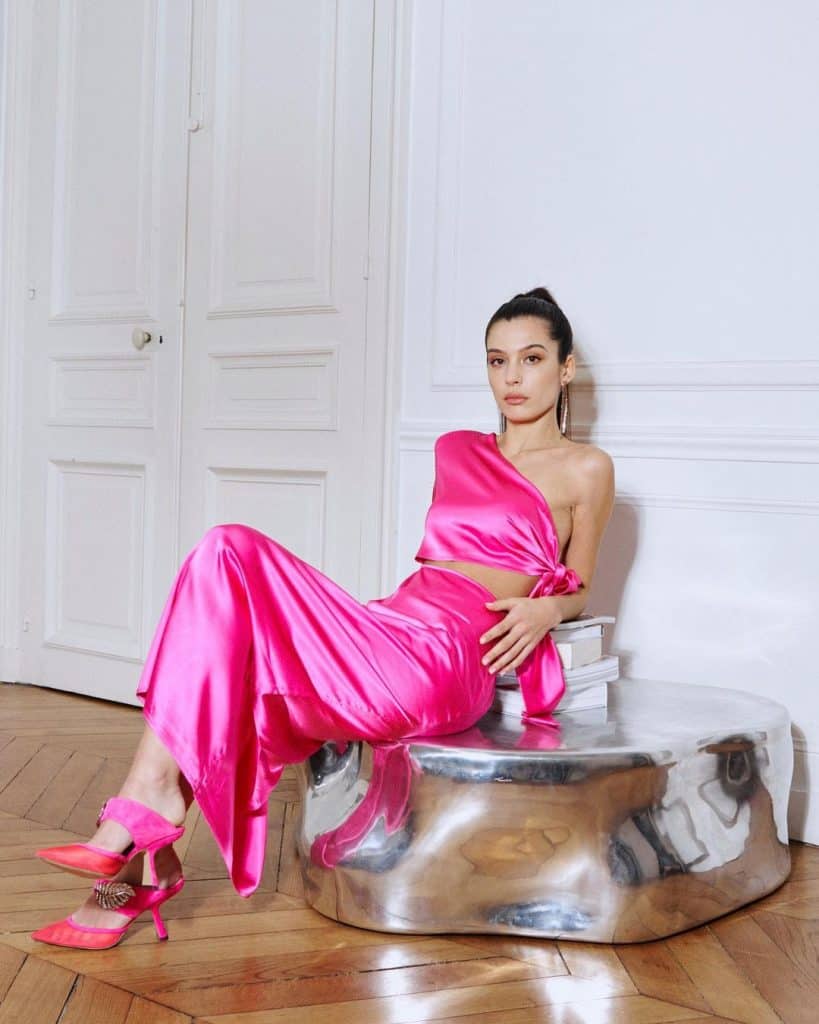 Silk Maison has made it its goal to take your day-to-day wear and elevate it with its elegant designs. By using luxurious silk, their pieces will leave you feeling effortlessly glamorous.
Their design team takes pride in enlightening your wardrobe. They are true artists that trace every detail. They are delicately cut out and laid carefully onto the fabric from sketches to the final garment.
Every silk piece is brought to life by designers that immerse themselves in the world of fashion and dig out endless possibilities.
The company has some fabric diversity outside of natural silk. They will blend silk with other materials such as cotton, wool, and cashmere for particular pieces.
However, the brand takes pride in using Grade 6A Mulberry Silk as their crucial source of the material.
Silk is a natural fiber referred to as the "Queen of Fibers" because it is naturally produced and environmentally sustainable.
Each order will include its luxurious packaging.
The Silk Maison box is embroidered with their signature rose gold logo on a pearl white finish and a rose gold film lines the box.
This makes it ready to give as a gift without doing additional gift wrapping.
Outside of silk clothing looking great, there are other benefits to wearing silk pieces regularly.
These include silk being skin-friendly, helping your body regulate temperature, sleeping better when wearing silk, and being eco-friendly.
They're drawing a large following of 149k followers on Instagram, and posting daily outfit inspiration for followers.
How To Order From Silk Maison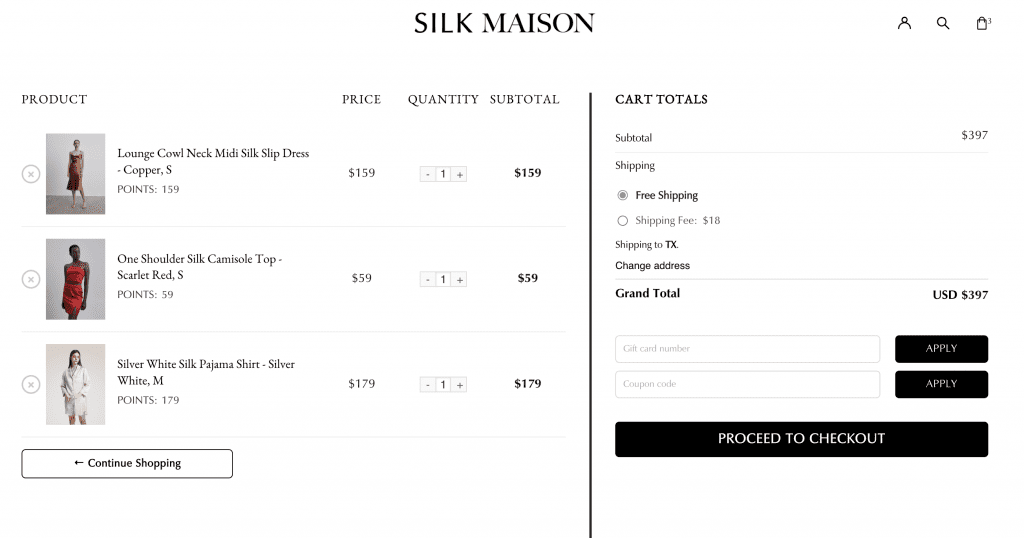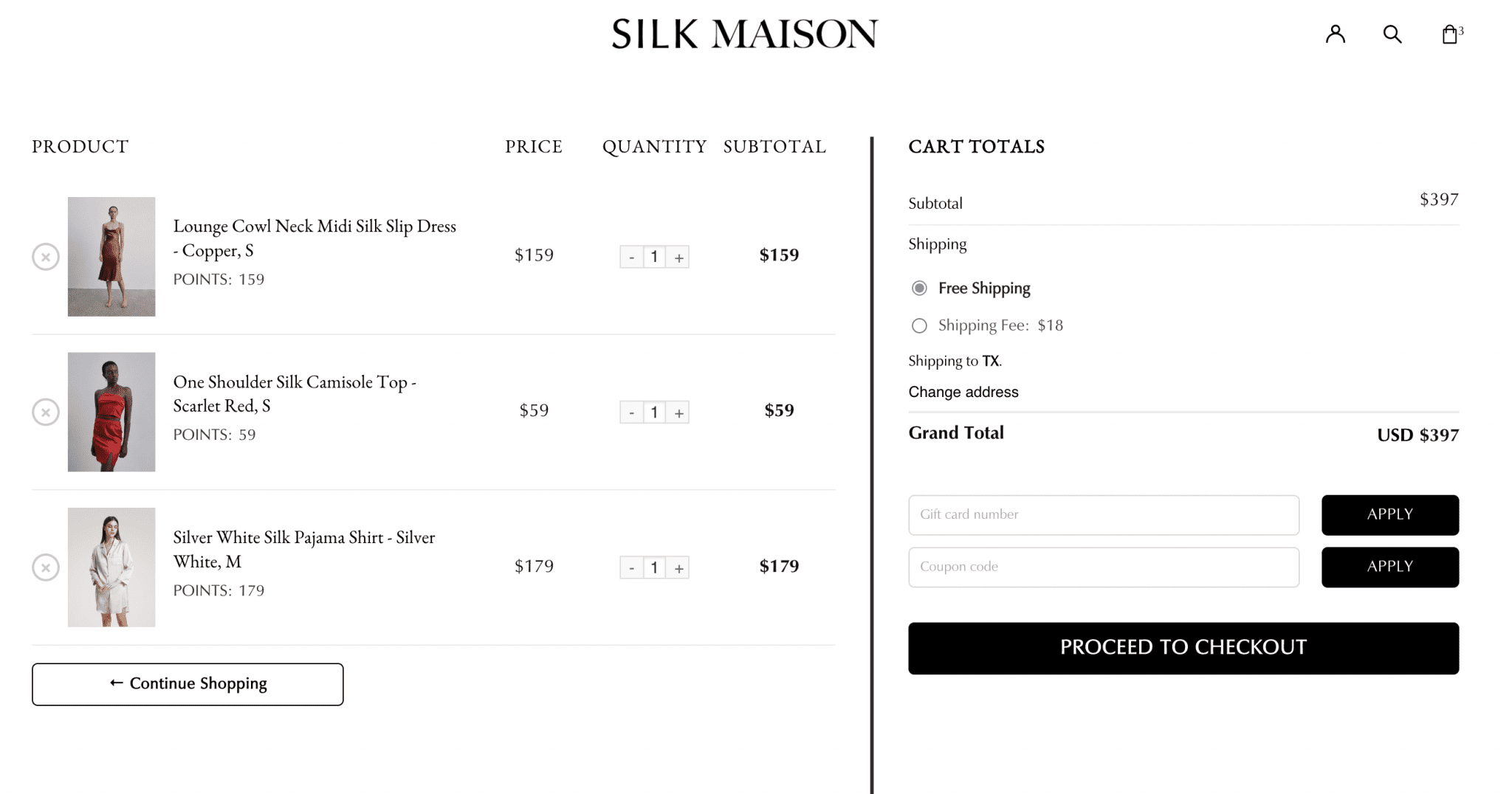 Silk Maison offers a wide range of gorgeous pieces to choose from when ordering. They have dresses, daywear, lingerie, and pajamas.
Their website is easy to navigate, and you can filter dresses by occasion, length, and style. You can also filter daywear and nightwear to find precisely what you are looking for.
The collections are constantly changing, so you can check back at their lookbooks for new styles and inspiration for your daily outfits.
Their website also features a sale section if you do not want to pay the total price for your first purchase from them.
The company prides itself on having options for women of all shapes and sizes, ranging from XXS to XXL.
They also offer free shipping worldwide on orders over $259, and you can make a return or exchange within 14 days if you are unsatisfied with your purchase.
Although the brand uses many different types of silk, mulberry silk is the most commonly used.
This is because products are the most durable and most luxurious as they are made from 100% natural highest quality silk.
Since silk is a fragile fabric, Silk Maison recommends hand washing your pieces to preserve them and care for them in the best way possible.
Silk Maison Reviews: Bestsellers
Lounge Cowl Neck Mini Silk Slip Dress
This beautiful luxury silk slip dress is perfect for many occasions, including a night out with friends, a wedding, or a bridal shower.
It comes in 16 different shades, so you can find a color to fit your style.
This dress is mulberry silk and features a cowl neck with a bias cut and low back.
What customers like about it:
Beautiful dress
Excellent quality with gorgeous silk fabric
I ordered to wear it to a concert, and it fits like a glove.
You May Also Like: L'ange Hair Review: 5 Best Heat Stylers And Hair Care Products
Satin Silk Maxi Slip Dress
This desert rose maxi slip dress is perfect for special occasions or an evening at home. It is hemmed to show off the bust and waistline and will give a sexy look no matter where you wear it.
It features a v-neck and opens the back with adjustable straps. This stunning dress is made from 100% 19MM mulberry silk.
What customers like about it:
Beautiful and elegant
Classic look with a timeless cut
The adjustable straps
Fit is beautiful, and quality is excellent.
Silver Trimmed Kimono Silk Pajama Set
This silk pajama set will have you sleeping extra comfortably with its loose and airy feel. It is made with 100% mulberry silk that is hypoallergenic and perfect for sensitive skin.
This set features a detachable silk sash, silver piped silk trim, and 100% momme silk patch pockets.
What customers like about it:
Very silky
Comfortable
Helps you to sleep better
Day & Night Gold Gradient Silk Slip Dress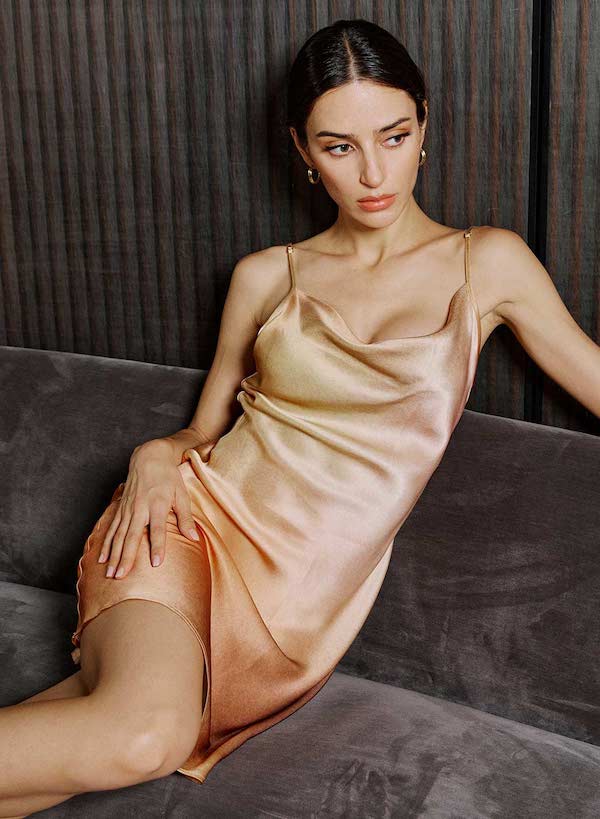 Summe Orange Lantern Cuff Silk Set
This beautiful silk set contains a blouse and shirt perfect for a warm afternoon or a vacation. The blouse features a halter neck with an off-the-shoulder design and a lantern cuff.
The skirt is a slim fit with a mid-length and raw hem. The entire set is crafted from 100% mulberry silk and is smooth and comfortable to wear no matter the occasion.
What customers like about it:
Good print
Soft fabric
It looks like the picture and the silk is very nice
Nice quality
Soft Gradient Pleated Belt Silk Blazer Dress
This beautiful white silk dress has a stunning sheen in the sunshine, which makes it perfect to wear during the day. It has an airy silk belt with an asymmetrical hemline to bring together a look of simplicity and elegance.
The combination of 30% silk and 70% cotton creates beautiful fabric with silky qualities but the ease and comfort of cotton. It is highly versatile and perfect for many occasions.
What customers like about it:
Silky and breathable
Lovely blazer dress
The waist design is excellent
Fashionable
Silk Maison vs. Lilysilk
Silk Maison is not the only company that provides silk pieces at a more affordable price. But, how does Silk Maison compare to Lilysilk?
Silky Dresses, Daywear, Nightwear, Accessories for women

Apparel, Nightwear and Accessories for women and men

Price example for a dress

Free shipping worldwide on orders over $259

Free shipping on orders aver $69

20% off with coupon code: cssilk20

10% off on the first order

Silk is skin friendly material

20% off for CakeStyle reasers with coupon code: cssilk20

- 10% off for the first order

Some pieces made of polyester

Pros and Cons
Pros:
Wide range
Great design
Silk is skin-friendly material
Eco-friendly
Offer sales
Reasonable prices
Exclusive coupon code: cssilk20 for 20% off
Cons:
Silk Maison Customer Reviews
There are a couple of great Youtube review videos for Silk Maison.
Youtuber Viki Keep has a great video of her trying a few silk dresses in unique colors.
She states that she loves the material, and it doesn't feel like you are wearing anything on your skin.
---
Youtuber Raquel Sewell also reviewed Silk Maison pieces and stated she liked the price and quality you get.
The brand's Instagram has hundreds of mentions worldwide on its products.
Silk Maison Review: Is Silk Maison Worth It?
Silk Maison is worth it. They sell incredible quality luxury clothes at a reasonable price.
The company has excellent reviews and hundreds of happy customers.
Some of our latest posts about stores like Silk Maison:
Pin This: