Let's Talk How To Style A Larger Bustline. We hear it all the time … "That outfit looks amazing but I wouldn't be able to pull it off because of my bigger bustline!"
If that sounds familiar, you've come to the right place. Although styling a more prominent bust line can be challenging at times, in no way is it an impossible feat. However, being blessed with an enormous bosom doesn't mean you have to compromise on your style, confidence, or modesty.
Today, we share our top 5 tips on how you can style a more extensive bust line to look and feel your best day after day. Read on to find out more!
Start With A Professional Bra Fitting
The most amazing outfit doesn't mean anything if your undergarments don't fit well. The first step to styling a more extensive bust line is to make an appointment for an in-store bra fitting as soon as possible.
Did you know that 80% of women wear the wrong bra size? A poorly fitted bra feels uncomfortable and can cause unsightly lumps and bumps that peek through your clothing. Shining in whatever outfit you put on always starts with a well-fitted bra.
Aside from helping your clothing or outfit look more aesthetically pleasing, a well-fitted bra can also help prevent serious health issues that women with bigger busts often experience.
For example, the added weight of a large bust can create a significant force on the front of the body, which may lead to kyphosis of the thoracic spine (better known as hunching) over time. A professionally fitted bra will evenly distribute the weight of the bust across the front and back of your body, thus significantly reducing the chances of you suffering from back issues later down the track.
You May Also Like: B Cup Breasts – Perfect B Cup Size Example, Comparisons & Best B Cup Bras
Embrace The V Neckline
Flaunt what your momma gave you! Instead of trying to conceal your bust with turtlenecks, we highly recommend that women with a bigger bust opt for a V neckline whenever possible.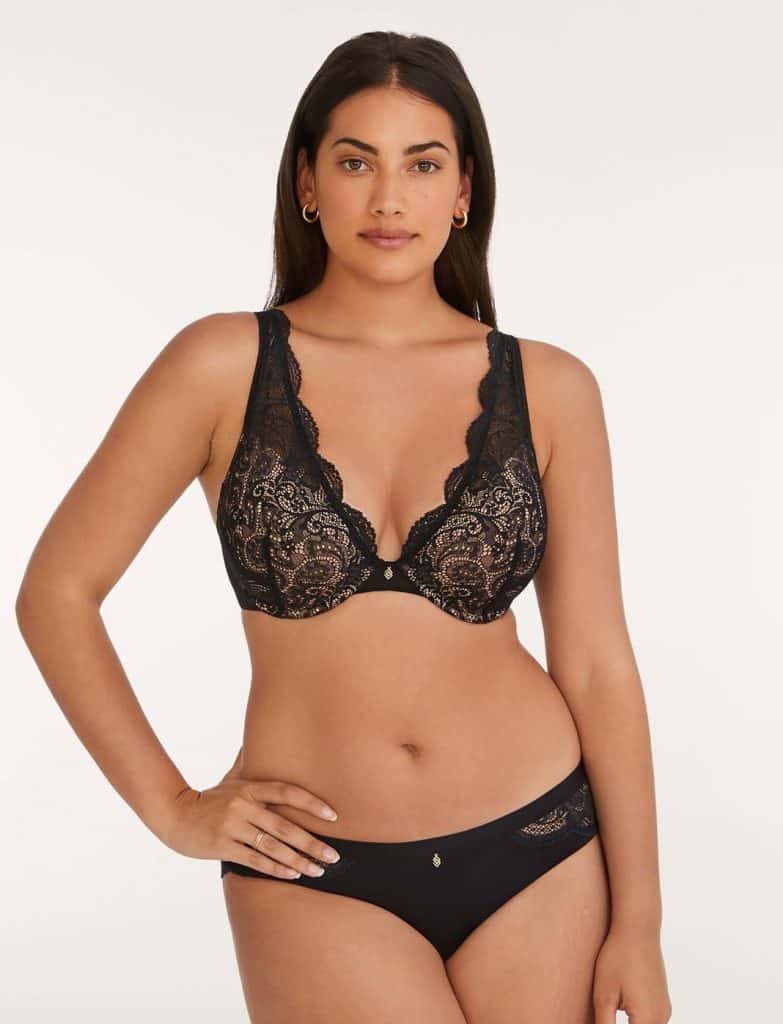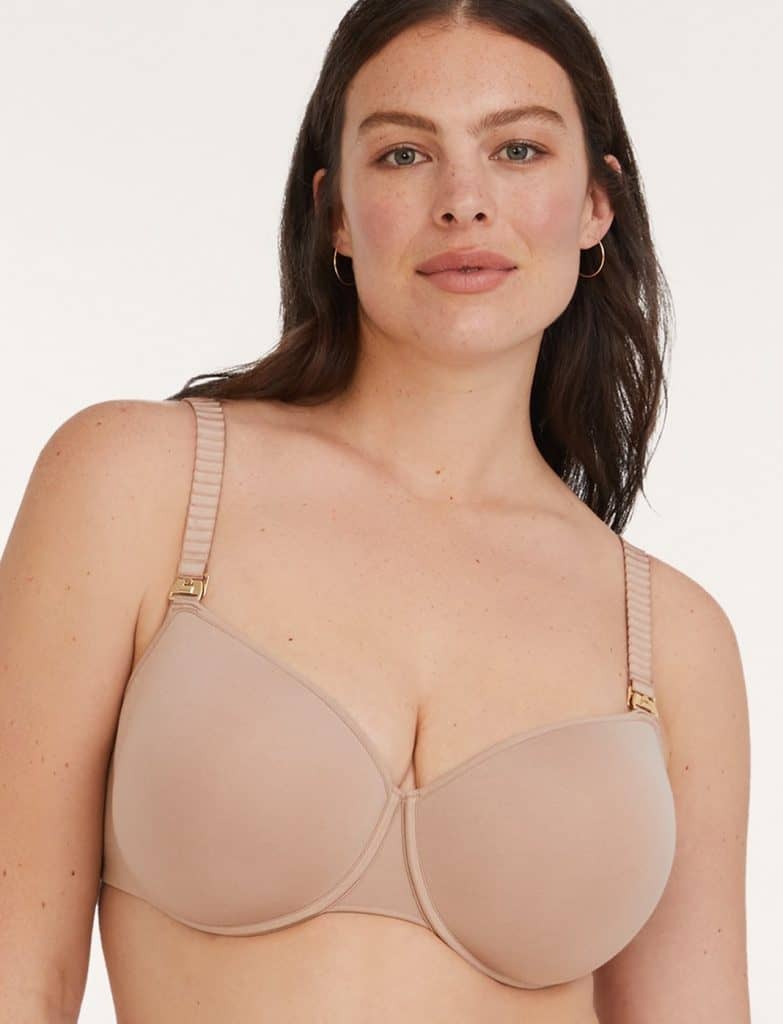 The reason for this (aside from showing off your god-given assets) is that a V neckline creates an optical illusion that extends the neckline and slims down the chest area, thus creating the appearance of a more balanced body proportion. If a V neckline isn't quite your cup of tea, we recommend opting for a sweetheart or scoop neckline instead.
Tip: Do these necklines overexpose a little for your liking? Try wearing a camisole or bralette under your clothing for support and modesty. 
Related: Is G Cup Size Big? See G Cup Breasts Examples
Emphasize Your Waistline
Balance is essential when styling a bigger bust, and a great way to create the illusion of an equally proportioned shape is to emphasize you're great waistline.
Thankfully, this is quickly done by simply incorporating pieces such as high-waisted pants/jeans, pencil skirts, and wrap dresses into your wardrobe. Some of our other waist-cinching favorites include:
Peplum tops or dresses;
Tailored jackets;
Longline blazers;
High-waisted bell bottoms; and
Fitted jumpsuits
By bringing more attention to your waist, you'll take some of the spotlights off your bust line, and your silhouette will appear more balanced. To take your styling to the next level, we recommend researching dressing for your body type.
You can find out more about that by hopping over to these bra sizing guides.
Choose The Right Fabric
Choosing the suitable fabric is key when styling a larger bustline. Generally speaking, you will want to avoid materials that add additional bulk to your chest area, so stay away from fabrics such as satin (avoid shiny fabrics whenever possible), velvet, or anything that creates the illusion of extra weight on the bustline.
Instead, choose softer fabrics such as cotton, linen, and cashmere that stretch and gently mold your curves. When shopping, always look for materials that are right in the middle of being clingy and flowy to find the sweet spot.
Avoid Baggy Or Shapeless Clothing
We often see women with a bigger bustline hiding behind baggy or shapeless clothing, and we're here to tell you that it is time to stop hiding your gorgeous body behind curtain-Esque outfits! When styling a larger bustline, you must choose tailored clothing to fit your curves.
Baggy or shapeless outfits may make your bust line and overall shape look bigger and create the illusion of a droopy chest. So say goodbye to that oversized boxy t-shirt and hello to a well-fitted, V-neck t-shirt that accentuates your curves and hugs you in all the right places.
For more information on the best t-shirt styles for a bigger bust, check out this article.
____________
And there you have it – 5 practical tips guaranteed to help you effortlessly style a larger bust line. So what are some of your favorite fashion tips for ladies with bigger breasts? Be sure to share your thoughts in the comment section below!