Affordable and delicate jewelry is a dream for everyone who appreciates gorgeous accessories to pair with their outfits.
Whether you are looking for something to gift yourself or a beloved one, you have probably lost online with plenty of brands.
Recently, we stumbled across a small family-run jewelry business called Sincerely Silver. But today, we will review JoyAmo, the international jewelry company with a unique and trendy twist.
And guess what?
Every piece of jewelry is customized.
So, if you want something memorable and unique to you, this brand is worth checking out, so stay with us.
About JoyAmo Jewelry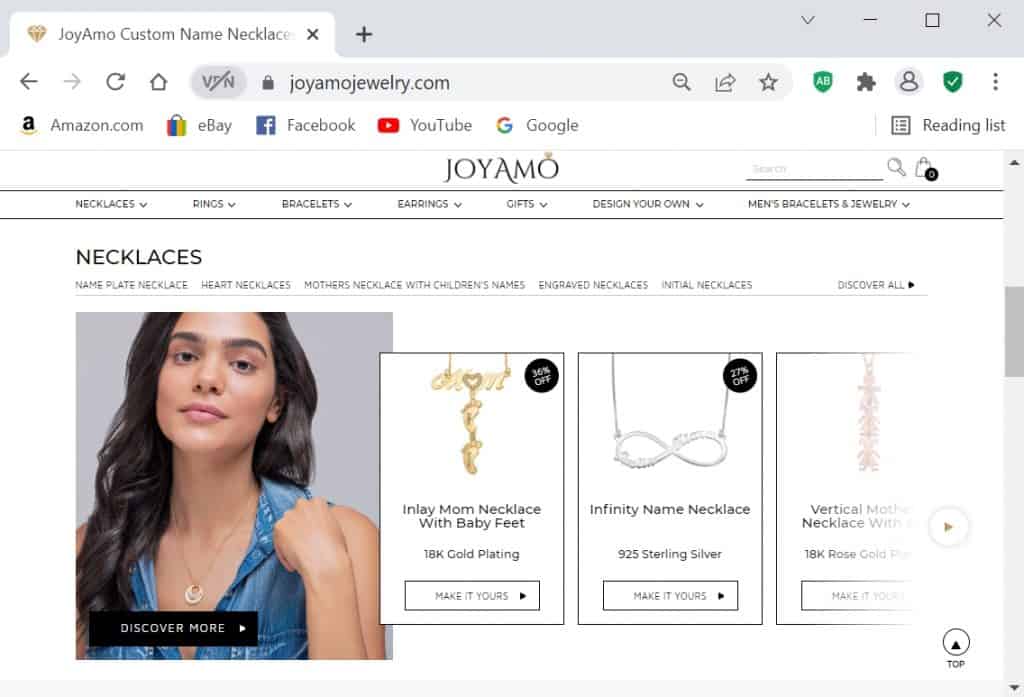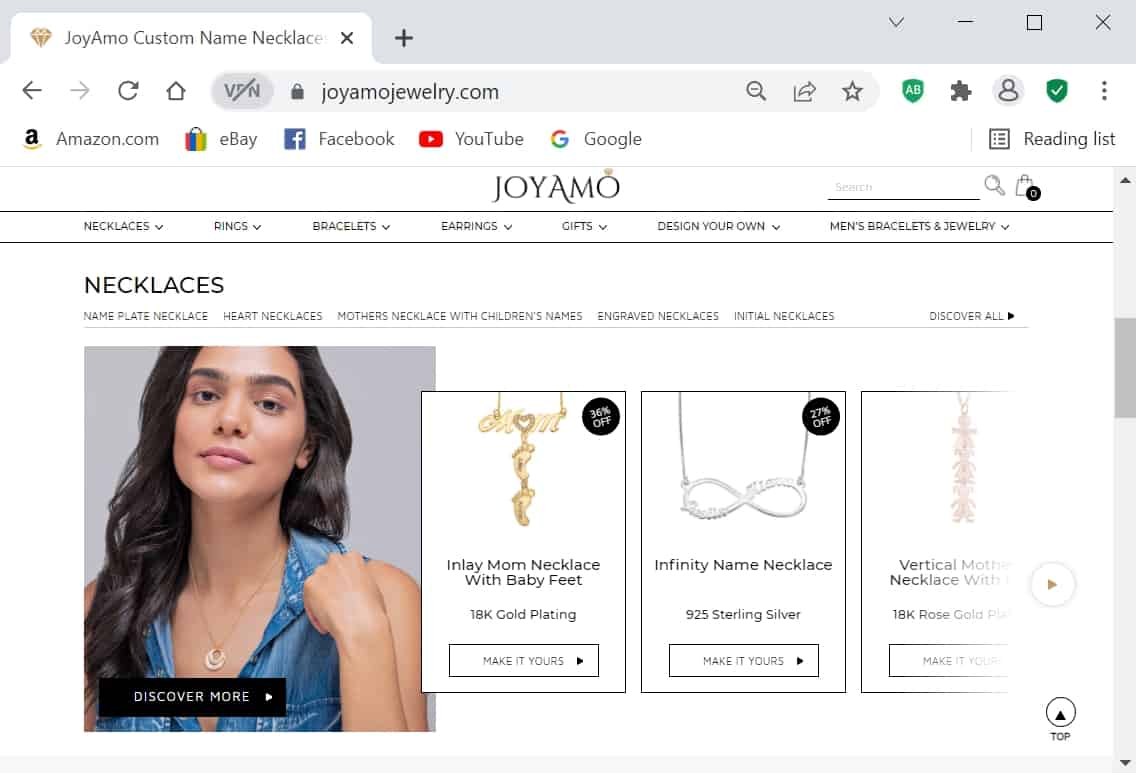 In Spanish, Jewel is "Joya," and Love is "Amor."
Thus, the name JoyAmo was created by combining these two elegant words.
Inspiration for the jewelry comes from lovers, mothers, best friends, and of course, family. How heartwarming is that? JoyAmo wants to be a part of your special moments and bring you happiness with each and every piece.
Since Mother's Day is coming, here are some of JoyAmo's Mother's day gift ideas.
Each piece of jewelry is designed and handmade by in-house experts. The items always receive a once-over by the team before heading off to new homes. With 60 years of manufacturing experience, you should feel at ease knowing that your jewelry is in great hands.
The quality of JoyAmo is top-notch, and it shows.
Because every item is easy to customize, you can add any personal touch or story to your piece and keep it close to you when you wear it.
You can add numbers, charms, and engravings such as names, dates, or phrases.
Every piece sent out also receives one year warranty and a lifetime warranty on solid gold.
JoyAmo has high standards when it comes to its jewelry. It is consistent with these standards to produce quality pieces that encompass everything you could hope for in jewelry.
JoyAmo is also on social media, with a 13k following on Facebook.
Ready to find out more?
What is it Like to Order from JoyAmo?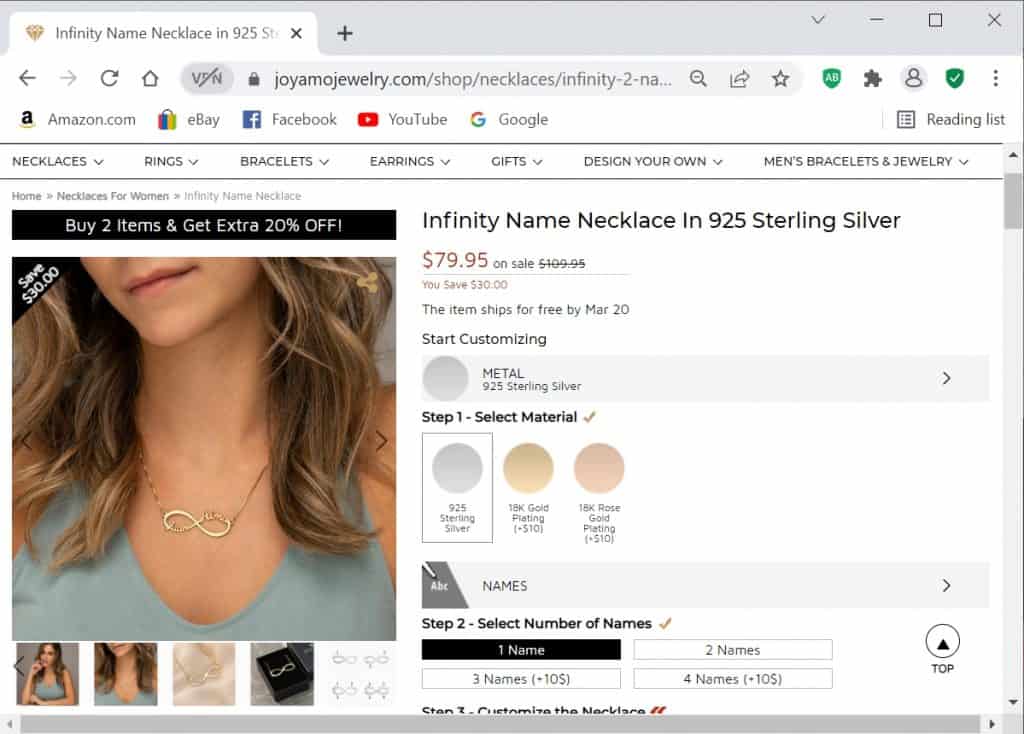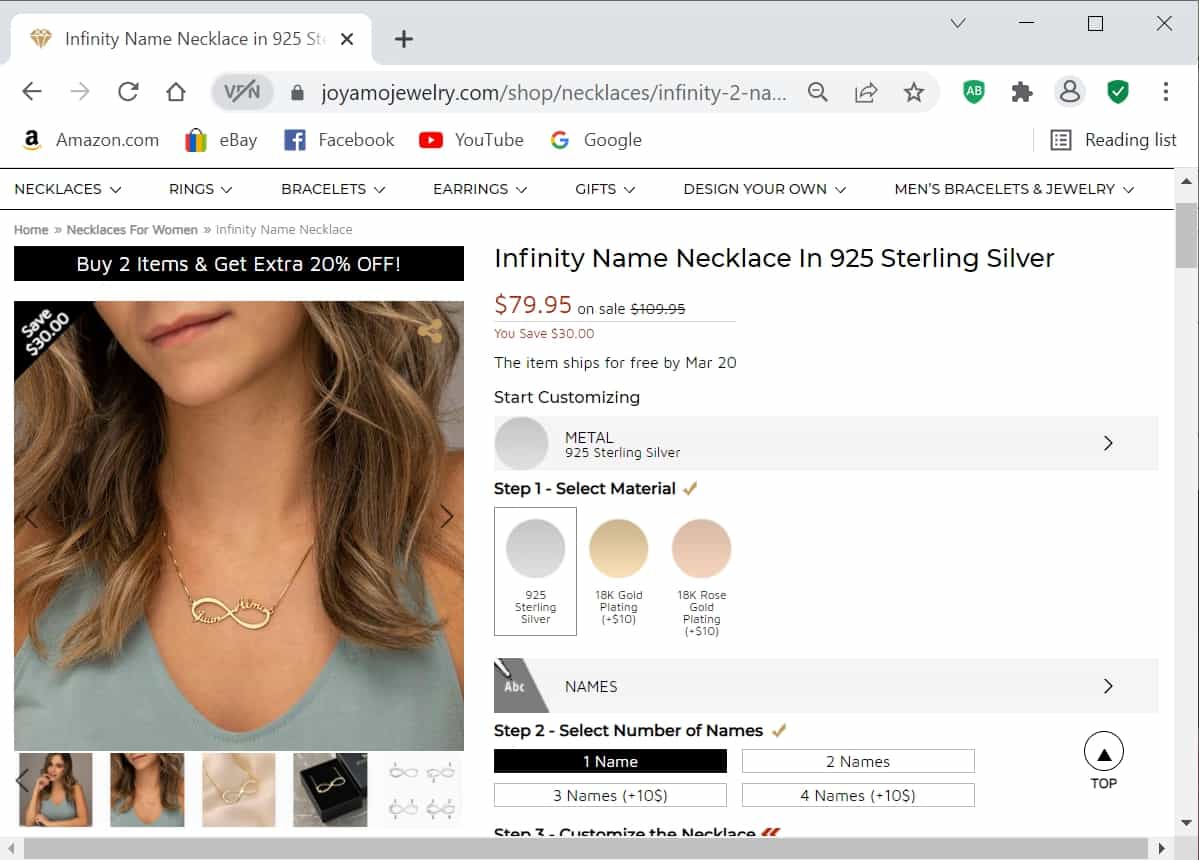 JoyAmo has a very straightforward ordering process and can help guide you with a quick click in the contact us section.
However, the website can get overwhelming with information and different tabs. So allow yourself some time when shopping.
What we found unique is that there is a tab strictly designated to men. Some men like accessories, too.
The brand provides free shipping with tracking information so that you can check in on the location of your package through the process.
You can choose from already available designs or customize your order. It will prompt you during the ordering process, and you can decide what you want to customize, whether that's a word, number, or phrase.
There are collections you can check out that include matching necklaces, jewelry for couples, Arabic jewelry, signature jewelry, and so much more. So you truly have a choice for any occasion.
JoyAmo also offers a 120-day return policy more than most who only provide a 90-day return policy.
JoyAmo Pro's and Con's
The pros outweigh the cons for JoyAmo. Here they are:
JoyAmo Pro's
Custom-made jewelry
Wide range
You can design and customize your jewelry to precisely what you want
JoyAmo has a quality control team that examines each item
Accessories for men
Free shipping with every order
Consistent promotions and sales
Designed with high-end metals such as sterling silver, 18k rose gold, and 18k yellow gold
120-day return policy
One-year warranty on all silver and gold and a lifetime on solid gold
JoyAmo Con's
It can take some time to get your order.
JoyAmo Best Sellers
Personalized Family Heart Pendant With Names and Birthstones in 18k Gold Plating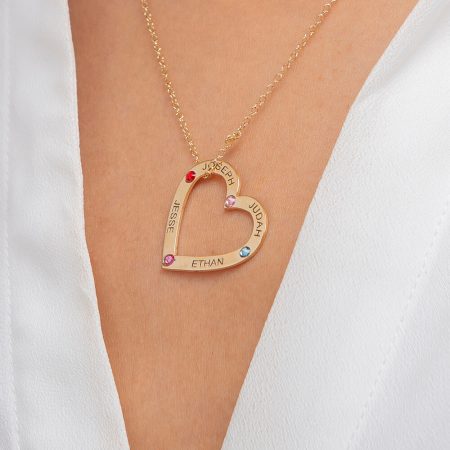 Now, this is a forever keepsake. This is a great gift idea for those close to you, and upon receiving this piece of jewelry, you can always keep your family close to you.
This piece of jewelry is to represent love and the importance of family. It is the ultimate Mother's Day gift, and you'll be sure to make your mom shed a tear of appreciation with this heartfelt piece.
You can also get your wife a birthstone pendant from JoyAmo's collection of personalized family necklaces.
When designing a necklace for someone, you can customize it with 925 sterling silver, 18k gold plating, or 18k rose gold plating.
You can customize it up to 4 names, and you also are allowed to select the length and birthstone for each name.
One customer review states:
"My kids bought this necklace as a gift, and I love that the stones are in special colors for each of their birth months."
Double Heart Infinity Necklace in 18k Gold Plating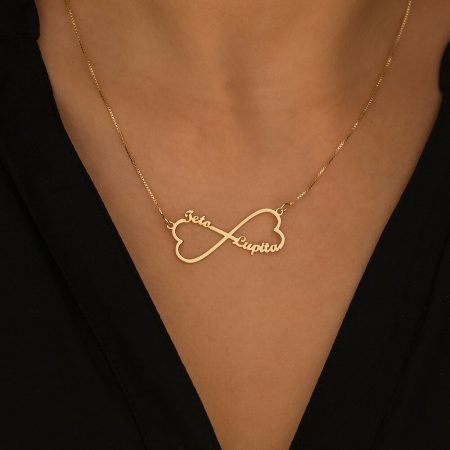 Stunning and elegant. This could go well with any outfit!
JoyAmo has a fantastic Valentine's Day collection specifically designed for couples in love. You will be sure to find something unique here. The jewelry will never go unnoticed, no matter where your lover is.
You can get an infinity heart necklace with the option to engrave a name in it in either sterling silver or gold plating.
The chain sizing comes in 14", 16", 18", 20", and 22", so depending on how they wear their necklaces, there are lots of options.
What a customer has commented:
"The site is very accessible, and it was great and simple to order the necklace. Shipping was delayed, but customer service gave me a quick response. I am very pleased."
Bangle Bracelet with Heart Charms in 925 Sterling Silver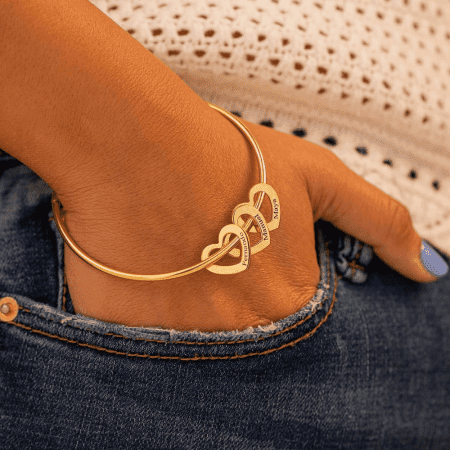 This is a gorgeous gift idea for anyone close to you that needs a hand-finished jewelry piece. There is no more awkward gift opening while waiting in anticipation to see if the gift receiver will like their present or not. This bangle will bring tears to the receiver's eyes through appreciation and love. Thoughtful and meaningful is how we describe gifting this bangle.
Not only is it heartwarming, but it is also stunning and would go well with any outfit. In addition, it would look great as a daily accessory.
You can gift it to your aunt, a best friend, your mother, or a sister.
You can engrave a name or date into the heart charm as well.
What a customer has said:
"Just got it for my birthday, it's perfect. Best gift ever!"
Family Tree Necklace with Names in 18K Gold Plating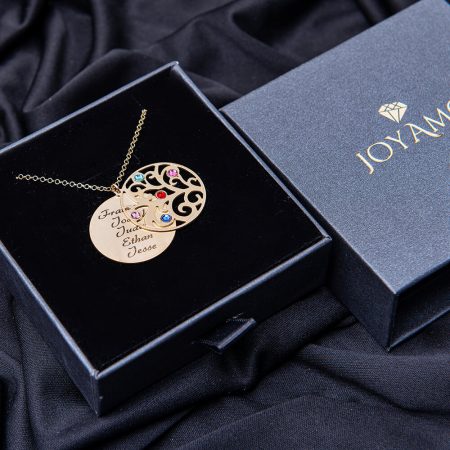 Family encompasses life, love, laughter, and happiness. It truly is the foundation of life, and this beautiful necklace includes all of that.
The family tree necklace can be decorated with the birthstones of each person you care for, as well as their names on the pendant. Up to five words and five birthstones can fit on this pendant, and it is a great gift idea for mothers or grandmothers.
You can also get this necklace in silver and have five different chain sizes to choose from.
"I AM VERY PLEASED. I get so many compliments when I wear this necklace. It's well made."
Inlay Mom Necklace with Kids in 18k Gold Plating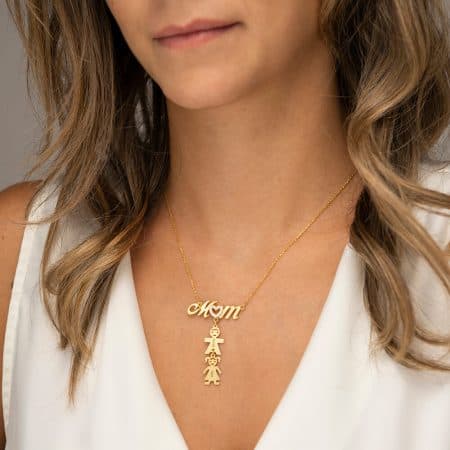 A perfect gift idea for those hardworking moms who deserve something special as a reminder that they are loved and they are incredible.
Moms will love the sparkle this will bring, and it will undoubtedly bring some sparkle to their life. In addition, it can be easily paired with any outfit.
You can add up to 8 kid charms and names and have five different chain size choices.
What a customer has said:
"Bought this as a gift for my wife. She loved it. It took longer to arrive than expected but was worth it."
JoyAmo Jewelry Reviews
Overall, JoyAmo has excellent reviews.
On Trustpilot, they received high scores of 4.4.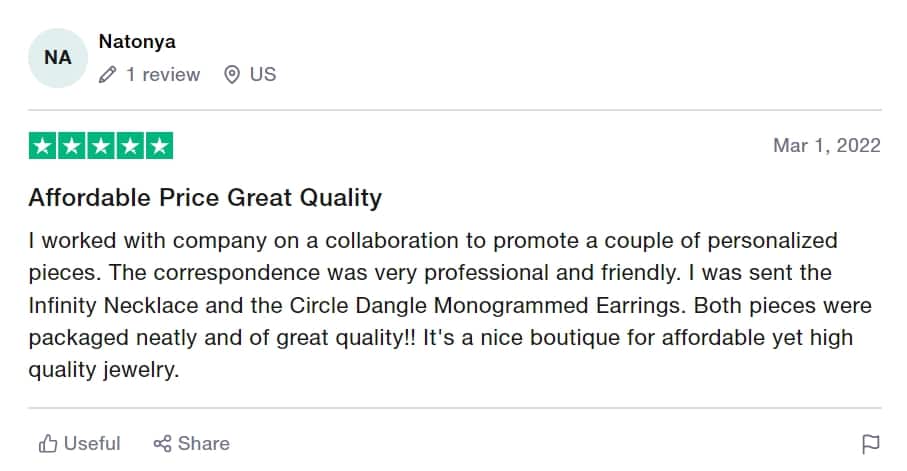 On Sitejabber, it gets four stars, a happy customer states: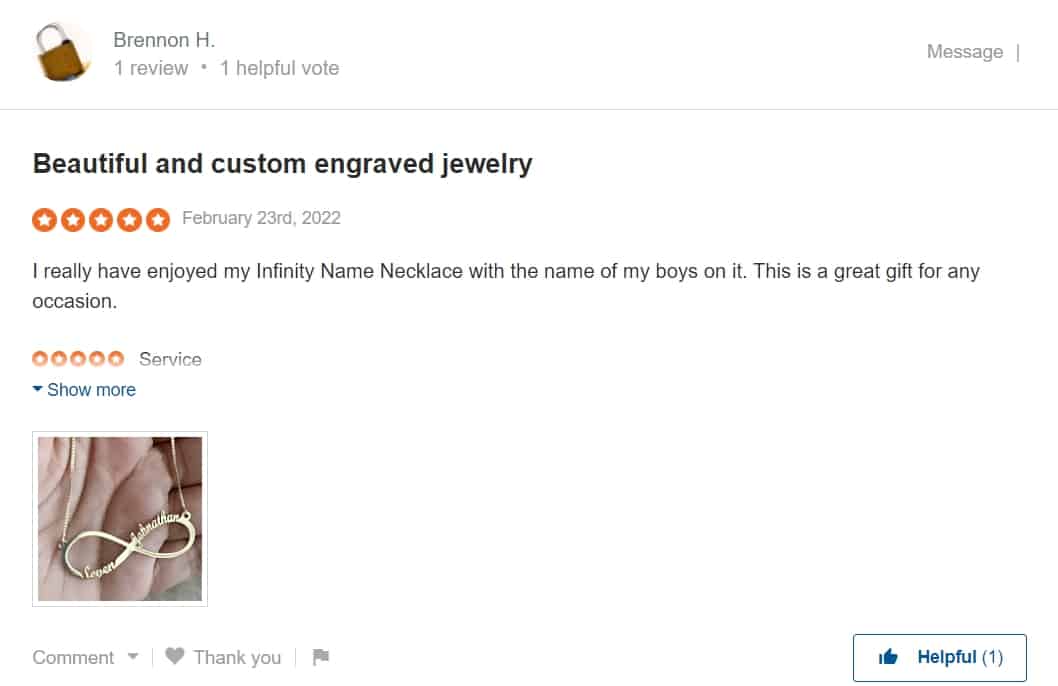 And here is a YouTube review by Michelle Amor, who received a necklace with her name and her fiance's name engraved in it.
She states that she likes the necklace; it's not super heavy material, offering a light feel which she loves. It was a minimalistic style that she appreciated.
JoyAmo VS Myka VS Onecklace
All of these brands offer something different, but how will you choose in comparison? JoyAmo has attributes that stand out from others, so find out here.
| | | | |
| --- | --- | --- | --- |
| | | | |
| | | | |
| | | | |
| | You can choose from some necklaces, rings, earrings, braceletes and items for men | You can choose from some necklaces, rings, earrings and braceletes. Items for men, women and kids | You can choose from some necklaces, rings, earrings, and braceletes. |
| | Sterling Silver 925, 18K Rose gold plating and 18K Yellow gold plating | 0.925 sterling silver and 10k or 14k purity gold | 14K Gold, Sterling Silver, 925 or 0.925 24K Gold plating |
| | | | |
| | 120 days return, with restocking fee of 30% | 100 days return, with restocking fee of 30% | 90 days return, with restocking fee of 30% |
| | | | |
Is JoyAmo Worth it?
Suppose you want a customizable piece of jewelry for yourself or someone you love. Reasonable prices with a wide range, happy reviews, and a 120-day return policy with a warranty, you can't go wrong!