Many factors play a role in baldness and hair loss. Age, alopecia, illness, stressors, hormones, and hair care are just some of the variables to consider.
Hereditary balding can lead to a serious lack of confidence and disrupt our daily lives. I've personally lived through the hardship of seeing my sink drain clogged with unsightly hair. It can be a demoralizing situation.
Luckily, dozens of treatments exist already to tackle hair loss. In addition, there is a seemingly endless array of serums, solutions, and medications that promise results. One of the treatments that have a long history of proven results is ScalpMED.
All hair loss treatments can come with some potential side effects. ScalpMED is no different in this respect. However, with some simple prevention, you can easily minimize problems and maximize the hair loss treatment.
ScalpMED Side Effects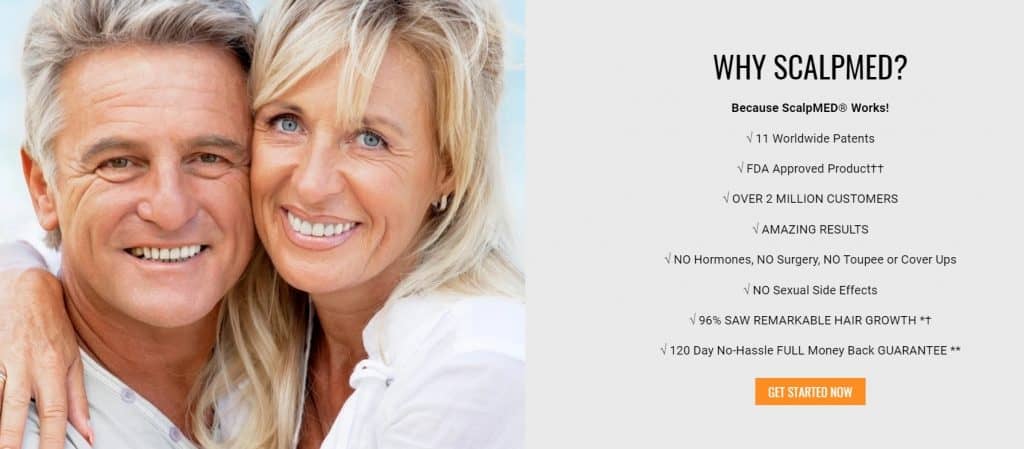 ScalpMED's unique patented formula uses the active ingredient Minoxidil. This is the only FDA-approved ingredient to fight hair loss.
Although the vast majority of ScalpMED users report no problems, the company recommends that you stop using their product if you experience any of the following:
Chest pain
Rapid heartbeat
Dizziness
Sudden, unexplained weight gain
Swelling in the hands and/or feet
Scalp irritation and/or redness
Unwanted facial hair growth
How to avoid ScalpMED side effects
It's crucial with any hair loss treatment to use the product as instructed. Also, remember never to leave the product in your hair overnight.
ScalpMED's hair growth system is designed to be left in the hair for a few hours.
There are a few key instructions to follow when using ScalpMED. Follow these few simple steps to have fuller, healthier hair and reduce your chances of side effects.
First, mix the two active ingredient bottles labeled 1 and 2 into the third application bottle. Two times a day, apply 9 pumps of the active solution. Remember to massage the scalp after every several pumps. When you have covered the entire affected area, leave it for 4 hours before rinsing.

The Detox My Scalp solution is intended to be applied on a dry scalp. 20 pumps are required in this treatment. Massage the solution into the scalp for three minutes and then rinse and dry. Unlike the solution of the active ingredients, this is only done once or twice a week. Do NOT apply Detox My Scalp every day.

With any hair loss treatment, it's important to talk to your doctor if you have pre-existing medical conditions.

It is advised to apply a smaller amount of product for the first few uses to see if you have any allergic reaction. 

Make sure to rinse and clean your scalp. The Detox My Scalp product should help you maintain a fresh feeling scalp.
Final Thoughts
Remember always to follow the instructions carefully when using a hair loss treatment.
Always rinse and clean your scalp thoroughly when using ScalpMED's hair regrowth system.
Your doctor is your best resource if you have any pre-existing health issues. If you have any hesitation, your doctor will be able to guide you in the right direction.
Thanks to scientific advances, we no longer accept hair loss as a natural part of life. Following a consistent and effective treatment properly gives new hope to millions worldwide afflicted with hair loss.
To learn more about ScalpMED's hair regrowth system, don't forget to read our full review.