Liaison Lash Bond has been making waves in the last few years. It's a serum you apply directly on your lashline to help it grow longer and curlier.
The brand was born out of the need to help women love and embrace their authentic beauty. Today, Liaison proudly ships its hair growth products from sunny Hawthorne, CA. All their products are safe on the skin, cruelty-free, and promise excellent results.
One of Liaison's flagship products is its Lash Bond Serum.
This serum comes in a 3ml tube, which is more than enough for months of use. It promises to give you long, curled lashes that will make anyone give your eyes a double-take.
Liaison is active on Instagram, where they have over 53,000 followers. On their page, they post before and after photos of people who love their hair growth serums. They also post motivational quotes, as well as photos of their pretty packaging.
Liaison Lash Bond Pros and Cons
Like all beauty products, shopping for the Liaison Lash Bond has its fair share of good and bad features. Here's a quick look at some of them:
Pros:
Offers a 30-day satisfaction guarantee if you're not happy with the products
Has garnered good reviews from more than 17,000 customers on the official website
Formulas are free of irritants like sulfates, silicones, parabens, and alcohol
All products are vegan and cruelty-free
Offers a 20% off discount if you subscribe to their newsletter
Has flash sales that give discounts of up to 50% off
Cons
No readily available clinical studies on the efficacy of the Lash Bond serum
They don't offer subscriptions, so you need to buy products every time you need more
Website has no information on free shipping
How Long Does Liaison Lash Bond Take to Work?
It's difficult to pinpoint an exact timeframe for how fast the Lash Bond serum works. How fast noticeable results develop depends on one's unique body chemistry. So, you should always be patient with how fast or slow it works on you.
Usually, Lash Bond users find that they see a difference in their lashes a month or so after using the serum religiously. Others even claim to have seen lash growth in as fast as two weeks.
How do you use Liaison Lash Bond?
Using the Liaison Lash Bond is quite simple and straightforward. Here's exactly how to do it.
First, you need to make sure that your face is clean and dry.
It's best to apply the Lash Bond right after cleansing your face with a gentle facial cleanser. That way, you can wash out all the dirt and impurities that can potentially block the serum from seeping into your hair follicles. This is important if you want your lashes' follicles to drink up all the ingredients in the formula.
2. With the applicator tip of the serum, create one swipe across your upper lashline.
A little goes a long way, so you don't have to apply a large amount of serum for it to work. Wait until your lashes are dry before continuing with the rest of your skincare regimen.
3. Do this consistently just once a day to see results.
Don't forget to take pictures before and after you use the serum to track the growth of your lashes.
A 3ml tube of the product may sound small, but every tube can last two months or more. That gives you lots of time to track your results and decide if you'll purchase a second tube.
You May Also Like: Angara Jewelry Review: Your New Go-To for Custom Fine Jewelry
What do you need to know about Liaison Lash Bond?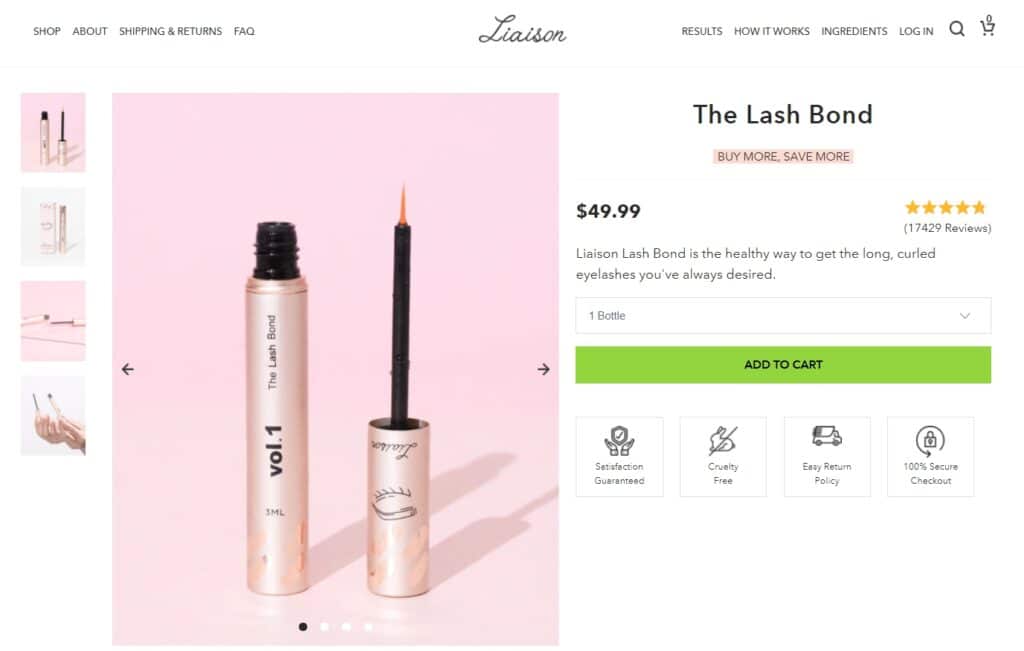 Another important thing to understand is how the Liaison Lash Bond works in the first place. It doesn't work overnight, as the lash growth process goes through specific stages. There are three key phases to how it stimulates hair growth in your lashes:
Bond-building. Using fake lashes, extensions and glue, or multiple layers of mascara daily can lead to weaker bonds in your lashes. So, the Liaison Lash Bond works to repair and fortify those disulfide bonds.
Hair-strengthening. In this phase, the serum works to make your lashes stronger and more resilient against damage. It also helps create an illusion of thickness in your lashes.
Boosting length. Now that your lashes are nourished and have stronger bonds, growth will come a lot easier. In this final phase, your lashes will finally start growing longer. They'll also get fuller and wavier, until you finally have the curly lashes you've always wanted.
Liaison Lash Bond Side Effects
Liaison promises that their Lash Bond serum won't cause any irritation and pain.
However, any beauty junkie will tell you that it's a tough promise to deliver. That's because the eye area is very gentle and delicate, so it's not uncommon for lash serums like these to irritate it.
No matter how careful you are, applying serums directly on your lash line can still cause minor irritation. This can show up through:
If you're not sure whether your sensitive eyes can take the Liaison Lash Bond serum, don't risk it.
You can also check with a trusted doctor if it's a good idea to use it, especially if you have sensitive skin conditions.
Liaison Lash Bond Reviews
Liaison's official website was overflowing with good reviews. However, it was difficult to find any other reviews elsewhere on the internet.
They have quite a high rating on Trustpilot. On the site, Liaison has a score of 4.7 out of 5. Over 82% rated the brand as "excellent," while just 9% said the service was bad or poor.
Some people are very happy with their Liaison Lash Bond.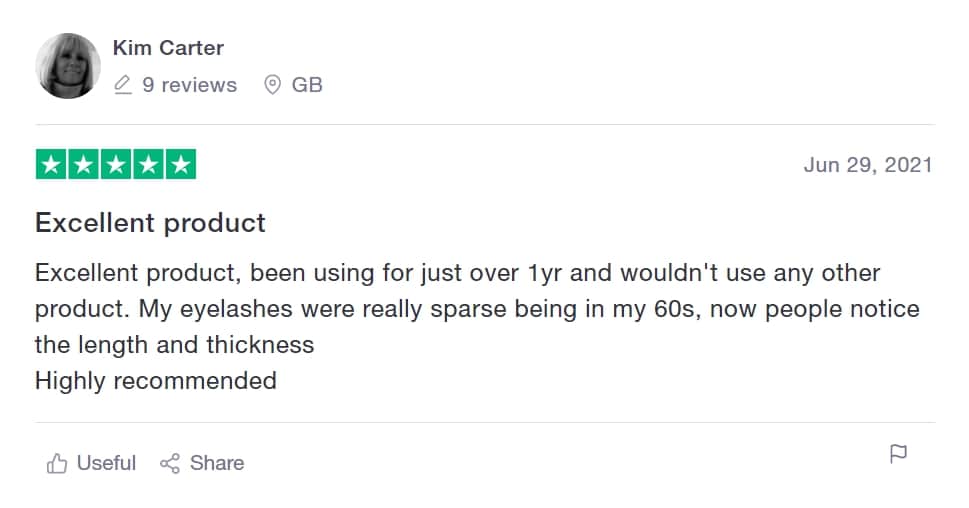 However, that high praise isn't universal. Many people aren't as satisfied with their experience with the Liaison Lash Bond. This is especially true when they had to deal with the customer service team. There are complaints about not receiving their orders five months after placing them.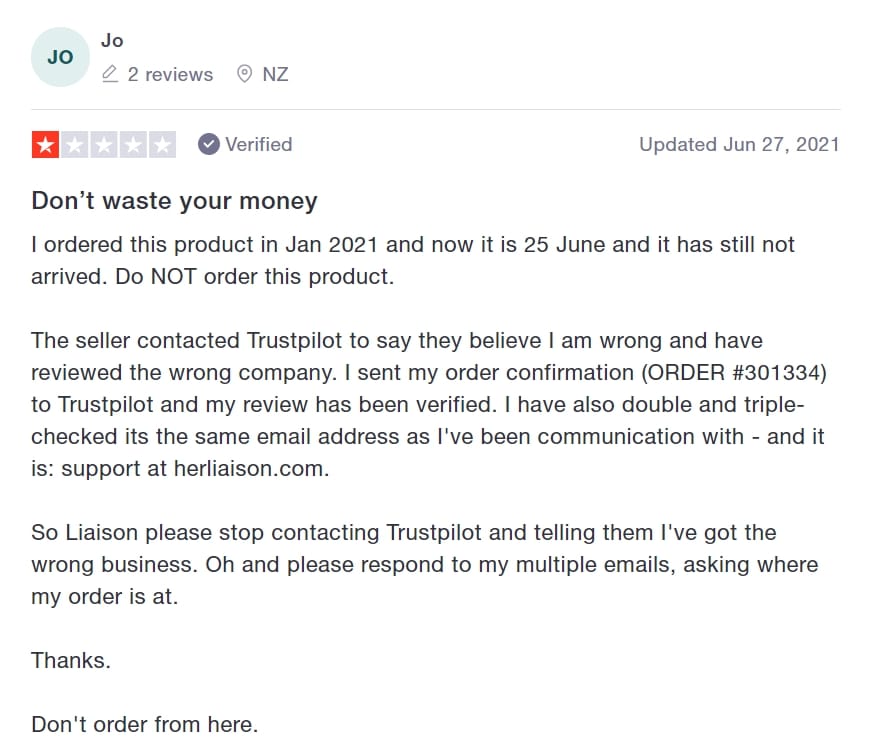 Bloggers and influencers have also spoken out about their experience with this serum. Content creator Caroline Chilcott, for example, had a good experience with it.
"My eyelashes look more lifted, almost as if they have a natural curl to them which we do not see at day one…" she said. At this point, she had been using the Lash Bond for 21 days. "They do look…a little longer in general!"
Another YouTuber who shared her experience with the Lash Bond is "Perfume Intoxication"
In her review, she posted before and after photos of her lashes. It's clear in the photos that her lashes are longer and thicker just ten days after using the serum.
However, Perfume Intoxication points out that the results aren't as drastic as the before-and-after photos on the Liaison site. This is especially true for those who don't usually grow hair that fast.
Is Liaison Lash Bond right for you?
If you follow a vegan lifestyle and want a natural product, this serum is well-suited for you. Since it's more affordable than other lash brands like Latisse, this serum could also be a great option if you're on a tight budget.
However, looking at the ingredients listed on the site, we're not entirely sure about its efficacy. So if you're priority is getting the best formula possible, you're better off looking elsewhere.
Liaison Lash Bond: important things to consider
One of the most pertinent things to consider when looking at lash serums is the ingredients. The Liaison website shows the minimal ingredients used in the Lash Bond serum.
But to be honest, we can't figure out which of these ingredients helps boost lash growth as the serum claims. The EPM enzyme seems to be the only ingredient on the list that aids in making the lashes look thick and full. The rest of the ingredients lash-growing abilities are a bit on the questionable side.
Sodium chloride, for example, is an antimicrobial compound. It is used for hygienic purposes, so it's not exactly known to stimulate hair growth.
Disodium phosphate, another ingredient on the list, is a mere preservative. So technically, it's not something that can boost lash thickness.
Liaison Lash Bond vs GrandeLash vs Latisse
Liaison Lash Bond Eyelash growth serum - 3ml

LATISSE® (bimatoprost ophthalmic solution) 0.03% Important Information - 3 ml

GrandeLASH-MD Lash Enhancing Serum, sized from 1 to 4 ml

With subscribtion - starts from $99

Sodium Chloride, Water, Benzalkonium Chloride, Citric Acid, Disodium
Phosphate, Cellulose Gum and EPM Enzyme

The main ingredient is prostaglandin. Also contains Vitamin E, radish root, along with proteins and lipids.

30 Day Satisfaction Guarantee

Good reviews on the official website

Alcohol, Paraben, Silicon, Sulfates free

Subscribe for the news and get 20% off

Also effective for eyebrows

Will help you to grow longer lashes

Easy to buy: you can find it from Sephora to the official website

One time purchase available

90 days money back guarantee

Couldn`t find any clinical studies

There is no subscribtion. You need to order products avery time

No information about free shipping

Common side effects: redness of the eye, itching sensation at the application site

The product takes a long time to work, as long as 4 months

May cause darkening on the eyelid skin

Could buy fake not-working product instead of real
Liaison isn't the only beauty brand that carries lash-growing serums. Other popular beauty brands like Vegamore, GrandeLash and Latisse have their own lash serums. Like the Liaison Lash Bond, these serums also aim to give you longer, lusher, fuller lashes.
GrandeLash has its MD Lash Enhancing Serum. Meanwhile, Latisse boasts its signature bimatoprost-infused formula. But what makes them different from the Liaison Lash Bond?
How much does Liaison Lash Bond cost?
Every 3ml tube of the Lash Bond serum costs $49.99. And since Liaison doesn't offer subscriptions for this serum, you don't have the advantage of getting it for cheaper. You'll also need to manually order more tubes as you run out, which can be quite inconvenient.
Final Thoughts

The Liaison Lash Bond has rounded up many good reviews over the years across the internet. It's also loved by many for its affordable price point.
However, the serum lacks effective hair-growing ingredients and botanicals known to nourish lashes.
It's true that many people swear by this serum. But there are still many other serums out there infused with finer, more high-quality ingredients to boost healthy hair growth.