Let's look at ScalpMED vs Keeps, two popular hair loss solutions. Did you know that as many as 2 out of 3 men will experience male pattern baldness sometime in their life? For us guys, it can be a real blow to our confidence.
You may not realize but we are not alone. As many as 50% of women will also notice hair loss as they age.
The market for hair loss treatments is huge. However, two companies stand out as major competitors in the field: ScalpMED and Keeps.
Both companies are well-known respected brands that use the only FDA-approved ingredient to help fight hair loss: Minoxidil.
Both of these companies are often compared to Rogaine, another leading competitor in the hair loss treatment industry. For the moment we'll focus on ScalpMED and Keeps to get a better idea of which company is better.
When it comes to hair loss, we have no time to lose. Let's jump into comparing these solutions so that we can take action.
What makes ScalpMED unique?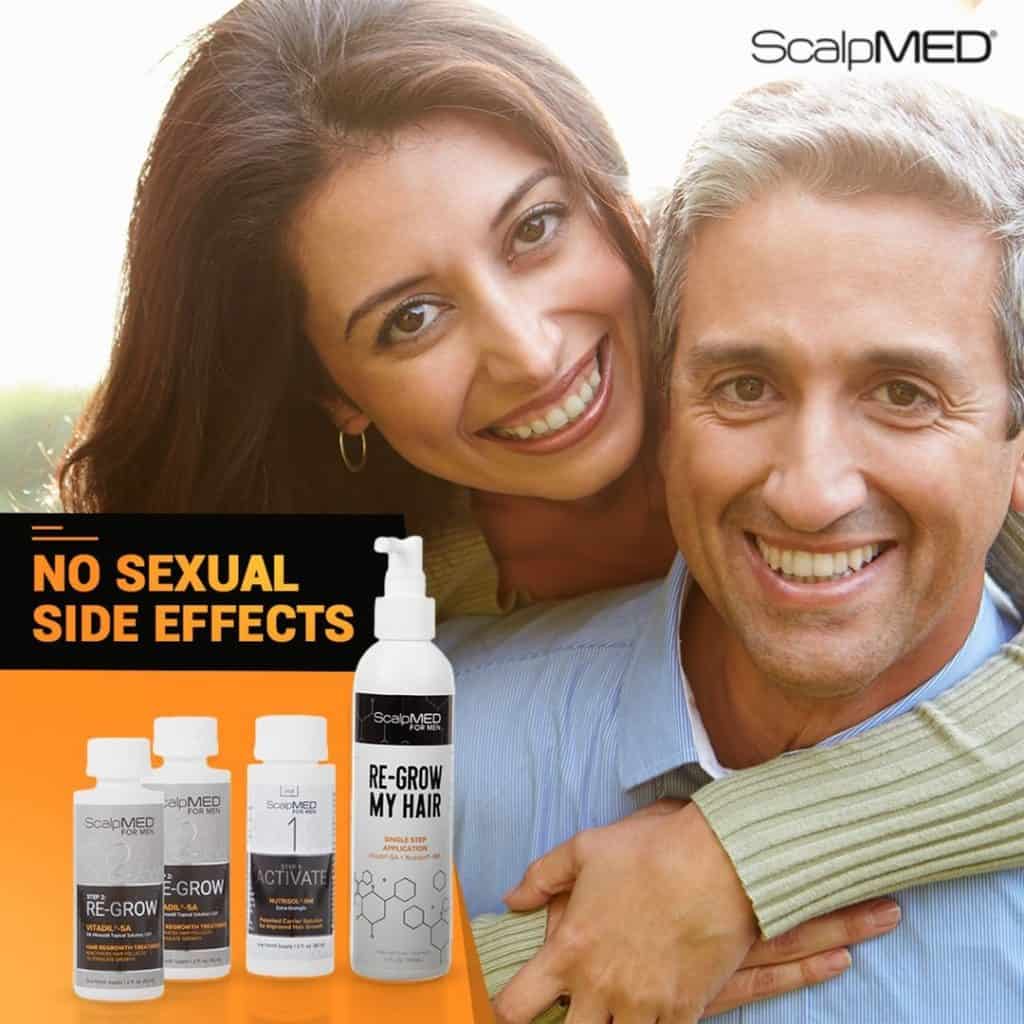 ScalpMED is unique in the industry for its patented hair regrowth system. Being a patented solution means that no one else can use their unique formula.
It's important to understand that ScalpMED is offering an entire system of hair loss treatment, not just a stand-alone product.
The company also offers nutrient and mineral-rich supplements to help attack hair loss from the inside as well as the outside.
ScalpMED has been on the market since 2009 and has been featured on many major media outlets. FOX, NBC, and the Los Angeles Times are a few news outlets that have featured ScalpMED.
If a long history of commercial success is not enough to convince you to use ScalpMED then you will be happy to know that they offer a 120-day money-back guarantee.
You may have heard that many oral hair loss treatments have sexual side effects. Luckily, with ScalpMED that is not the case. This topically applied product has zero sexual side effects.
In ScalpMED's consumer study they found that, 96% of customers grew their hair back as promised. ScalpMED has solutions for men and women.
You May Also Like: L'ange Hair Review: 5 Best Heat Stylers And Hair Care Products
What Makes Keeps unique?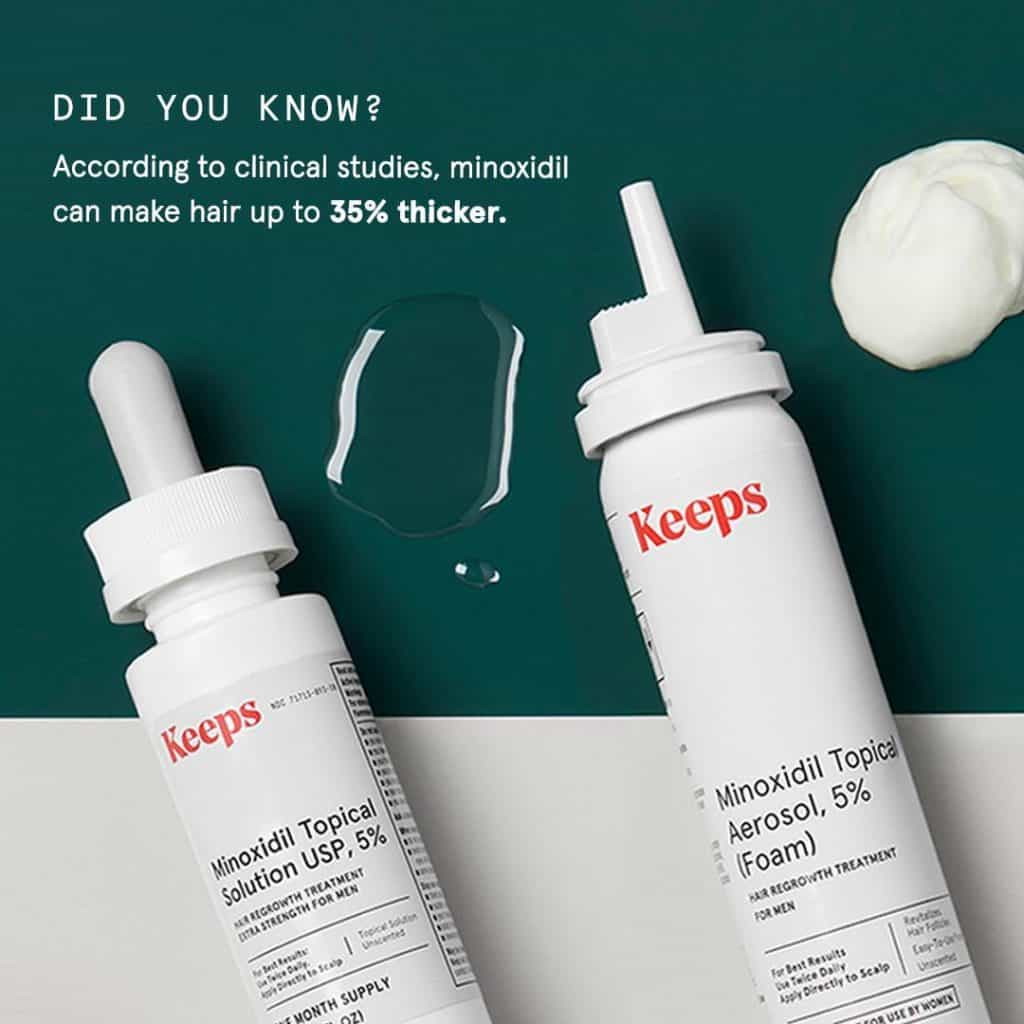 Keeps is a hair loss solution made for men. Unlike ScalpMED they do not offer a solution catered towards women. But similar to ScalpMED they offer scientifically-based formulas that are grounded in research.
Keeps has several different types of products: foams, solution, or a supplement pill.
To use Keeps, you must consult with a doctor to gain access to a personalized plan. It's great to know that Keeps is backed by doctors, however, it may be an added hassle to book an appointment.
The brand is focusing on two principles that have proven ingredients: Minoxidil and Finasteride. In some cases, you may only need one ingredient or the other. In other cases, you may need to use both.
One thing to keep in mind is that Finasteride has been shown to reduce fertility. This may be an issue for some men, especially younger men that still hope to have children.
This company offers a very affordable hair loss treatment. They have plans starting as low as $10 per month. There are also several treatments available so this price fluctuates depending upon your needs.
Keeps offers shampoo and conditioners in addition to their main formula.
ScalpMED vs Keeps
At first glance, you may be thinking these two companies are very similar. When it comes to hair loss, it's important to get it right. Why waste your time and money with the wrong company?
On one hand, hair loss treatments can add up to be expensive. On the other hand, we want to make sure that the solution is effective.
We put together a chart so that you can see which solution is the best for you.
PATENTED HAIR REGROWTH SYSTEM FOR WOMEN with 4 products:
Nutrisol®- RM,
+ 2 bottles of ScalpMED®'s Vitadil®-5A
+ PhytoComplex®
+ Detox My Scalp product

3 months supply for men with different kind of hair loss.

Depends on it, you can choose the trestment:
MINOXIDIL SOLUTION, 5%, MINOXIDIL FOAM, 5% or FINASTERIDE,1 MG supplement

Supplements for Men and Women

KEEPS THICKENING CONDITIONER

Yes + 15% OFF after taking an easy 1 min quiz

Shipping's only costs $3 per shipment

Starts from $89.95 for bundle with 4 products

Plans starting at
$ 10 /mo
depending on treatment

Patented and FDA approved formula 

120 days MONEY-BACK GUARANTEE

Proven and studied effect

Need 3-4 months to see the results

ScalpMED vs Keeps – Which is better?
So which is the better hair loss solution: ScalpMED or Keeps? You may be thinking that ScalpMED is more expensive. However, it provides a full 4 step system to regrow hair.
Having looked at their online in-vitro studies we think that ScalpMED is the superior hair loss treatment. The studies that we have looked at show proven results in 3 – 4 months. In any case, they offer a money-back guarantee.
Don't forget that ScalpMED also has products for women. We also recommend this other popular brand!
We are wishing everyone the best of luck in their battle against hair loss.