My ChicWish Bestsellers Review. Is Chicwish Good Quality?
Chicwish has fantastic and stylish clothing and I can't wait to order more. The website was easy to navigate, and there were endless choices when it came to cardigans and sweaters.
I have ordered five pieces of clothing: Two cardigans, one poncho, one skirt and one dress.
I really wanted to try the cardigans because I can wear them everyday, and pair them with anything! That proved to be true as you will find below. I also wanted to find a chic skirt, and a dress for an upcoming wedding so I was excited when these finally arrived.
Whether you're looking for a special event or just every day wear, this is a great brand to find everything you need! I can't wait to show off what I purchased.
Overall impression
All the pieces I had ordered fit true to the size, but I did follow the sizing guide it offers on the website. The pieces are good quality, and they arrived packaged appropriately. The clothing came with a big label in case you want to return an item. The label is hard to miss! The chic pieces I had chosen were cozy, stylish, and they felt fantastic on!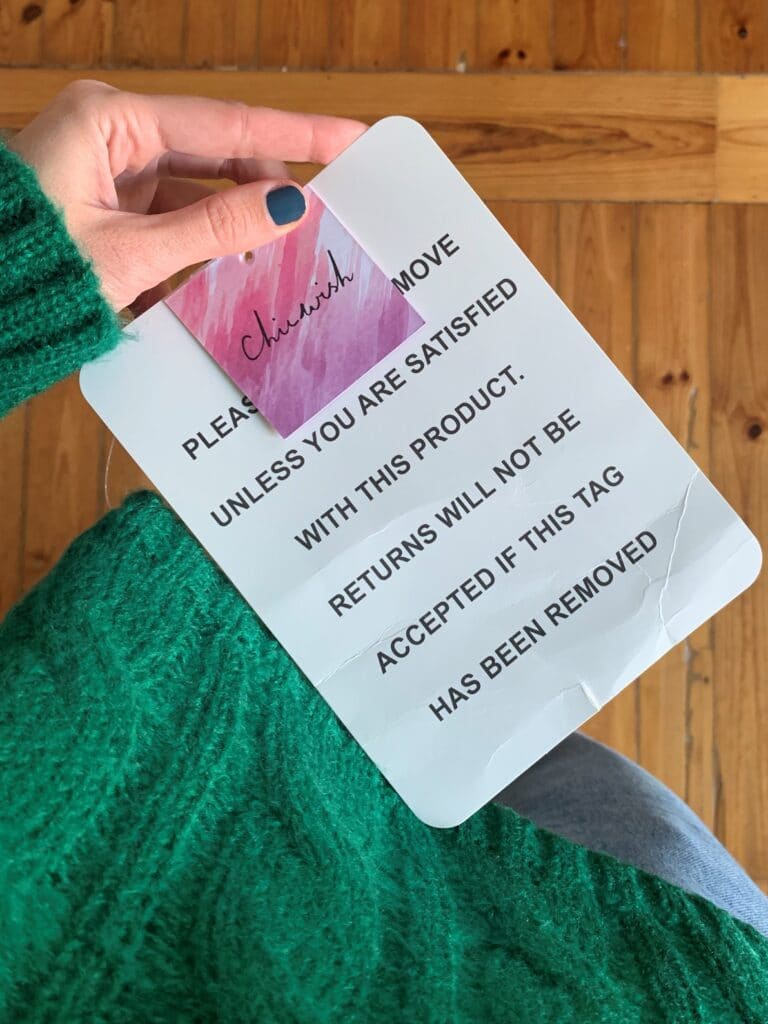 This cardigan is voluminous and cozy, and despite the loose fit, it is very warm.
The wool that makes up this cardigan is very soft, and comfortable to wear indoors, or outside. It is a fancy and very chic styled cardigan that attracts attention due to large sleeves and pom-poms attached to it. I highly recommend this sweater for any occasion!
I am 175 cm in height, so I ordered a size L / XL and it fit true to my usual size.
Side note… I loved it so much I wore it for New Years!
This high-waisted skirt is gorgeous and offers a sleek look made up of a thicker material leather. Due to transport, the skirt had to be smoothed out before wearing.
Before ordering, I took measurements according to the size table on the website and chose size S – it fit perfectly.
The skirt is stunning and can be worn with a sweater, cardigan, or rough boots. It could be worn with a blouse or dress top as well and would suit many occasions from brunch with your friends to a night out in the city
While I enjoyed all of the items, this sweater turned out to be more thin than expected. This sweater is a bit hard to pair up due to the awkward length.
While the length is questionable, I do enjoy the color and texture. It feels very cozy on, similar to to the cream cardigan. It's breathable and over-all a very cute turtle neck with lots of room.
I bought it to wear with a skirt but find it does not go well with the skirts I have. It does look good with a pair of boyfriend jeans or leggings, though!
I love this poncho! It's simple, stylish, and it smoothed out easily after unpacking.
It is soft to touch and makes any outfit look a tad more exciting with it's chic boho style. The price also very affordable!
Whether you dress this down with a pair of jeans, throw it over top of a long sleeve, or a tank top – you're bound to turn some heads.
This is a super beautiful, soft, and cozy cardigan! There are small pockets on the sides that are convenient. I like the way the collar falls into a scarf style that falls below my shoulders. In this cardigan you can comfortably spend the evening at home or go out for a walk and stay warm. It would be perfect for the office, too!
Very stunning dress that is becoming one of my favorites. Lightweight, comfortable and feminine. Better than I expected. I ordered size M and it was true to size – I followed the sizing chart. I could have gone up to a size L as I do like breathable room and I found it is tighter in my chest area.
Features of this dress that I enjoy are the extra wide accent sleeves with ties, as well as the slits at the waist and neckline. There are also slits in the skirt, making it even lighter and giving it a sexy appeal. There is a lining in the skirt area, so the dress is not transparent.
This dress is perfect for a wedding or a event of the like. I bought it for going to a wedding and I can't wait to wear it.