Proozy Reviews: The Truth Behind the "Deals"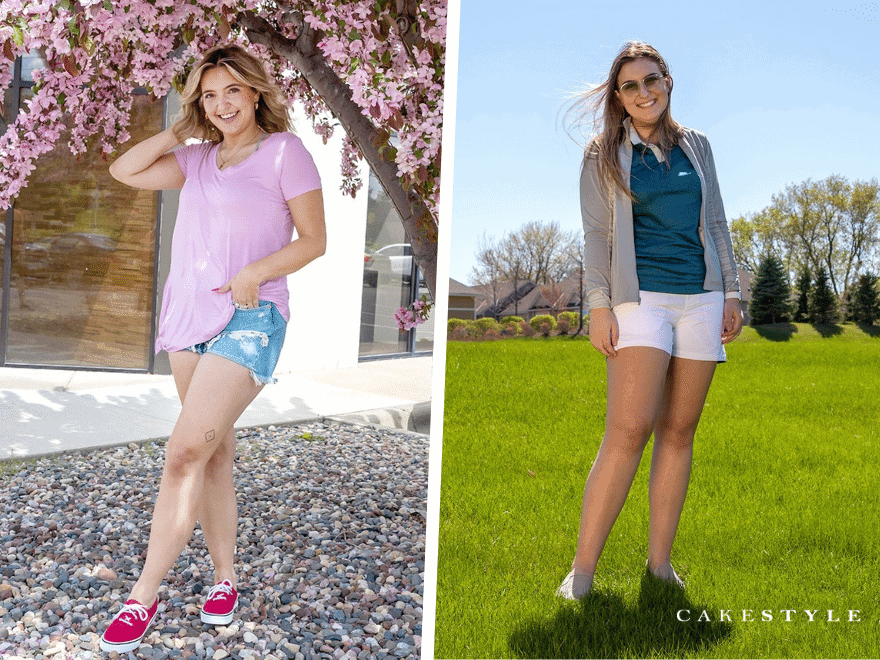 I am constantly in motion. I love to live an active lifestyle. Naturally, I was curious when I came across Proozy.
They are an activewear website featuring some of the most recognized brands in the world. You can find brands such as Nike, Under Armour, and Reebok to name a few.
The prices seemed too good to be true. What's the catch, I wondered? I dug a little bit further into this company to find out who they are in this Proozy review.
Is Proozy Legit?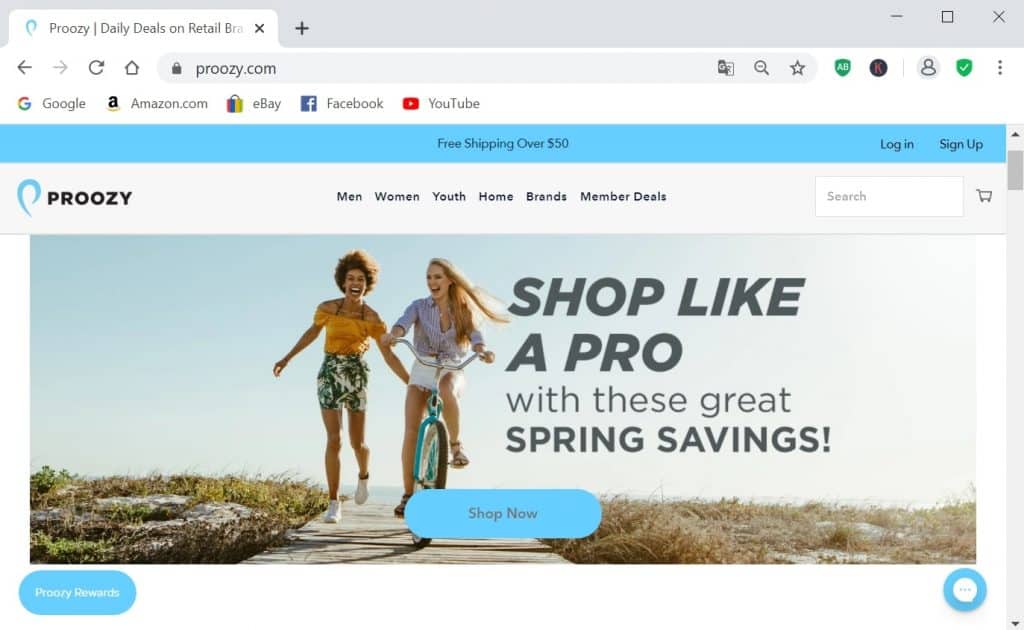 Proozy is an online retailer that sells brand new products. They also have outlet deals. The website has been operating since 2002. Their success speaks for itself as they recently hit 2 million customers.
In 2019 Proozy CEO, Jeremy Segal, was named by Ernst and Young as the best entrepreneur in the Heartland Division. More Midwestern credentials that add to their hard working mentality.
Everything they sell is guaranteed authentic and comes with a 30 day warranty.
Proozy Pros and Cons
Pros
Over 100 brands and many of them are household names such as Nike and Under Armour
A quick search indicates stellar reviews
Competitive pricing on well known brands
Free delivery on orders over $50
Huge range of sportswear and shoes for the entire family
There is almost always a sale
They carry electronics
30 day warranty on all products
Cons
Some customer service complaints
Outlet items may be limited in size and color
$7 return fee
What is it like to order Proozy?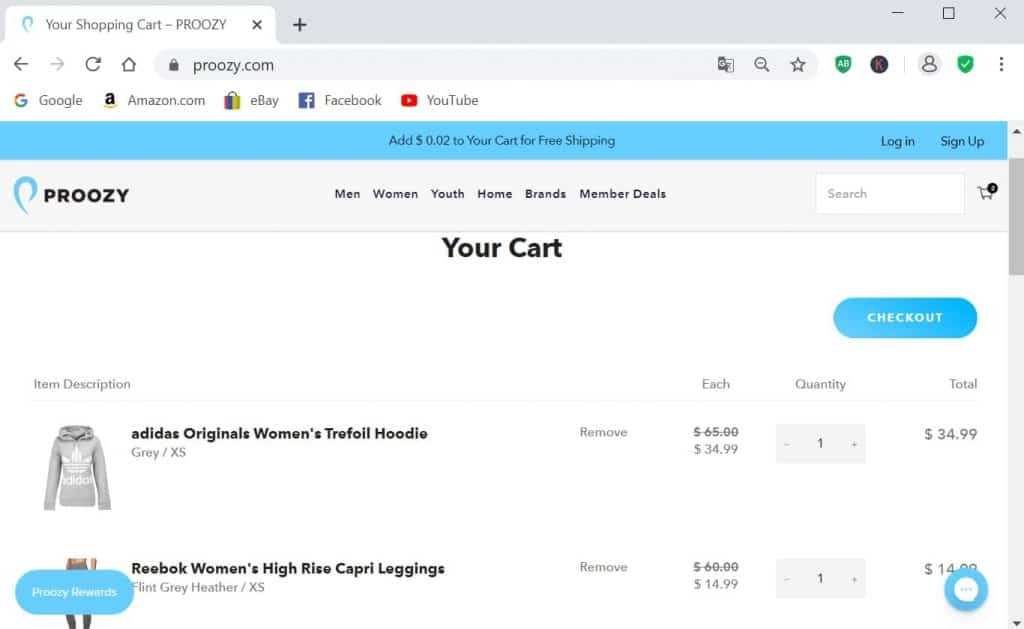 After spending some time on Proozy, I was impressed with the high volume of products on offer.
I like the fact that they have reviews under many of their most popular products. They have something for the entire family.
I searched through men's items which included polos, t-shirts, pants, leggings, underwear. Basically anything that you could want. The same was true for the women's and youth section as well.
Shoes and accessories
It cannot be understated, the inventory on this website is massive. There is a large variety of shoes and accessories for men and women as well.
If you're looking for a hat to give you some shade while golfing, they have you covered. Do you need a backpack for your next hike? They've got that too.
They have water bottles and sunglasses to keep you cool and hydrated.
Something that you might not expect is the electronics section.
They have headphones and stopwatches that would be perfect for marathon training. It surprised me to see that they even have home bedding and vacuum cleaners! Well, it may seem a little out of left field but I suppose everyone cleans and needs comfy bed sheets.
It's clear that Proozy wants to be a one stop destination for great deals.
Sales
It seems like almost all the prices have been slashed on Proozy. If you are a bargain hunter like me you will be impressed with the sales.
You can find as much as 90% off on some items yet sizing is limited due to the outlet styled nature of their pricing.
They do offer student discounts. They also offer a membership deal.
Although I'm not a member so I'm not sure what the deal is. Perhaps you are notified as soon as things go on sale? In any case it could be an advantage if you are a die-hard sports enthusiast and bargain hunter.
Shipping
Within the continental United States orders over $50 are covered by free shipping.
They also have express shipping options such as overnight delivery and 2 day shipping. For these options they guarantee to ship the same day if ordered before 2 PM CST.
You can track your order on their website in a help chat which is a bonus if you are not used to ordering online.
On the plus side you can return your items for up to 30 days.
Unfortunately there is a $7 fee for returns. I don't really like paying for returns. My shoe size fluctuates between shoe brands so this is a con for me. I prefer to order knowing I can return at no extra fee.
How do Proozy clothes fit?
I was anxious to order from Proozy to see how the clothes matched up to the description. On any given product you can find a size chart, the sizes and available colors.
In the end, I settled on ordering a top and shorts for my wife and a jacket and vest for me. Here are my thoughts on my order from Proozy.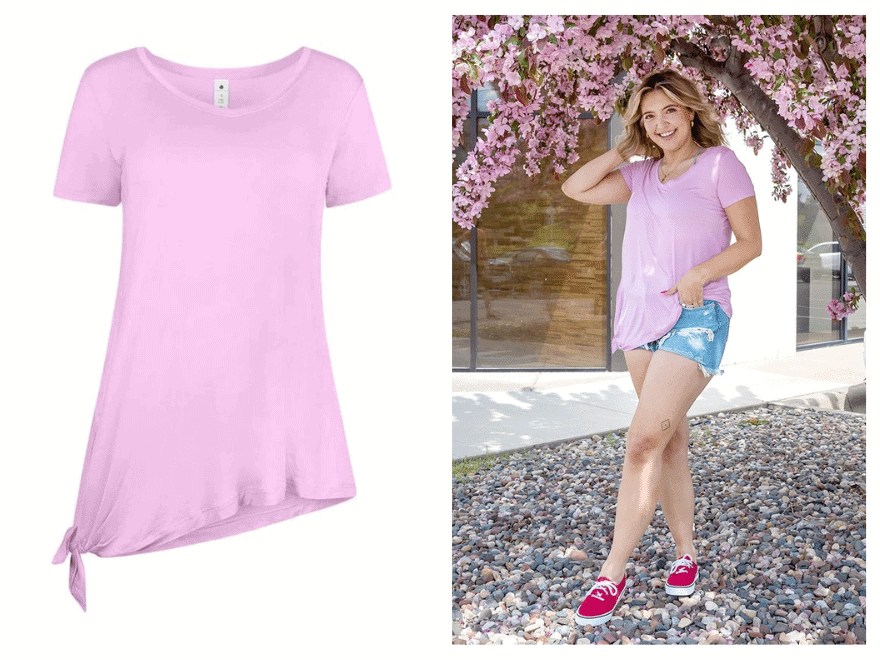 This is a stylish a-symmetrically designed yoga top.
It has a crew neck cut and there is a low knot that sits on the right hip.
The design gives a nice shape and my wife was very happy with the flattering look. Sizes run from XS – L and there are two available colors, peach cloud and candied lilac.
This shirt is made of 62% polyester, 34% rayon and 4% spandex.
A great shirt to work out in while remaining dry. My wife was impressed with the quality of the fabric.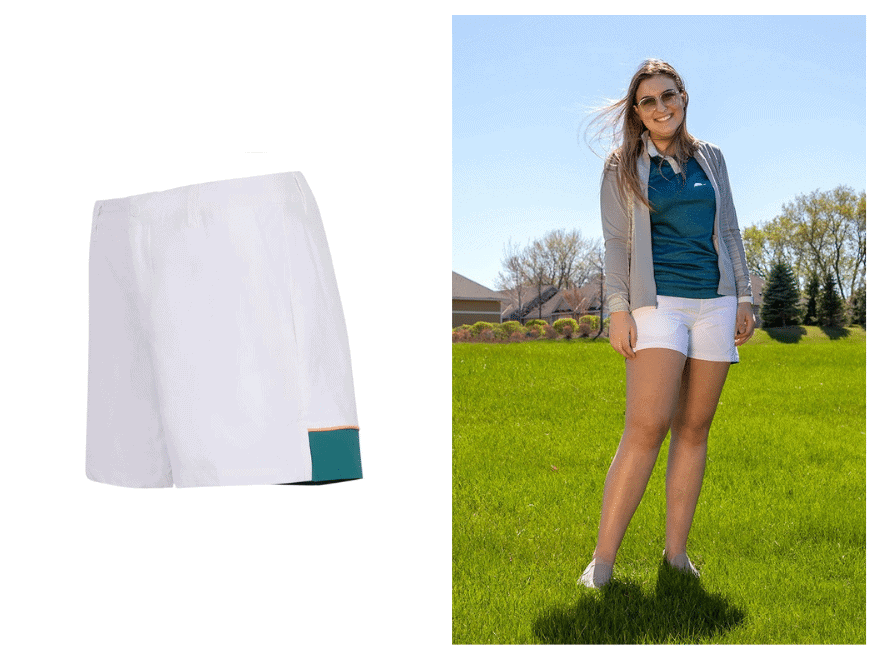 The next item I ordered for my wife was the Oakley Women's Bella Golf Shorts.
They have a sleek flat front design, button closure, fly and belt loops.
There are 2 pockets in the front and 2 pockets in the back.
These shorts are easy to move in but don't sacrifice on style.
They have a very classy look with piping detail along the side and a teal-green accent on the back. These are perfect shorts for the golf course or a long brisk walk in the neighborhood.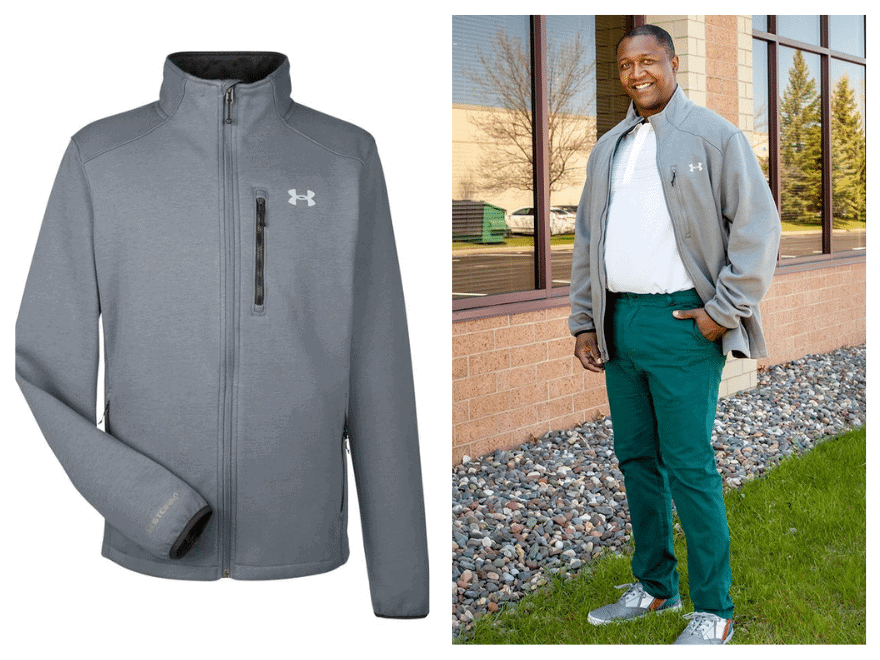 For me, I ordered a classic looking cotton knit and fleece jacket.
This is the perfect jacket for chilly fall days on the golf course. This jacket from Under Armour is available in sizes S – 2XL.
There are 3 different colors to choose from: white, black, and blue.
The front is 60% cotton and 40% polyester. The back is 100% polyester.
I love the front pockets. One pocket for my wallet and one pocket for my keys. The pockets have zippers. Under Armour has added a durable water repellent to keep you dry. I
have only had this in my wardrobe for a couple days but I can tell already it's going to get a lot of mileage.
Another new addition to my wardrobe is the Thermowarm Hybrid Down Vest by Reebok. I love the comfort of movement that a vest provides while I'm running.
This is going to be a great fall and spring time addition to my running routine.
Proozy is offering this in sizes ranging from S – 2XL.
This is a slim fit vest so I made sure to order a medium not a small one.
My favorite feature of this vest is the cool diagonal stitching and quilted finish. This is a lightweight vest with 80% down 20% feather filling so you know it's going to keep you warm.
I can no longer blame the chilly temperatures for my lack of running.
Proozy Reviews
As I mentioned, Proozy now boasts millions of customers served, so I'm not the only one talking. I searched online for what other people were saying.
On Trustpilot Proozy has stellar reviews. With over 400 reviews, over 70% have rated Proozy good or excellent.
Most people are excited about the discount prices that you find on Proozy.
Another thing that struck me was the fact that they respond to many of the reviews in a professional way. For the negative reviews, they remain calm, address the issue and offer support.
I don't appreciate when companies use review websites to become defensive. On Reviews.io Proozy has a 92% ranking with over 600 reviews. The majority of the reviews are praising their discount prices, fast shipping, and customer service.
Indeed they seem to really care, taking the time to respond to everything.
Proozy Video Reviews
YouTube beauty and lifestyle vlogger Callie Mileham received a package from Proozy and shared her experience on her YouTube channel.
She got a pair of black Reebok leggins for $20 instead of the regular $60 price. She also got 2 Reebok tank tops (one grey and one aqua-blue).
The tank tops are a simple staple item that anyone would live in. They are offered for $14.99 instead of the regular asking price of $40.
Overall Callie seemed more than happy with her haul. Who can blame her? The pieces she received are great for lounging around or working out in.
Proozy Reviews On Reddit
With such low discounted prices, it's no wonder that some people are wondering if Proozy is a legitimate website.
People are skeptical of internet deals that seem to be too good to be true. When one user asked the opinion of the Reddit community he got several responses such as "I can vouch Proozy is legit" and "bought many things from them, they are legit".

These reviews should be a relief to anyone that is not accustomed to ordering online.
I found a negative comment from one user complaining about promotional emails. That is understandably annoying but I'm not worried as I filter my promotional emails into my spam.
In response to this post some Reddit users stated the following:


Proozy VS Dick`s Sporting Goods
Proozy is probably less known than Dick's Sporting Goods. Both seem to offer a huge array of apparel for many different activities. You may find comfort ordering from Dick's Sporting Goods because they are more established name.
However, I found the prices more competitive on Proozy. For example, this classic women's polo shirt on Proozy is a steal compared to a similar one on Dick's Sporting Goods.
The same is true about this men's Oakley t-shirt that I found on Proozy for $16.99 compared to a similar Oakley t-shirt I found on Dick's Sporting Goods for $45. That's a pretty big price difference. Proozy offers free delivery for orders over $50. Dick's Sporting Goods that offers free delivery for orders over $65.
I have already talked at length about Proozy's promotions and discounts, but what about Dick's Sporting Goods?
Well it looks like Proozy's thirst for your business makes them the victor in this category.
Dick's does offer 10% off when you sign up for their membership program. They also have text alerts and deals of the week. Still, it's hard to compete with the fact that Proozy is offering discounts up to 90%.
From my perspective, Dick's Sporting Goods benefits from their well known name and reputation, not their discount program. One aspect where Dick's Sporting Goods shines however is their return policy. On some brands they offer 90 day returns, on others 30 days.
However, all their returns are free of charge, which seems to be one of the major complaints about Proozy. It's worth mentioning that Dick's Sporting Goods has a horrible score on Trustpilot.
Over 80 percent of users on Trustpilot ranked Dick's Sporting Goods below average. Ouch.
I also don't like that nobody from Dick's Sporting Goods has addressed their reviews. In my eyes, it shows that they don't care.
All kind of men and women apparels:
Polo Shirts, T-Shirts, Pullovers, Jackets, Vests, Pants, Shorts, Sweatshirts, Joggers, Underwear, Socks and more
Active wear for kids

Apparels for men, women and kids, which you can filter by kind of sport:
Baseball
Basketball
Bikes & Cycling
Bowling
Boxing & MMA and many more

Shoes, Accessories, Electronics, Home Decoration

Shoes, Accessories, Fan Items, All kind of equimpent you probably will need for doing exercises, from yoga mats till bike helmets

Price example for women t-shirt

Price example for men`s t-shirt

DICK'S Text Alerts Program to get special deals and $20 off for $100

Returns up to 30 days
There is a small fee to return any unwanted items. Proozy offer a flat rate of $7.00 for any number of items within the same order.

DICK'S Sporting Goods, Calia, Golf Galaxy and Field & Stream offer a 90-day return.
DICK'S Sporting Goods Warehouse locations offer a 30 day return policy.
Free returns on most purchases.

All products purchased on Proozy.com carry a 30 day warranty
Huge sales
Great range of products
Good deals for Electronics


Good deals for Electronics

You can buy apparels and all sport equipment in one place


Really good range of the products

You can filter items by kind of a sport

Some users had bad experience with customer service


Because it is oulet - some items on sale will go just in one size

People complain on customer service and used anf damage items
Proozy Promotions and Discounts
The prices on Proozy are already rock bottom but you can still get a student discount of $10 off an order of $75 or more.
You have to register with Student Beans to access the discount and you can find that here.
There is also a referral program and you can claim $10 when a friend makes a purchase over $50.
If you are interested in savings they do have a membership program. The program includes Proozy Points. You can find that program here. Personally, I don't often sign up to membership programs. I don't monitor promotions in my email inbox.
Proozy Return
When shopping online, I like to know the return policy before I order. I like peace of mind in case there is something that I don't like, the sizing is wrong, or the color isn't as it appears.
Proozy has a pretty standard return system. You select what you want to return, get a refund confirmation, and send it off.
You have 30 days to do this after delivery. The refund confirmation email explains the process.
When returning you receive a prepaid shipping label that you attach and send. Proozy has a flat return fee of $7 on your entire return.
Personally, I don't like the return fee. They deduct the fee straight from your refund. If you return a shirt that costs $17 dollars you would only get $10 back.
Online shopping can be a jungle, you're never sure how something will fit. I would definitely recommend that Proozy change this policy.
I also read that they charge additional fees to larger or heavier items. Items marked final sale, mystery item, and undergarments are not eligible for return.
Free gifts and promotional items are also not eligible for returns.
Is Proozy worth it?
I really enjoyed my experience with Proozy. For the price, I would definitely recommend Proozy.
It's hard to find a better deal on these well known name brands. There is such a wide variety to choose from you can spend hours on the website. They are even offering a lot of home items.
I will for sure think of them next time I need to freshen up the linen closet.
Don't forget, you do get free shipping for orders over $50 dollars.
Don't let the return fee stop you from ordering if you are making such great savings. Remember you would be paying significantly more elsewhere.
Keep moving, stay active and be comfortable.